Reading Time:
3
minutes
Also before the EMC acquisition, the Dell's storage portfolio was already wide with three main families in the "traditional" storage approach (we can say, with centrialized storage): Compellent, EqualLogic and PowerVault.
But also with several hyper-conververged solution, in this from several partnership, with with VMware (for VSAN and EVO:RAIL), Nutanix (for the XC series), but also Microsoft (for Storage Spaces solutions) or Nexenta and other SDS vendors.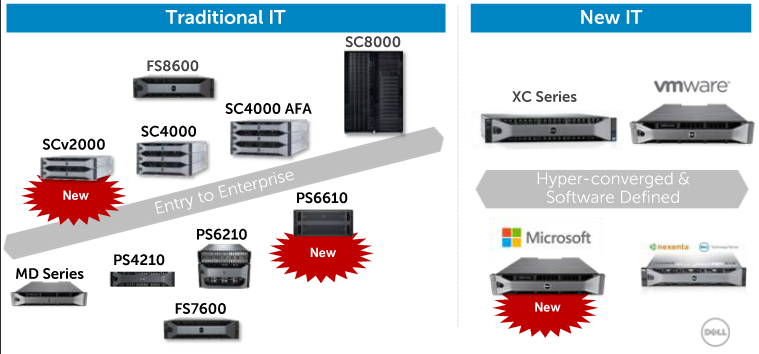 Hyper-converged infrastructures, which combine full-featured storage, compute and networking functions into a single solution or appliance, typically for virtualized environments, continue to gain momentum as organizations reap the benefits of faster time-to-value and more efficient operations from flexible, scalable, streamlined IT. According to research and analyst from IDC (IDC Worldwide Hyperconverged Systems 2015-2019 Forecast (IDC #255614, April 2015)), the worldwide hyper-converged systems market is expected to grow at a nearly 60 percent compound annual growth rate (CAGR) thru 2019, reaching more than $3.9 billion in sales.
Now the hyper-converged infrastructure portfolio has become more broad and complete andoffers customers the industry's only single source for one of the most trusted hyper-converged infrastructure solutions:
Dell to resell EMC hyper-converged offerings including VCE VxRail™ Appliance Family, VCE VxRack™ Node and VCE VxRack™ System 1000 FLEX
Dell introduces flexible Dell VMware Virtual SAN Ready Nodes based on Dell PowerEdge servers
Dell XC Series improves performance as the industry's first Nutanix-powered systems with the latest Intel processors
Dell adds VMware Virtual SAN support for the Dell Hybrid Cloud Platform with VMware
So the big news is the additions of the VCE® VxRail™ appliances and VxRack™ systems:
VCE VxRail Appliance Family – These are the only hyper-converged infrastructure appliances jointly engineered with VMware and are fully integrated, preconfigured, and pre-tested for VMware environments. Combining EMC rich data services and leading systems management capabilities with VMware's leading hyper-converged software in a single product family, VCE VxRail Appliances are available in a broad set of configurations for small to mid-sized deployments, starting with a list price of $60,000 (US) and scaling to match a variety of workloads with a range of configurations including all-flash options.
VCE VxRack Node and VxRack System 1000 FLEX– VCE VxRack Systems represent a transformational way for customers to move from physical Storage Area Networks (SANs) to hyper-converged engineered systems with the ability to scale up to thousands of nodes with multiple hypervisor support. The VxRack Node is a software-defined storage building block with EMC® ScaleIO® software, enabling quick deployment and flexible scalability. The VxRack System 1000 FLEX is a rack-scale, hyper-converged infrastructure offering that delivers high performance compute, software-defined storage and networking.
Should be interesting see if this family will be the only EMC product line sells also by Dell, considering the several other "traditional" storage solutions from EMC, but it rappresent a first step and a first message after the Dell-EMC deal.