This post is also available in: Italian
Reading Time:
7
minutes
Dell Storage portfolio has grown in those years, also from some acquisitions (EqualLogic and Compellent) and some partnership (like the recent one with Nutanix for the XC Series) becoming more complete and spread.
Actually there are three main lines in the "traditional" storage world that include: MD3 series (based on NetApp technologies), PS series (based on EqualLogic) and SC series (based on Compellent). And new solutions for the hyper-converged world, including the XC series and VMware EVO:RAIL appliances (but also other partnership, like the one with Nexenta or RedHat).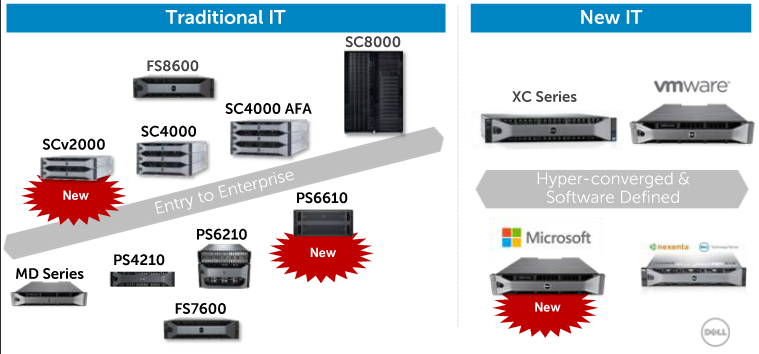 Of course there are also the converged solutions: PowerEdge M1000e (where the integrated storage is a blade version of a PS model), FX and VRTX.
Now there are some interesting announces not only in term of new products, but also from the point of view of the future strategy of the Dell Storage line of products.
New products have been announced:
Dell Storage SCv2000 series
Dell Storage PS6610 series
Dell Storage with Microsoft Storage Space – Scale out storage
Microsoft Storage
Dell announced Dell Storage with Microsoft Storage Spaces, new, tested and validated solutions, designed to support Microsoft's SDS capabilities on Dell's enterprise-class server and direct attached storage hardware. This new Scale-Out File Server (SOFS) solution, available in five configurations, support customers seeking an SDS and virtualized storage approach to various workloads, including private cloud deployments, virtual desktop infrastructure (VDI), and SQL and Hyper-V environments.
The support of Storage Spaces and SOFS wasn't so new, was possible also before with specific PowerVault MD products, but see officially (the product will be available on June) in a storage portfolio is a good recognition of the Microsoft solution and a confirm in the market trend of new type of storage.
Microsoft has become a storage vendor? For sure it's a good player in the storage arena.
EqualLogic Storage
The new Dell Storage PS6610 Series dense arrays include substantial improvements by offering 3.5x capacity and up to 7x performance compared to previous generation arrays for customers with large data repository requirements
The PS6610 Series arrays, it's available in hybrid flash (mixing SATA with SSD) and hard disk drive configurations, support critical business applications and are ideal for customers with large data repository requirements. They combine the power of 10 Gigabit Ethernet (GbE) and dense storage, offering the ability to support half a petabyte of capacity in a single 5U array. With greatly improved density, memory and performance, the arrays require less space to support customers' growing data requirements.
About the hybrid approach the PS6610ES hybrid-flash is still only RAID6 hardware accelerated (the only RAID model "usable" in a PS hybrid storage), that make sense for the SATA part, but it's not necessary the best (or the only) way to approach a hybrid storage.
The arrays ship with Dell EqualLogic PS Series Array Software 8.0 which provides new space-saving features, such as compression of snapshots and replicas. The new software further supports virtual environments with advanced VMware vSphere Virtual Volumes integration that allows arrays to be managed on a virtual machine (VM) basis instead of per volume or LUN (this was only possible with the beta of EqualLogic firmware and require also a new version of the HIT for VMware appliance).
Dell EqualLogic PS firmware 8.0 will include also compression (for snapshot & replica), smart tags and other interesting features. Existing customers with a valid support contract can download the latest software at no additional cost.
The Dell Storage PS6610 Series arrays, Dell EqualLogic PS Series Array Software 8.0 will be available globally in early Q3.
Compellent Storage
With the introduction of the Dell Storage SCv2000 Series, Dell offers customers entry-level storage arrays with the same common management and several of the core features as higher-end Dell SC Series arrays with unified interface, same concepts and common set of features.
Extending Dell Storage Center software to entry-level arrays allows customers to standardize on a common platform, helping them save time, management costs and operational overhead. All Storage Center modes are centrally managebly from a single Enterprise Manager instance.
The customer-inspired Dell Storage SCv2000 Series exemplifies the Dell Storage strategy to expand customer access to higher-end storage capabilities. Starting at approximately $14,000 (US) per array, the new series launches with three models supported by three expansion options and offers customers:
High performance at an affordable price – The arrays deliver best-in-class performance in a single, affordable 2U enclosure. Feature-rich options include proven data protection features, RAID tiering to optimize capacity, thin provisioning, flash support, data-migration services, and multi-protocol connectivity. Customers can help safeguard their data with granular data protection that allows up to 2,000 snapshots and 500 replications.
Integrated data protection-The arrays offer integrated features such as Remote Instant Replay, Local Instant Replays and Replay Manager along with RAID tiering t that optimizes SAN capacity. Tight integration with common application environments, such as Microsoft and VMware, help to simplify virtualized data centers, allowing local and remote data protection features to take consistent snapshots of virtual machines without sacrificing performance.
Future flexibility with Storage Center – Customers can gain more value from existing investments with data migration to higher-tier Dell Storage SC4000 and SC8000 Series arrays. The SCv2000 Series supports today's needs and future growth as the arrays can be managed with the same, single user interface as other SC Series arrays. Customers can scale capacity when needed with the benefit of no capacity licensing and choose from a broad range of hard drives and SSDs, configured for a variety of applications.
There are some limitation in the new SCv2000 series (like the replication could be done only across SCv2000), but it's a first step to build a unified Dell Storage portfolio, like has been done some month ago with the Dell Networking portfolio.
Alhtough there is a new PS series, sound reasonable see in the future a single family and a single team and from this point of view the Compellent series is the most flexible:

This does not mean that PowerVault MD3 and EqualLogic PS will disappear (or, at least, not in the next three years), but having a single main product (at least for the "traditional" storage) can really help, for example in migration to higher models. With the new SCv2000 (and its positioning price) new customers can choose this product instead a PS series.
And the SC platform runs on common Intel commodity servers, that makes those solution more portable to new platform (and, if needed, also on as a virtual storage appliance). Same is not possible with the PS and MD series where hardware is not standard.
Existing customers or people who need the scalability of EqualLogic can still grow in this direction. And actually the scale-out model of the PS series is something yet not available in the SC series… but you can have it (and better) using an hyper-scale storage solution like the XC series.