This post is also available in: Italian
Reading Time:
5
minutes
Veeam has just released the new versions of Veeam Backup and Replication, Veeam ONE and the bundle Veeam Availability Suite, all updated to the new 9.5 Update 4 version.
As you probably notice in the past (see what's happened with Veeam Backup & Replication 9.5 Update 3 or Veeam Backup & Replication 9.5 Update 2), this new "patch level" brings a lot of new features, like a major release.
The first notable feature is that Veeam Backup & Replication now fully support vSphere 6.7 and the fix for the Veeam Backup & Replication issue with vSphere 6.7 Update 1 is no more required.
Of course, the new Update 4 adds also the compatibility with Windows Server 2019.
The other main improvements are:
Cloud Tier: Provides unlimited capacity for long term data retention by using native, cost-effective object storage integrations with Amazon Simple Storage Service (Amazon S3), Azure Blob Storage, IBM Cloud Object Storage, as well as Amazon S3-compatible service providers and on-premises storage solutions. With Veeam, customers avoid double charges for storing data in the cloud – unlike with other backup providers who impose "cloud tax" on top of the cloud provider's storage cost.
Cloud Mobility: Businesses can easily migrate, move and recover any on-premises or cloud-based workloads to AWS, Azure and Azure Stack in just two steps to maintain business continuity and availability, increase agility and optimize cost across hybrid cloud environments.
Enhanced Veeam DataLabsTM: Businesses will have increased security and data governance options including GDPR readiness and malware prevention with DataLabs Staged and Secure restore.
Intelligent Diagnostics: Companies can reduce management and support costs through a proactive resolution of configuration problems.
Enhanced Veeam Cloud Connect Replication for Service Providers (VCC-R): Service providers using VMware vCloud Director can leverage existing networking, infrastructure and self-service management investments for Disaster Recovery as a Service (DRaaS) solutions for lower TCO and higher margins.
The Cloud Tier feature was announced years ago as a possible new feature of Veeam B&R 10, and we can consider a v2.0 of the cloud native archiving feature, first introduced in the Veeam Backup & Replication Cloud Edition.
The Cloud (or Archive) Tier is a different way to work compared with the Backup Copy Job and can be used as an alternative way to implement long term retention.
But also a native way to support some object storage as an extension of the scale-out repository and increase the supported storage options.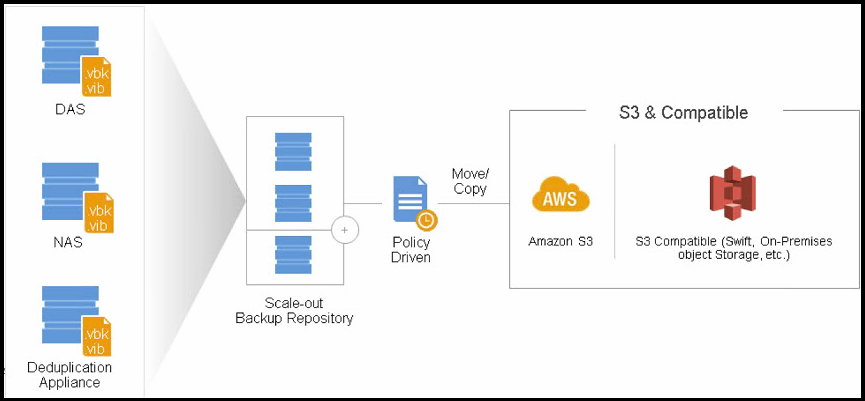 This doesn't replace copy jobs, but it does allow your backup jobs to have more of a traditional structure in keeping long-term restore points.
Supported object storage are:
Amazon S3
S3 compatible storage (Swift, 3-party vendor)
Azure Blob Storage
IBM Cloud Object Storage
For Veeam Cloud Mobility, it provides a simple and easy way to have portability and recoverability to public cloud solutions like AWS, Azure, but also to on-prem solutions, like Azure Stack. Of course, it includes an automatic virtual hardware "conversion" to adapt for cloud specific environment requirements, like converting UEFI to BIOS for AWS EC2.

With the new Suite there are also the new Agents for Windows and Linux in the new releases (both in version 3.x)… but also a new type of Agents for AIX and Solaris!
Is the new version stable enough to be used in production? The RTM version was distributed at the beginning of January, so the code is already well tested and there are a lot of downloads:
Veeam Backup and Replication 9.5 U4 – over 16k downloads as of this morning since the GA last week. Wanna track top issues – here we go https://t.co/dx50755bN7

— Mike Zolkin (@MikeZolkin) 28 gennaio 2019
But there are some changes in license management, that maybe must be checked before trying to upgrade your version. For new deployments this potential issue is no relevant and it's even better, consider that the new version bring also new version of the libraries and a new version of the SQL Express database (that is not automatically updated during an upgrade process).
And before upgrading be sure to check this official documentation: Upgrading to Veeam Backup & Replication 9.5 Update 4
Note that Veeam Availability for Nutanix AHV remains basically an independent product, with its release cycle (a new version was released some weeks ago).
Finally, there is another big change: Veeam Backup Free Edition has been discontinued! Seems something very bad, but there will be a new "free edition", much better than the existing one!
For more information see also: