Questo post è disponibile anche in: Inglese
Reading Time:
3
minutes
Veeam ha da poco rilasciato la versione GA (Generally Available) dei suo prodotti Veeam Backup and Replication, Veeam ONE e Veeam Availability Suite, tutti aggiornati alla nuova versione 9.5 Update 4. In realtà ai partner era già stata rilasciata una versione RTM (Released to Manufacturing) ancora ad inizio anno.
Come molti avranno osservato dagli aggiornamenti passati (vedere ad esempio Veeam Backup & Replication 9.5 Update 3 o Veeam Backup & Replication 9.5 Update 2), il rilascio una nuova "patch level" corrisponde all'introduzione di nuove funzionalità, come accadeva una volta con le major release.
La prima novità ovvia ed ampiamente annunciata è che questa è la prima versione a supportare completamente vSphere 6.7, in particolare risolve il problema tra Veeam Backup & Replication e vSphere 6.7 Update 1.
Le altre novità principali sono:
Veeam Cloud Tier – consente di risparmiare fino a 10 volte sui costi di conservazione dei dati a lungo termine utilizzando l'integrazione nativa con object storage
Veeam Cloud Mobility – facilita la portabilità e il ripristino di qualsiasi carico di lavoro on-premises o in cloud su AWS, Microsoft Azure e Azure Stack
Veeam DataLabs – aumenta la sicurezza e governance dei dati, incluse la conformità al GDPR e la prevenzione del malware
La funzionalità di Cloud Tier era già stata annunciata anni fa, come parte delle nuove funzionalità della futura versione 10 di Veeam B&R 10, ed era in qualche modo stata approciata per la prima volta con la Veeam Backup & Replication Cloud Edition.
La funzione di Cloud (o Archive) Tier è un modo alternativo di gestire retention lunghe, senza dover per per forza usare i Backup Copy Job (come si faceva oggi).
Ma rappresenta anche una modalità nativa per supportare gli object storage ed esterndere le funzionalità dello scale-out repository.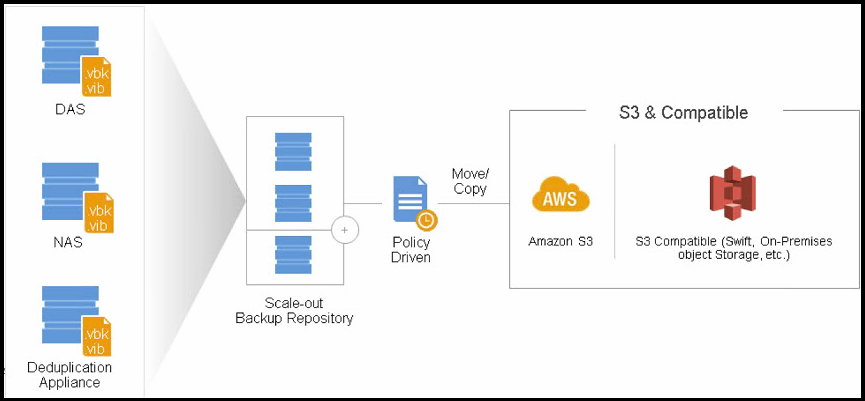 Gli object storage supportati sono:
Amazon S3
S3 compatible storage (Swift, 3-party vendor)
Azure Blog
Notare che il prodotto Veeam Availability for Nutanix AHV rimane ancora un prodotto a "se stante" con i suoi cicli di rilascio.
Il processo di aggiornamento è abbastanza semplice ed è descritto in modo completo in questo post della Veeam Community italiana.
Ci si può fidare ad aggiornare il prodotto? Sicuramente in tanti lo hanno già fatto, visto i numeri dei download:
Veeam Backup and Replication 9.5 U4 – over 16k downloads as of this morning since the GA last week. Wanna track top issues – here we go https://t.co/dx50755bN7

— Mike Zolkin (@MikeZolkin) 28 gennaio 2019
Va però detto che vi sono delle modifiche nella gestione delle licenze, e che quindi l'aggiornamento va pianificato attentamente.