This post is also available in: Italian
Reading Time:
4
minutes
During the last IT Press Tour (the 14th), in the Silicon Valley (December 1-5, 2014) we met several companies in different categories (Cloud, Storage and Big Data).
The second company that we met on the third day was SpanningCloudApps, a company founded on 2010 and based in Austin (TX) that provide unique cloud-to-cloud backup solutions and recently (October 2014) acquired by EMC (now is formally called Spanning by EMC).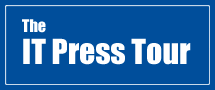 In the introduction part, Jeff Erramouspe (CEO) has explain the company origin and their vision and mission.
Spanning was created with a singular purpose: to help companies protect and manage their information so they can be fearless in the cloud. We provide powerful, reliable, enterprise-class backup and recovery for organizations that would suffer significant business interruption as a result of lost data in SaaS applications, including Google Apps and Salesforce (and recently also Office 365).
It's funny but there is a big lack of products and solutions for public SaaS data backup: traditional (and new) backup solutions actually can only handle on-premises backup, sometimes also backup of public cloud services, but usually IaaS based. Of course they (or most of them) have the possibility to use cloud services as a target for the backup (like, for example, Veeam with the new cloud approach).
And of course the different cloud provider have some built-in backup and or data protection functions but with some limits, in term (for example) of RPO / RTO requirements or the availability of store the backup data in different places.
Spanning is trying to fill this gap and provide unique capabilities in protecting the data for the most used SaaS applications, also considering that (from a Aberdeen Research "SaaS Data Loss: The Problem You Didn't Know You Had") one in three companies using SaaS apps has reported data lost:
64% due to user errors
20% due to malicious intent
7% due to sync errors
They have more than 4000 customers worldwide (they are protecting 350,000+ Google apps accounts, 4000+ domains, billions of documents and emails) and are serving global market enterprises, midmarket and SMBs, education and nonprofits. One customer is Pivotal (an EMC/VMware "spin-off" for PaaS and Big Data).
And why don't simple rely on the SaaS provider? Also if their SLA and RPO/RTO match your requirements the data remain the organization's data, and their main responsibility is on the customer/consumer side, not on the provider side:
SaaS data recovery is focused internally, not externally
SaaS providers will do what the customer tells them to do with data
SaaS providers promise to delete data when asked
And in any case the provided protection could not match the customer requirement is mainly fixed and limited: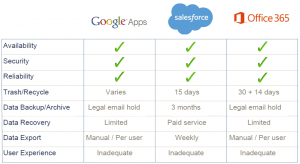 Spanning can match your requirements and your policiles. And there can be some compliance requirements that can make it (or similar solutions) necessary!
This product is actually designed for backup and restore, but could be interesting (and seems that is not excluded in future plans) if could become also a tools for data migration between SaaS services (like from Google Apps to Office 365 or vice-versa.
Finally Russell Stockdale (EMC VP & GM Data Protection Cloud) has talk about the EMC offer and the related portfolio that become really strong (and also complex) in term of data protection and cloud solutions. There are several potential overlaps, but some companies has been acquired only in the last months, so there some time is still needed in order to provide integrations between all those solutions (or at least part of them).
For more information see also those other posts/articles:
Disclaimer: I've been invited to this event by Condor Consulting Group and they have paid for accommodation and travels, but I'm not compensated for my time and I'm not obliged to blog. Furthermore, the content is not reviewed, approved or published by any other person than me.