Reading Time:
3
minutes
Nutanix has announced Acropolis Version 4.7 GA on June 28th (announcement details can be found here), but if you plan to use it it's highly recommend downloading the latest maintenance release of this version, Acropolis Version 4.7.1 and start from it.
The new version of the NOS (previous name of the Nutanix Operating System) adds a lot of new and interesting features.
Acropolis Block Services (ABS)
ABS enables applications not running on Nutanix to use Acropolis Distributed Storage Fabric for back-end block storage. Whether applications are virtualized or running on bare metal servers, they can benefit from the simplicity and scalability that Nutanix offers.
Nutanix Acropolis can now expose its distributed storage fabric as block storage over the iSCSI protocol. All of the storage functionality that the platform offers—deduplication, compression, tiering, snapshots, clones, erasure coding, etc. – are available for practically all applications, including non-virtualized workloads.
Even in today's world where the majority of applications are being virtualized, certain applications, like Oracle, will continue to run in physical server environments. Nutanix have heard reasons ranging from the need to deprecate existing servers, to application licensing and support, to even organizational dynamics. Nutanix ABS is a simple and easy way for IT to extend the scalability and performance benefits of virtualization to these environments.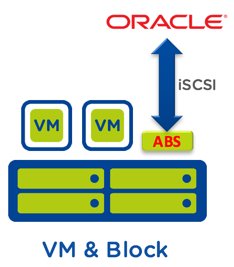 With this, high-performance virtualized workloads, virtual desktops, file servers, and data from non-virtualized applications can reside on the same Nutanix cluster and be managed centrally using Prism.
Docker Container Support
The Acropolis Distributed Storage Fabric has been extended to provide persistent storage support for containers. The volume driver is written in Go, it runs as a Docker volume extension, and behaves as an intermediate container. Thus, the benefits of hyperconverged infrastructure is extended to containers by exposing storage directly, completely bypassing the hypervisor.
Included in the 4.7 release are:
DSF and Docker Machine that uses the native Docker API and tooling.
Easy Install and Support: The DSF Docker Volume Plug-in and the Docker Machine Driver work right out of the box and are fully supported by Nutanix.
In-Place Hypervisor Conversion
Previously tech preview, this 1-click feature available through the Prism web console allows you to convert your cluster from using ESXi hosts to using AHV hosts. Guest VMs are converted to the hypervisor target format, and cluster network configurations are stored and then restored as part of the conversion process.
Support for the Microsoft Cloud Platform System
Nutanix and Microsoft have jointly engineered a hybrid cloud solution that brings together Microsoft's datacenter technologies, including Hyper-V, System Center, and Windows Azure Pack, to Nutanix as a single integrated product that is factory configured based on best practices from both Microsoft and Nutanix. You can learn more about this product here.
OpenStack Drivers Support
For customers looking to deploy an OpenStack-based solution and also benefit from the simplified integrated experience that Nutanix provides, the OpenStack package for AHV is now available for download. This includes storage, virtualization, network, and image management drivers. You can read more about it
here
.