Reading Time:
4
minutes
Zerto has announced the general availability of Zerto 7.0, adding new capabilities to its IT Resilience Platform that revolutionise the way backup is done.
Zerto is a well know product for VM replication, but one year ago Zerto become also a backup solution with the introduction of its IT Resilience Platform™ to converge backup, disaster recovery and cloud mobility converged in a single, simple, resilient, scalable platform.
Designed for an era of application complexity and cloud adoption, where legacy backup doesn't meet the needs of today's businesses, Zerto 7.0 replaces periodic backup with continuous data protection combined with powerful journaling technology for both short-term and long-term data retention. This release converges disaster recovery, backup and cloud mobility into a single platform that allows organisations to combine historically siloed processes to drive efficiencies, performance and proactive IT transformation.
The new key features to be included in Zerto 7 are:
Elastic Journal: a new concept in data protection, merging granular journal technology with long term repositories allowing for a continuous stream of recovery points with search and recovery across data, files or VMs from any point in time from 7 seconds to 7 years
Intelligent indexing and search across on-premises or cloud to enable recovery for short and long-term retention
Data Protection workflows to automate the recovery from any point in time ensuring application consistency across repositories for short and long term data retention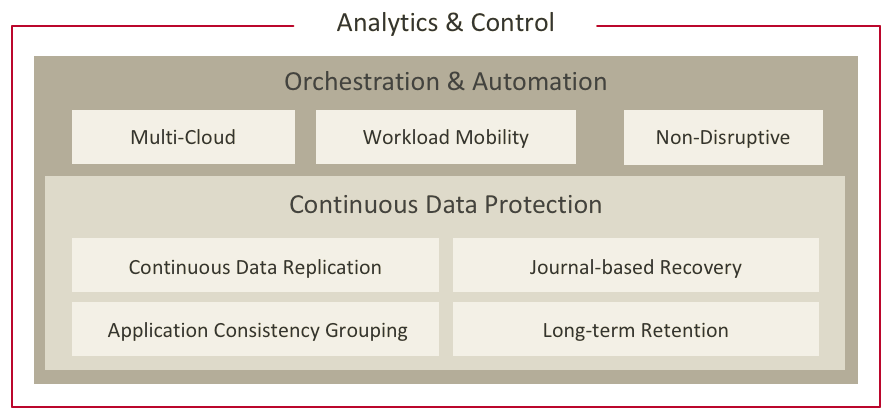 Zerto 7 will also introduce incremental, synthetic and full copies to increase efficiency and reduce storage needs, enhancements to its scale out architecture and new on-premise and cloud repository targets.
Zerto 7.0 offers a range of new, innovative features and capabilities to reinvent disaster recovery and backup, including:
A unique Elastic Journal that combines the granular journal technology with long-term repositories, providing a continuous stream of recovery points with intelligent index and search – for recovery across data, files or VMs from any point in time
Data protection workflows that automate recovery from numerous points in time, across multiple VMs, ensuring application consistency across short- and long-term data retention
Built-in support for Purpose Built Backup Appliance (PBBA) such as Exagrid, with new on-premises support for NFS and SMB targets
Retention policy settings for daily, weekly, monthly and annual cycles to copy the recovery data to cost-efficient LTR repositories
Scale-out architecture designed to further accelerate the application recovery process for Microsoft Azure
Automatic encryption at rest upon the recovery of EC2 instances when protecting workloads on Amazon EC2
Robust resource planning and 'what-if' scenario modeling within Zerto Analytics which continuously monitors and analyses compute, storage and network resources across on-premises environments and public, private and hybrid clouds
"The ability to manage our DR and backup through a single platform with Zerto 7.0 will be a game-changer for us," said Michael Sallie, Senior Systems Engineer, Yanfeng Automotive Interiors. "DR and backup are both time-intensive and redundant tasks for our IT team. With the convergence of the two, we'll see much less of our team's time spent managing them separately, freeing them up to work on other important IT needs. We also anticipate significant efficiency increases through the ability to replicate once for both DR and backup, not only saving time but saving costs."
With the concept of tha secondary storage for the old and historycal data (cold data with an age higer than 30 days) to archive them on a cheapest storage. Actually are supported NFS, SMB or S3 based storage, but in the future there can be also an integration with dedupe appliance and other cloud storage.
In this way become also a backup product, and it make sense considering that already has the Continuous Data Protection (CDP) technology for the replicas, and the same can be used for the backup, with a different approach than most of the others backup products (that are scheduled based insead to be CDP based). Zerto is changing the way backup gets done and this can define new possibilities and new scenario.