Reading Time:
7
minutes
During the Dell World 2014 event, Dell has announced new products and solutions to help global customers on their paths toward software defined data centers by bridging the IT gap between traditional and new application requirements.
Dell's new future-ready IT solutions include the new Dell PowerEdge FX converged architecture that provides optimal modularity and scalability; a new Dell Storage SC4020 Entry-Level All-Flash configuration that offers compelling features and performance in an all-flash storage array for $25,000 (US); the new Dell Storage PS4210 Series for substantially improved application performance and connectivity options for small and mid-size deployments; and, the Dell XC Series of Web-scale Converged Appliances for integrated compute and enterprise storage.

Dell PowerEdge FX
Some months ago Dell has announced the Generation 13 of the PowerEdge family, but was limited at some models, because was the first wave of new server.


Now Dell announce a new family in the Dell PowerEdge offert (composed by the Modular, Rack, Tower and VRTX… plus some specific solutions like the PowerEdge Cloud): the Dell PowerEdge FX architecture is Dell's revolutionary approach to converged infrastructure with one common modular and scalable platform with servers, storage and networking integrated to help customers better manage, scale and budget for infrastructure to meet business needs.
The next-generation PowerEdge FX architecture is a 2U enclosure with six new PowerEdge server, storage and network IOA sleds built specifically to fit into the FX2 chassis and support varying workloads. Designed with integrated management capabilities, The FX architecture enables customers to easily configure, manage and add capacity to complete workload-specific blocks of IT resources.
The FN-IOA is designed for simplified, high-performance networking on the FX2 platform by providing built-in aggregation capabilities that can create up to an 8-to-1 reduction in cabling and associated top-of-rack switch ports.
The FN-IOA will provide FX2 customers with:
Simplified network deployments with plug-and-play installation and reduced cabling requirements
Optimized performance with integrated local switching and high-speed 10GbE uplinks
Integrated LAN/SAN convergence with a built-in option for zero-touch fibre channel over Ethernet (FCoE) auto-configuration support
Cost-effective, hyperscale networking solutions

This converged infrastructure approach affords efficiencies of shared power, I/O and management, integrated switching, and unsurpassed overall density capabilities at up to 40 2-socket servers in 10U. Building on Dell's recent PowerEdge 13th generation server portfolio announcement, the next-generation PowerEdge FX2 also includes advanced systems management capabilities to reduce operational complexity and simplify data center management.
The inital release of the FX2 enclosure can be configured to hold four 1U half-width resource blocks, the PowerEdge FC630 server node or PowerEdge FM120x4 microserver. Future releases will support quarter- and full-width servers and a half-width storage block. You have a choice of a switched configuration with eight PCI Express® (PCIe) expansion slots enabled at the back of the enclosure, or a cost-optimized, entry-level option with Ethernet only.
The PowerEdge FX Architecture including PowerEdge FX2 chassis and initial sleds (FC630, FM120x4) will be available in December 2014. The PowerEdge FX Architecture sleds including the FD332, FN IOA, FC430, FC830 will be available in the first half of 2015.
All-Flash Storage Arrays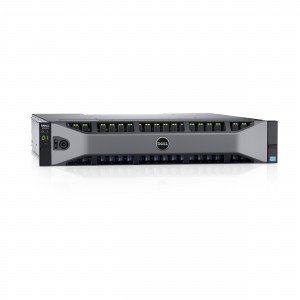 Dell, which first introduced all-flash enterprise arrays for the price of traditional HDD solutions, today announced a new Dell Storage SC Series all-flash array configuration for $25,000 (US), making it one of the lowest all-flash enterprise arrays in the industry. Offering a more economical starting point for flash performance to support demanding applications, the Dell Storage SC4020 Entry-Level All-Flash configuration offers substantial performance improvement over spinning disk solutions.
The Dell SC4020 is not a new product because this "entry level" version was already introduced in early 2014. The news is the All-Flash and Flash-Optimized solution avalable now also on this model and not only in the SC8000 series. 
The Dell Storage SC4020 Entry-Level All-Flash configuration will be available in early 2015.
Dell Storage PS4210

Dell has also announced a new EqualLogic model: the new Dell Storage PS4210 Series enterprise storage arrays bring improved performance and advanced connectivity options for entry-level primary storage and critical workloads.
This marks the introduction of a hybrid (flash and HDD) model to Dell's entry-level PS Series portfolio, which is ideal for, small-to-medium virtualized datacenters and remote offices. The PS4210 arrays are designed to be fully compatible and interoperable with all previous Dell EqualLogic PS Series arrays.
Dell's latest 10GbE iSCSI arrays offer enterprise capabilities in five models that boast a more powerful controller with double the cache memory, twice the number of ports, and up to six times performance improvement with new hybrid arrays compared to previous generation arrays.
The Dell Storage PS4210 Series Arrays are available worldwide today.
Dell – Nutanix product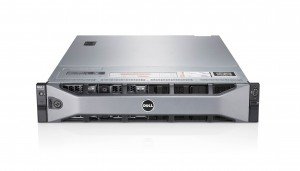 Dell also announced worldwide availability of the Dell XC Series of Web-scale Converged Appliances, which integrates compute, storage and hypervisor resources into a single offering. The XC Series appliances, powered by Nutanix software, benefit customers with an integrated IT approach that offers enterprise-class storage for virtualized server and VDI environments with simple deployment, management and scale as needed. The new appliances are available in five models  designed to support different workloads.
With the XC Series, customers can manage their virtual environments at a VM level, making the appliances particularly ideal for virtual desktop infrastructure, high performance server virtualization, and  datacenters with multiple hypervisors deployed. The XC Series joins Dell's broad portfolio of software-defined storage and hyper-converged offerings for virtualization customers.
It's funny that Dell has also a partnership with VMware for the EVO:RAIL solution (and in the future probably also the EVO:RACK), so two "similar" solution in the same portfolio… For sure the announce of the Nutanix partnership was older and anyway the XC series is also for other platforms, not only the VMware one.
The Dell XC Series of Web-scale Converged Appliances will be available starting November 11 with support for VMware ESXi and Microsoft Windows Hyper-V.
Open Networking Solution
Dell, Brocade, and Intel announced plans to deliver NFV-based solutions to virtualize and accelerate Enterprise service delivery at the carrier edge. The solutions leverage Dell's newly-introduced NFV platform powered by the Intel® Open Network Platform for servers architecture and the Intel® Data Plane Developer Kit combined with the Brocade Vyatta vRouter software to virtualize existing customer edge and provider edge networking functions.
Based on open software and industry-standard server infrastructure, Dell, Brocade and Intel are collaborating to help telecommunications service providers improve capital and operational cost structures for service delivery and to enable quicker, simpler service innovation and creation. Now NFV developers can easily use the latest technologies to evaluate and develop commercial solutions.