Questo post è disponibile anche in: Inglese
Reading Time:
4
minutes
Objective 1.1 – Install and Configure vCenter Server
Vedere anche questo post: Objective 1.1 – Install and Configure vCenter Server e Objective 1.1 — Install and Configure vCenter Server.
Identify available vCenter Server editions (new in vSphere 5.x)
Le edizioni di vCenter Server 5 disponibili sono, come nel caso di vSphere 4.x:
vCenter Server Foundation: stessi limiti della versione 4.x (massimo 3 host gestibili, no Orchestrator, no Linked mode)
vCenter Server Essential: fondamentalmente una versione Foundation abbinata ai bundle Essential ed Essential+
vCenter Server Standard: la versione completa (con alcuni limiti sulla versione appliance)
Per l'installazione del vCenter Server sono possibili due opzioni (in vSphere 4.x solo la prima era disponibile):
installazione in una macchina Windows Server (supportata sia macchina fisica che VM), vedere i requisiti minimi (notare che Windows XP non è più supportato)
deploy di un virtual appliance basato su SuSE Enterprise (in questo caso non serve una licenza Windows, ma si avranno alcune limitazioni)
Deploy the vCenter Appliance (new in vSphere 5.x)
Il deploy è simile a qualunque VA: http://vmwire.com/2011/07/15/vsphere-vcenter-server-linux-virtual-appliance-quick-start-guide/
La configurazione non è specificata nel blueprint, ma è probabilmente sottointesa. Vedere vSphere Installation and Setup Guide (pag. 201) e vCenter Server and Host Management Guide (pag. 41).
Per maggiori informazioni vedere anche: vCenter Server Virtual Appliance (vCSA)
Install vCenter Server into a virtual machine (same as vSphere 4.x)
Sono supportate sia l'installazione in fisico, che in virtuale (obbligatoria nel caso del virtual appliance).
Vedere: http://vinfrastructure.it/it/vdesign/vmware-vcenter-server-physical-or-virtual/.
Size the vCenter Server database (similar as vSphere 4.x)
Per valutare la dimensione del DB si può utilizzare lo strumento incluso in vCenter Server (i dati della versione 4.1 sono molto simili), oppure scaricare dal sito VMware in foglio Excel con le relative formule. In particolare è importante valutare quanto spazio serve in funzione degli host, delle VM e del livello delle statistiche:
Install additional vCenter Server components (new in vSphere 5.x)
Nel DVD di installazione del vCenter Server sono inclusi i seguenti pacchetti: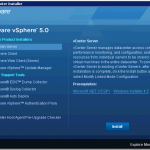 vCenter Server for Windows (that include also the Orchestrator)
vSphere Client
vSphere Web Client (server part for Windows)
vSphere Update Manager
ESXi Dump Collector
Syslog Server
Auto Deploy
vSphere Authentication Proxy
Install/Remove vSphere Client plug-ins (same as vSphere 4.x)
L'installazione normalmente avviene o dal gestore plug-in (ma non sempre) o da programma di installazione o MSI (ad esempio nel caso del plug-in del VDR). La rimozione invece dai programmi installati, come per altri programmi Windows.
Da notare che invece lato vCenter Server i plugin vengono registrati e deregistrati all'interno di vCenter da apposite procedure (in particolare vedere KB 1025360 – Removing unwanted plug-ins from vCenter Server).
Enable/Disable vSphere Client plug-ins (same as vSphere 4.x)
Sempre gestito dal gestore plugin (vedere documentazione ufficiale). In caso di problemi di attivazione,verificare di non avere vecchie versioni del plug-in oppure consulare KB 2001202 – Cannot enable vSphere Client plugins after they are installed.
License vCenter Server (similar as vSphere 4.x)
La gestione delle licenze è rimasta la stessa della versione 4.x come pure il modo di licenziare il vCenter Server (sempre per istanza).
In più, in vCenter Server 5, è stata introdotta una funzione di Reporting dell'uso delle licenze nel tempo (sembra che questa componente utilizzi la parte di vSphere Web Client). Ogni 30 minuti viene generato e salvato un report dell'utilizzo delle licenze.
Determine availability requirements for a vCenter Server in a given vSphere implementation (similar as vSphere 4.x)
Vedere: http://vinfrastructure.it/it/vdesign/vcenter-server-solutions-to-increase-the-availability/.
Determine use case for vSphere Client and Web Client (new in vSphere 5.x)
Vedere il la guida "VMware vSphere Basics guide" e il documento vSphere Web Client.