Questo post è disponibile anche in: Inglese
Reading Time:
4
minutes
SanDisk è molto nota nel campo "consumer", con le sue solutioni di flash card (alcune delle mie schedine SD sono proprio di questo produttore), ma in realtà non limitata solo a questo settore e segmento. In primis realizza anche soluzioni di Solid State Devices (SSD) per il mondo desktop, laptop, and ultrabook.
Ma sta lavorando molto anche nel campo "enterprise" con interessanti soluzioni che spaziano da SSD ibridi (vedasi Western Digital e SanDisk realizzeranno nuovi dispositivi storage ibridi), SSD SAS per segmento enterprise, a soluzioni basate su schede PCIe, fino a giungere a soluzioni completamente software come FlashSoft e Membrain. I prodotti enterprise sono distribuiti in modalità OEM (in particolare vi sono accordi con Dell e NetApp), in modalità canale, reseller o in diretta.
Inoltre è una grande azienda internazionale, con più di 4700 dipendenti, 3 fabbriche world class, investimenti in R&D sui 633M$ annui, e più di 4500 brevetti!
Ora SanDisk ha annunciato la nuova versione del prodotto software FlashSoft, con l'obiettivo di portare la tecnologia flash nel mondo enterprise, migliorandone ed ottimizzandone l'utilizzo per massimizzarne i benefici. L'aspetto interessante che è questa soluzione è completamente indipendente dal tipo di soluzioni hardware scelte e quindi si può integrare con qualunque server, storage e infrastuttura di rete.
L'uso delle tecnologie flash all'interno di un datacenter può avvenire a diversi livelli e con diversi approcci: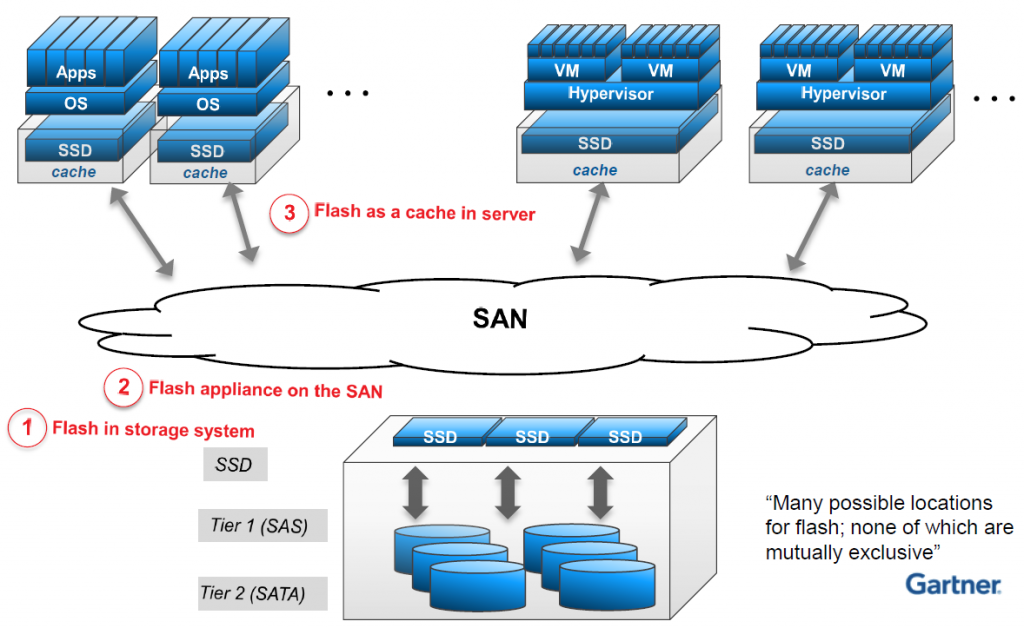 La soluzione FlashSoft lavora a livello dell'host (o server che dir si voglia) con l'obiettivo di migliorare l'efficienza dello storage, spostanto il traffico di I/O dalla SAN alla cache usando sia flash card, ma anche (in aggiunta o in sostituzione) i più "comuni" SSD. L'aspetto interessante è il focus sulla compatibilità e trasparenza della soluzione che non richiede modifiche a livello di applicazioni, sistema operativo, VM o a livello di storage, rete o policy.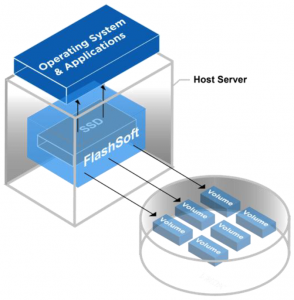 La soluzione può essere usata in due tipi di sistemi:
"bare metal" per sistemi fisici (ad esempio per accelerare un DBMS), compatibile con server Linux & Windows
ambienti virtuali (come ad esempio in scenari di VDI), compatibile con VMware vSphere 5.0 or 5.1
La cache in scrittura può essere sia di tipo write-back cache (ma solo per nodi singoli) o di tipo write-through (da usare obbligatoriamente in ambienti cluster, per garantire l'integrità dei dati). Interessante che è allo studio una soluzione per implementare una cache write-back anche per sistemi cluster e quindi velocizzare sensibilmente anche in questi casi le operazioni di scrittura e non solo quelle di lettura.
La nuova versione 3.2 definisce una nuova tendenza di versionamento uniforme tra tutti i prodotti:
FlashSoft 3.2 for Windows Server (version 2.0 updated to 3.2)
FlashSoft 3.2 for Linux (version 2.0 updated to 3.2)
FlashSoft 3.1 for VMware vSphere (released April 2013)
L'intendo è quello non solo di avere un versionalmento uniforme, ma avere anche lo stesso motore di cache per tutte le linee di prodotto. La versione 3.2 include diverse funzionalità:
Multi-SSD Support that permit heterogeneous Physical SSDs with a "single view" provided by FlashSoft LVM for Logical SSDs
SSD Mirror for "Safe Write-Back", that provide high resilience of your data and a"zero-latency" mirroring
Cache size: up to 2TB per cache (8 TB per server)
2048 accelerated objects per cache (8192 per server)
Il prodotto è licenziato per host e rispetto a prodotti concorrenti, ma specifici per una particolare soluzione hardware, ha il beneficio di essere indipendente dal vendor hardware, trasparente alle applicazioni e alle VM e poter scalare anche su dischi di tipo SAS SSD e non solo su schede PCIe.