Questo post è disponibile anche in: Inglese
Reading Time:
3
minutes
Gli eventi sotto il "cappello" Tech Field Day mettono in contatto i fornitori di prodotti IT innovativi con i principali specialisti ed analisti indipendenti per condividere informazioni e opinioni in un formato che riunisce sia presentazione che discussione. Blogger indipendenti, scrittori freelance e podcaster hanno una presenza pubblica e una enorme influenza sui modi in cui i prodotti e le aziende sono percepiti dal pubblico in generale.
Il mondo dei media è cambiato e la comunicazione, i social media, blog e le community hanno guadagnato particolare importanza. Per questo che, secondo me, i Tech Field Day sono prima di tutto un evento di una community rivolto a tutte le community IT: basti pensare che ogni singola sessione è disponibile in straming live, ma anche successivamente su YouTube e Vimeo, il tutto completamente in forma gratuita e per tutti e senza inutili registrazioni o barriere (vedere questo post in inglese sul perché non perdere queste sessioni: why you need to be watching Tech Field Day).
Ma anche i delegati sono scelti dalla community e chiunque (a patto di soddisfare i requisiti) potrebbe diventare un delegato Tech Field Day. Se pensate che l'elenco dei delegati possa essere migliore o migliorabile vi basta nominare voi stessi o chi pensate possa realmente contribuire.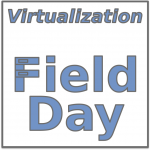 Altrettanto interessante è come a volte vi siano personaggi famosi nelle varie community poi arrivano dai vendor e si affiancano ai vari CEO e CTO durante le sessioni Tech Field Day. Ad esempio nel recente Virtualization Field Day 3 (#VFD3), durante una delle sessioni di Coho Data vi era Forbes Guthrie o nella sessione di Pure Storage vi fosse Vaughn Stewart.
Pure ad una delle cene del #VFD3 vi erano numerosi personaggi della community insieme a vendor a PR. Occasione interessante per scambiarsi idee, opinioni o solo per colloquiare in modo informale:
Surrounded by greatness! @forbesguthrie @gurusimran @Andrea_Mauro #VFD3 #community #rockstars pic.twitter.com/8CbWEotfuD

— Eric Wright (@discoposse) 6 Marzo 2014
Ma il momento che ho apprezzato di più (anche perché è stata una sorpresa inattesa) sono state le sessioni dedicate alle community. L'ultima di venerdì di Networking Nerd era intitolata Networking Is Fun Again! Interessante per capire l'importanza sempre maggiore delle reti nei prossimi anni (ma del resto pure VMware vi crede fermamente, visto il prodotto NSX).
E le sessioni di giovedì erano invece dedicate completamente alle community (VMUG, vExpert, vBrownbag, …) e sono assolutamente da guardare:
Community and the IT Imaginarium with Eric Wright
The Value of Community with Alastair Cooke
Potremmo dire che entrambe erano fortemente influsenza da #vBrownbag, visto anche l'ammissione di Eric:
The #vBrownbag is precisely the community goodness that inspired my #VFD3 presentation: http://t.co/Cr0LdTEkqp Thank you all!
— Eric Wright (@discoposse) 13 Marzo 2014
Disclaimer: Sono stato invitato a questo meeting da GestaltIT e che ha coperto i costi per il viaggio e l'alloggio. Ma non sono stato ricompensato in alcun modo per il mio tempo e non sono in obbligo di scrivere articoli riguardo all'evento stesso e/o gli sponsor. In ogni caso, i contenuti di questi articoli non sono stati concordati, rivisti o approvati dalle aziende menzionate o da altri al di fuori del sottoscritto.