Questo post è disponibile anche in: Inglese
Reading Time:
4
minutes
Microsoft ha da poco pubblicato i dettagli su come saranno licenziato i prossimi Windows Server 2016 e System Center 2016 products. I documenti ufficiali sono disponibili (anche se non si esclude che possano cambiare con l'uscita della RTM) e sono composti alcuni PDF in inglese tra cui le licensing FAQ (domande e risposte sul nuovo licensing) e due datasheet per Windows Server 2016 Datacenter and Standard Edition licensing datasheet e System Center 2016 licensing.
Come molti avranno già saputo (ad esempio nel SID 2015) con la prossima versione di Windows si torna ad avere differenti funzionalità tra l'edizione Datacenter e la Standard (con Windows Server 2012 le due edizioni erano state parificate, a parte ovviamente il numero di VM Windows Server licenziabili). Benché le funzioni core saranno uguali, vi sono alcune importanti funzioni come la Storage Replica, gli Storage Space Direct, e varie funzioni di sicurezza disponibili solo nella Datacenter: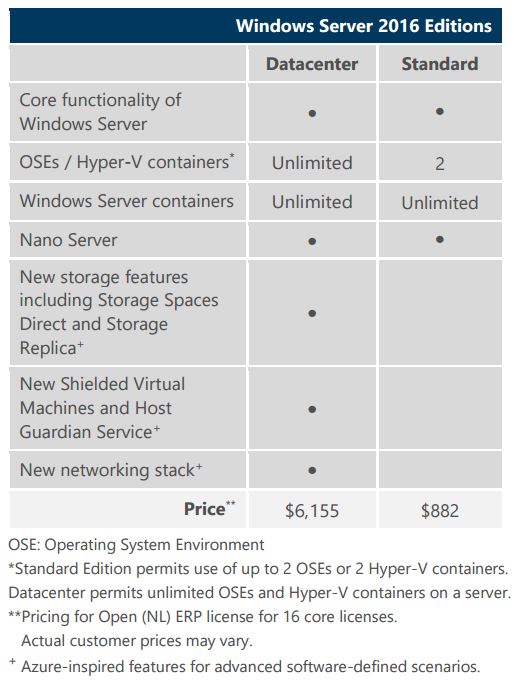 Notare che al momento non si hanno informazioni sulle altre edizioni come pure di quali saranno le funzionalità disponibili con l'edizione Hyper-V Server gratuita (che per ora sembra confermata).
Ma la vera novità non è tanto sulle funzioni (che in effetti hanno più senso se abbinate alla versione datacenter, a parte le due funzioni sullo storage che potrebbe essere bello avere anche semplici Scale-Out FileServer con versione standard), ma sul modello di licenza per host, che passa dal modello a socket ad un nuovo modello a core!
Tutti i core fisici (l'hyperthreading non conta) vanno licenziati
Bisogna licenziare un minimo di 8 core per processore
Bisogna licenziare un minimo di 16 core per server
Le licenze sono vendute a pacchetti di due (2×8 core)
Bisogna notare che il prezzo per un sistema a 16-core (licenza minima per ogni host) con rimane lo stesso (almeno con la valuta in dollari) delle attuali versioni di Windows Server 2012 R2 Datacenter e Standard (su due processori). Solo quando iniziate ad avere più di 16 core per server i costi aumentano (e notate che i costi raddoppiano, si triplicano e così via a seconda di quanti core avrete bisogno!).
Chiaro che una soluzione banale potrebbe essere disattivare i core in eccesso dal BIOS (molti server lo permettono), ma va considerata come l'ultima spiaggia.
Diventa pià interessante individuare le configurazioni di server che potrebbe essere più ottimali dal punto di costo e in particolare le configurazioni:
due socket ciascuno a 8 core
singolo socket con 16 core (o meno)
Considerando che alcuni programmi di backup sono ancora licenziati a processore (almeno per ora), la seconda configurazione potrebbe diventare molto interessanti in vari casi.
Bisognerà comunque vedere se Microsoft confermerà questo modello di licenza e come reagiranno gli altri software vendor dato che riguarda anche tutti gli ambienti virtualizzati (con VM Windows Server)…
Una novità invece sicuramente positiva è quella indicata come "Azure benefit", ossia la possibilità in ambienti di cloud ibrido di spostare workload da on-prem al cloud (Azure) pagando solo le risorse di calcolo e non le licenze:
The benefit entitles customers to run up to 2 instances on up to 8 cores each or 1 instance on up to 16 cores in Azure for each Windows Server Standard or Datacenter 2 proc license with SA. When the benefit is used on Windows Server Standard Edition licenses with SA, the Standard Edition license can no longer be assigned to another server. When the benefit is used on Windows Server Datacenter Edition licenses with SA, the customer can continue to assign and use their Datacenter Edition licenses for unlimited virtualization on premises.
Vedere anche (in inglese):