This post is also available in: Italian
Reading Time:
1
minute
This is an article realized for StarWind blog and focused on the pro and cons of an upgrade to vSphere 6.5. See also the original post.
VMware vSphere 6.5 is the latest version of the enterprise server virtual platform from VMware, but the new beta it's already there for testers. Actually the next version it's (in the beta) and you can register at https://secure.vmware.com/43478_vSphere_Beta_Reg.
If you are building a new infrastructure from scratch the latest stable version is probably the best choices (for most cases); but what about if you have an old environment and you plan to upgrade it?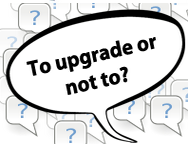 Should it better use the latest version, or just wait for the next one (maybe it can be announced at next VMworld 2018) with new features and an extended support?
Read the rest of the post on the original post. Also, you can see this old post.