Questo post è disponibile anche in: Inglese
Reading Time:
2
minutes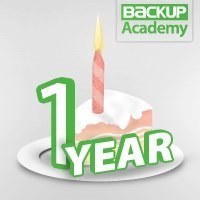 Backup Academy, il sito che propone risorse (gratuite) per quanto riguarda i backup nel mondo virtuale, ha compiuto da poco il suo primo anno di vita. In questo anno sono stati realizzati numerosi corsi e whitepaper (uno anche dal sottoscritto). E numerose persone (come riportato sul sito, più di 700 ) hanno conseguito la certificazione on-line (e grauita) vendor-independent sugli aspetti legati ai backup.
Cosa potremo aspettarci nei prossimi anni? Pare che questo primo anniversario sarà l'occasione per aggiornare molti contenuti e ambizioni del sito Backup Academy!
Alcune informazioni, sono deducibili dal post celebrativo del primo anno:
Backup Academy is meant to give you the extra resources you need to get started in that virtualization and data protection journey. We've had the content live for just over one year, and we are now planning additional content as the technology landscape changes. The fact is, once you learn a virtualization technology; you've effectively committed to learning it again and again and again!
Interessante l'idea di ampliare gli argomenti ad altri, quali la virtualizzazione. Anche perché il backup non è fine a se' stesso, ma richiede conoscenze e competenze trasversali sulla virtualization, sui sistemi operativi, sulle applicazioni, sullo storage, sul networking, …). Benché già esistano corsi e certificazioni (normalmente di alto livello), queste sono spesso troppo vendor oriented. Una certificazione sulla virtualizzazione che sia vendor independent potrebbe essere interessante e rappresentare persino un livello iniziale mancante in quelle dei vendor (Associated level?). Chiaro che a quel punto il nome Backup Academy perde un po' di significato… forse dovrebbero pensare ad un altro sito (Virtualization Academy?) :)
E oltre alla virtualizzazione, quali altri aspetti andrebbero considerati? Personalmente mi piacerebbe vedere anche qualcosa legato alla business continuity e come si relaziona con i backup e con le repliche (che non sono backup, esattamente come le snapshot, ma che spesso ruotano attorno ai programmi di backup e/o protezione dati).
E voi cosa vedreste di utile? Potete tranquillamente mandare suggerimenti/commenti all'account Twitter @BckpAcademy o sulla Backup Academy feedback page.