Questo post è disponibile anche in: Inglese
Reading Time:
6
minutes
Le principali motivazioni per diventare vExpert non devono certo essere legate ai possibili vantaggi del programma. Ed una volta nominati (per me è il quarto anno di fila) bisogna pensare più a quello che si può dare rispetto a quello che ci si deve aspettare. Ma sarei un grande ipocrita a negare che vi siano anche vantaggi pratici nell'essere un vExpert!
Ufficialmente, VMware (in accordo alle relative FAQ) riconosce come beneficio maggio l'essere parte del programma stesso. Ma tra i benefici ufficiali include anche i seguenti:
Certificato cartaceo ed un premio (questo quello dell'anno scorso)
vExpert logo
Accesso ad un'area della community riservata ai vExpert (peccato che sia poco usata e sicuramente con pochi contributi)
Accesso al materiale relativo alle sessioni del VMworld
Accesso ad eventi online o non (ad esempio vExpert party) esclusivi
Inclusione nella lista pubblica vExpert directory
Non ufficialmente sono anche (seguite i post nella sezione riservata), a volte, accessi alle beta dei software VMware e/o codici di licenza. Notare che pass per il VMworld (o ad altri eventi) non sono ufficialmente considerati… quindi non bisogna né pretenderli né darli per scontato (l'anno scorso ho avuto la fortuna di ricevere il pass per il VMworld, ma è stato il primo anno).
Vi sono poi diversi gruppi e liste:
Ed infine vi sono diversi riconoscimenti di terze parti (vedere anche questa lista)
TrainSignal
Come già capitato in passato, TrainSignal offe l'accesso (ai vExpert) ad un'inname quantità di materiale tecnico e formativa:
Over 1,500 hours of IT pro video training
Over 200 hours of VMware video training
30 VMware courses that include topics like vSphere 5.1, vSphere Advanced Networking, vCenter Operations Manager, vCloud Director 5.1, vSphere Performance, vSphere Troubleshooting, vSphere Design and new courses on the way (including VCAP-DCA5, EMC Storage Essentials, and more)
Certification practice exams (including the VCP)
Offline viewer (Win/Mac)
iPad compatible streaming
Tintri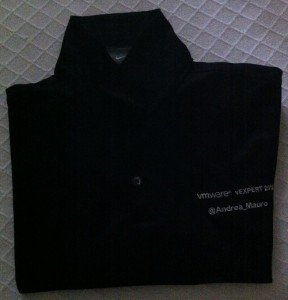 Come  accaduto nello scorso anno, Tintri regala a tutti i vExpert una polo molto bella. Quella dell'anno scorso era notevole (non cito la marca ma si riconosce nell'immagine e pure la fattura era di qualità)… sono curioso di vedere quella di quest'anno (che avrà anche la novità nel numero di stelle in funzione del numero di anni del programma vExpert).
Aggiornamento di agosto: le polo sono già in produzione, quindi non è più possibile richiederle.
Nutanix
Nutanix ha un'inizativa simile, ma con un bicchiere personalizzato che può essere richiesto con questa form. E' possibile ritirarlo durante il VMworld. Per maggiori informazioni rimando a questo post (in inglese).
Proxima data
Proximal Data mette a disposizione una free trial di AutoCache, una soluzione software pensata per accelerare gli storage e rimuovere i vari colli di bottiglia nell'I/O di un VMware ESXi servers.
Veeam
Come di consueto, Veeam mette a disposizione una licenza NFR di 180 giorni per 2 sockets del suo prodotto Veeam® Backup Management Suite™ 7 per VMware (o Hyper-V per chi ha certificazioni/riconoscimenti Microsoft).
Notere che non è limitato solo ai VMware vExperts, ma è applicabile anche ai VMware Certified Professionals (VCP), Microsoft Certified Professionals (MCP), Microsoft Certified Technology Specialists (MCTS) e Most Valuable Professionals (MVP).
Symantec
Per chi è VMware vExpert, VMware Certified Professional o VMware Certified Instructor, Symantec mette a disposizione due licenze gratuite di Backup Exec V-Ray Edition con inclusi 12 months di essential support. Notare che possono essere usate in productione o non.
DataCore
Per i VMware vExpert, VMware Certified Professional o VMware Certified Instructor, DataCore Software mette a disposizione 1 anno di licenza NFR gratuita per il proprio SANsymphony-V Storage Hypervisor Software.
SolarWinds
Solarwinds mette a disposizione dei VMware vExperts una licenza gratuita per 6 mesi di tipo NFR/Demonstration di Virtualization Manager.
Nakivo
A tutti i membri di VMUG, VMware vExpert, VCP, o VCI viene offerta una licenza gratuita per two-socket Not For Resale (NFR) di NAKIVO Backup & Replication.
Unitrends
Unitrends mette a disposizione di tutti i VCP, VCI, vExperts, MVP, MCP una licenza per 2 socket e 2 physical server del proprio programma di backup solution. Include anche il supporto via telefono o e-mail and per 1 anno (rinnovabile con il rinnovo della certificazione/riconoscimento).
Login VSI
Il programma VIP di Login VSI fornisce una serie di benefici particolari a tutti i Citrix Technology Professionals (CTP), VMware vExperts e Microsoft Most Valuable Professionals (MVP):
A free (for non-commercial use) Login VSI Pro license (12 months, 100 user sessions)
Your relevant blog posts featured on our website
Login VSI goodies (like the "I love a good performance" T-shirt) when we meet in person
Direct access to our support, product marketing and development team
SimpliVity
SimpliVity vuole riconoscere il contribuito dei vExpert alla comunità offrendo un incredibile regalo: un Raspberry Pi gratuito, e personalizzato con il proprio nome e il proprio stato di vExpert!
Raspberry Pi è una piattaforma open source per realizzare sistemi embedded con svariati usi e potenzialità. Oltre a possibili utilizzi per controllo di sistemi, media center, può essere usato anche come thin client.
HP
Se siete interessati ad una licenza NFR di HP StoreVirtual VSA (utile tra l'altro anche per provare le funzionalità di storage integration di Veeam Backup & Replication), contattate (e ringraziate) Calvin Zito:
Here's a ChalkTalk I have on updates to HP StoreVirtual VSA: http://t.co/Eljnk2PT9z If you're a vExpert and want an NFR license, ping me

— Calvin Zito (@HPStorageGuy) August 13, 2013
VSS Labs
VSS Labs ha rilasciato un prodotto chiamato vCert Manager che può aiutare  nella gestione dei certificati SSL in un ambiente VMware. VSS Labs fornisce una versione free NFR per utilizzo in lab personali, con un bonus particolare per tutti i VMware vExperts (fino a 2 vCenter e 10 host).
Per maggiori informazioni vedere questo post.
Altro
Come spiegato in questo post, è possibile usufruire di un servizio di URL Shortener con il prefisso vexpert.me (thanks @dawoo)
Compilando la form presente in questo post, è possibile avere degli adesivi personalizzati (thanks @dawoo). Questo è quanto vi arriva:
Just received my #vExpert stiker http://t.co/1Fznem79dE /thanks @dawoo pic.twitter.com/DIxDb6Dzx4

— Andrew Mauro (@Andrea_Mauro) July 19, 2013