Questo post è disponibile anche in: Inglese
Reading Time:
3
minutes
Considerando che il prodotti "core" sono stati annunciati al VMworld americano, gli annunci europei si sono limitati al NSX 1.0 (in realtà già publicizzato abbondantemente), la nuova Horizon Suite 5.3 e l'annuncio della nuova Management suite.
In realtà, proprio su quest'ultimo punto, sembra che VMware stia puntando molto (o quanto meno ha dato grande enfasi nella prima keynote), definendo anche quale sia la sua intera cloud management vision: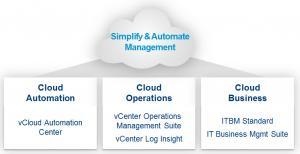 VMware vuole ridefine il cloud management con 3 pilastri fondamentali:
Cloud Automation
Cloud Operations
Cloud Business
Per raggiungere questo obiettivo, nel Q4 2013 lancerà diversi prodotti (per ora solo annunciati):
Cloud Automation: vCloud Automation Center 6.0
Cloud Operations: VC Ops Mgmt Suite 5.8 & vCenter Log Insight 1.5
Cloud Business: VMware IT Business Management Suite 8.0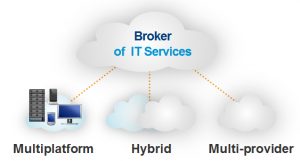 Inoltre l'idea (in realtà non proprio nuova) è quella di trasformare l'intero IT tradizionare in un broker di servizi IT per diventare più agile e colmare il divario tra "provider" di servizi e "consumatore" di servizi. Ma per far questo serve anche una suite di management che aiuti l'IT a:
Definire quali servizi si vogliono offrire, a quale costo e dove
Automatizzare il service delivery sia per servizi interni che esterni
Gestire il tutto in accordo a governance e policy
VMware vCenter Operations Management Suite 5.8
Di questa suite forse la novità più grossa sono i Management Pack (concettualmente simili a quelli presenti in System Center Operation Manager) che permetteranno di estendere il supporto al monitoraggio delle applicazioni Microsoft (SQL and Exchange), incluse quelle clusterizzate e soprattutto a diversi nuovi storage, includendo anche dettagli fisici come i data path (HBA, Fabric, Arrays).
Inoltre è previsto anche lo Unified Managed per monitarare anche :
Hyper-V support (leverage existing SCOM implementation or Hyperic)
Amazon AWS Support (includes support for EC2, Elastic Block Store, Auto Scaling Group, Elastic Load Balancing and Elastic MapReduce)
VMware vCenter Log Insight 1.5
Collect, analyze and search logs and unstructured, machine generated data
Optimized for VMware environments (built-in knowledge and native support for vSphere)
Easily extensible to physical environments, OS and applications, network and storage devices
Ease to use – doesn't require learning a specialized search language
Simple, predictable pricing model (fixed cost per server, network or storage device)
VMware vCloud Automation Center 6.0
Questa è la parte sicuramente più interessante e complessa che necessiterà di un approfondimento futuro.