Questo post è disponibile anche in: Inglese
Cohesity è uno storage/solution vendor relativamente recente, con base nella Silicon Valley (a Santa Clara), ma con una chiara idea sul tipo di mission e vision: realizzare un soluzione completa per gestire lo storage secondario (quello utilizzato da backup, archiving, shares, …) e quindi un target molto specifico.
In un post precedente, avevo già descritto cosa fosse la Cohesity Data Platform, ma mi ero limitato a scriverlo in inglese pensando che i tempi non fossero ancora maturi per l'Italia.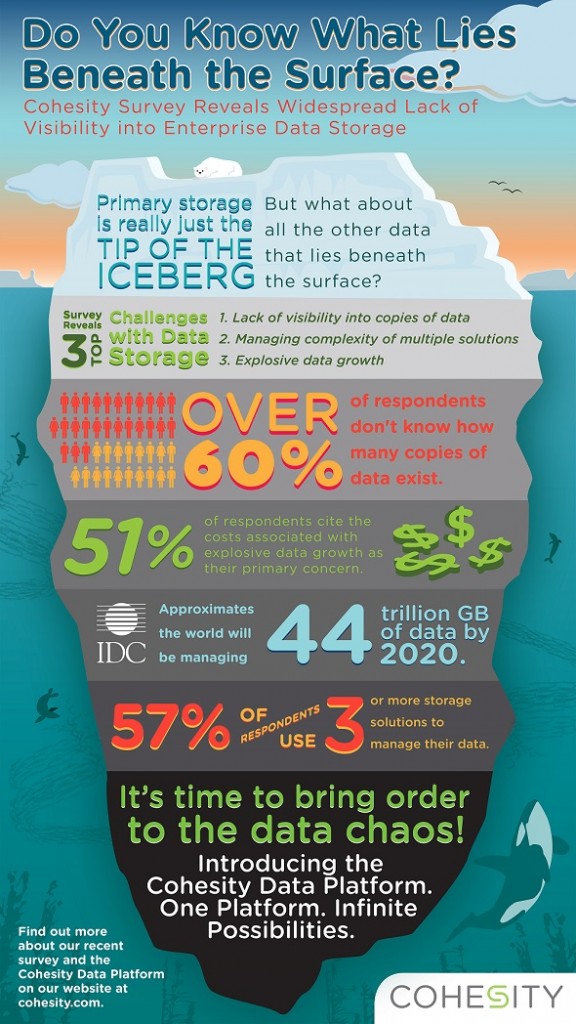 Ma durante l'ultimo IT Press Tour #17 ho avuto modo di conoscere meglio il prodotto direttamente dalle persone del board di Cohesity: Mohit Aron (Founder & CEO) e Riccardo Di Blasio (COO and Head of Field Operations). Di Blasio, tra l'altro, non è l'unico italiano presente in questa azienda, ma fa sicuramente piacere vedere italiani in posti di rilievo.
Paradossalmente quello che mi ha colpito di più non è l'aspetto tecnico (in fondo l'idea non è neppure così nuova, visto che anche altre aziende si sono focalizzate su questo mercato), ma è l'approccio e la motivazione che hanno. L'azienda sta crescendo molto velocemente e hanno già 90 dipendenti e, oltre all'HQ, un team di sviluppo in India e vari commerciali distribuiti geograficamente. Vantano già clienti in America, EMEA e APAC. E sicuramente non mi manca un buona strategia di marketing e un approccio commerciale che potrebbe rivelarsi vincente. Se troveranno il giusto canale di distribuzione e se implementeranno le funzionalità tecniche promesse, secondo me, presto ne sentiremo parlare anche in Italia.
Il background aziendale è comunque ricco e qualificato, per esempio Di Blasio proviene da VMware (are vCloud Air) e Aron da Nutanix (da qui anche il termine web-scale, molto usato da Nutanix stessa).
L'idea, come ho detto, è sostanzialmente semplice: risolvere il problema dello storage secondario che attualmente è frammentato da diverse soluzioni e prodotti:
Con Cohesity è possibile consolidate tutto sia intermini di storage che di prodotti e soluzioni:
Quindi la novità non è tanto nell'appliance (la serie C2000), o nel modello scale-out (o web-scale), ma soprattutto nel fatto che sia incluso anche il software (di base) necessario per i workload di che richiedono lo storage secondario.

E ribadisco storage secondario: questa soluzione è pensata per questi casi d'uso e non per essere la piattaforma di storage primario per virtualizzazione o cluster di database.
Il modello scale-out è funzionale ad avere una soluzione semplice (in 12 minuti per mettere in piedi la soluzione) e molto scalabile. Il tutto orientato a uso come share di rete, ambienti di sviluppo o DevOps, backup, archivio e con funzioni di insight e analytics sui dati estremamente veloci e funzionali.
Un grande obiettivo (e, forse, un po' ambizioso), interessante per quelle aziende che partono da zero, meno semplice per chi ha già investito in soluzioni, know-how, capitali.
Per questi magari un approccio graduale è forse il più sensato e quindi, ad esempio, usare inizialmente Cohesity come target di backup o come NAS (supporta accesso sia NFS v3 che accesso SMB 3). E iniziare poi mano mano ad implementare alcuni servizi con questa soluzione.
Ad esempio usarlo direttamente per proteggere ambienti virtuali che per ragioni di costo non sono protetti (come gli ambienti di test o di DR): Cohesity è già in grado di collegarsi ad un vCenter Server ed eseguire backup agent-less delle VM gestite. Certo, siamo ancora lontani dalle funzionalità di un programma moderno di backup di ambienti virtualizzati (come ad esempio Veeam). Ad esempio, manca completamente la possibilità di eseguire restore applicativi (oggetti di AD, singole email, …), ma sono funzioni nella roadmap, come pure il supporto di altri hypervisor e di infrastrutture fisiche. Già da cora è comunque possibile fare un Instant recovery delle VM.
Punti di forza sono la semplicità d'uso (interfaccia HTML pulita e veloce), il fatto di avere tutto il software necessario (Cohesity vuole considera la propria soluzione un "coltellino svizzero" tutto fare, ma ovviamente fare tutto non vuol dire fare tutto meglio degli altri). Tiering dei dati verso object storage (per ridurre ulteriormente il costo) è già possibile oggi. Mentre è ancora in roadmap un'implementazione di erasure coding (al momento, tra i nodi, implementano 2 copie o più, configurabile via policy).
In conclusione la soluzione è sicuramente interessante, non solo dal punto di vista tecnico, ma anche da quello commerciale, visto che adotta un modello pay As-You-Grow!
Disclaimer: Sono stato invitato a questo evento da Condor Consulting Group che ha coperto i costi per il viaggio e l'alloggio. Ma non sono stato ricompensato in alcun modo per il mio tempo e non sono in obbligo di scrivere articoli riguardo all'evento stesso e/o gli sponsor. In ogni caso, i contenuti di questi articoli non sono stati concordati, rivisti o approvati dalle aziende menzionate o da altri al di fuori del sottoscritto.
This post has already been read 191 times.