Questo post è disponibile anche in: Inglese
Reading Time:
2
minutes
La certificazione Veeam® Certified Architect (VMCA) è il più alto livello di certificazione tecnica di Veeam, introdotta nel 2016 (inizialmente basata sulla versione 8 dei loro prodotti, ma ora aggiornata alla versione 9 e v9.5).
Per conseguire questa certificazione è necessario partire da una certificazione Veeam Certified Engineer (VMCE) esistente e completare la parte Veeam Certified Engineer – Advanced: Design & Optimization (VMCE-ADO) che include sia del nuovo training che un esame specifico: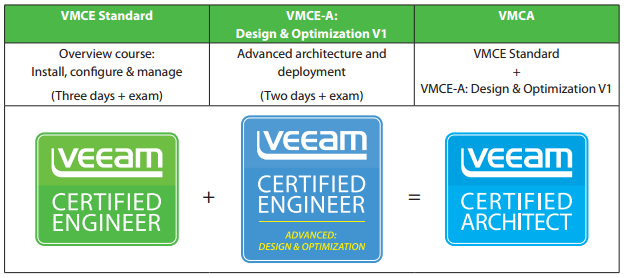 Il training VMCE-A: Design & Optimization V1 è un corso di 2 giorni che approfondisce aspetti relativi al design e all'ottimizzazione dell' Availability Suite e si basa sulle best practices fornite da Veeam. Questo corso è pensato per consulenti ed amministratori di sistema che hanno seguito in precedenza il VMCE.
L'esame VMCE-A1: D&O è composto da 40 domande che spaziano tutti gli argomenti del corso, nei suoi vari moduli:
Design and sizing
Infrastructure assessment
Security
Optimization
Automation
Audit and compliance
Troubleshooting
La certificazione VMCA è richiesta per il livello Platinum dei ProPartners come pure per i Veeam Accredited Service Partners (VASPs), ma per tutti gli altri rappresenta comunque il top della certificazione Veeam.
Notare che la certificazione VMCA ha, come avviene per la VMCE, una scadenza. Per mantenerla aggiornata ed attiva è necessario:
Maintain a valid VMCE certificate on the latest version (v9)
Maintain a valid VMCE-A certificate on the latest version (v1)
Non è chiaro però ogni quanto sarà rilasciata una nuova versione del VMCE-A (al momento si è partiti dalla versione 1) e soprattutto se basterà poi passare solo l'esame o bisognerà rifare anche il corso (immagino sarà come per la VMCE dove basta rifere solo l'esame).
Vedere anche (in inglese):