Questo post è disponibile anche in: Inglese
Reading Time:
3
minutes
In VMware vSphere uno dei limiti storici è stato (per tanti anni) quello della dimensione di un singolo disco virtuale VMDK che non poteva eccedere i 2 TB circa (per la precisione i 2 TB – 512 B). In realtà la vera dimensione "usabile" era persino meno, per poter permettere la creazione di snapshot e dipendeva dalla dimensione del blocco (importante in VMFS3 o in VMFS5 se aggiornato dalla 3). Per maggiori informazioni si rimanda all'articolo Veeam KB 1091.
A partire da vSphere 5.5 è stato finalmente possibile avere dischi virtuali grandi fino a 62 TB (che chiamerò impropriamente "jumbo" disk) senza ricorrere ad antipatici trucchi come i physical RDM. Ma ancora con tanti limiti come descritti dalla VMware KB 2058287 (Support for virtual machine disks larger than 2 TB in VMware ESXi 5.5.x and 6.0.x):
Ovviamente supportati solo con ESXi 5.5 o superiore
Solo su VMFS-5 (su VMFS-3 rimane il limite precedente)
Nel caso di datastore NFS la dimensione massima dipende dallo storage NAS e dal suo filesystem
VMware Fault Tolerance non è supportato
Controller di tipo BusLogic parallel non sono supportati
Nel caso si utilizzi la vSphere Flash Read Cache il disco può essere al massimo di 16 TB
Nel caso si utilizzi il vSphere Client ci sono varie limitazioni aggiuntive (soprattutto dopo i 4TB) e la scelta migliore è gestire questi jumbo disk direttamente dal Web Client (o dal Host Web Client a partire da vSphere 6.0 U2)
Ma non è tutto: c'erano pure problemi nella gestione dell'hot-add di questi jumbo disk.
Inizialmente non si poteva usare il backup in virtual appliance transport mode (o hot-add mode) perché non era possibile aggiungere questi dischi a caldo.
Inoltre fino alla versione 6.5 non era possibile aggiungere spazio a caldo. Compariva un errore di questo tipo:
Hot-extend was invoked with size (*** sectors) > =2TB. Hot-extend beyond or equal to 2TB is not supported. This disk extend operation failed: msg.disklib.INVAL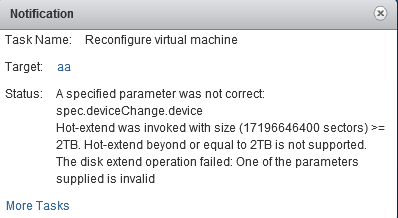 Ovviamente in vSphere 5.5 o 6.0 è comunque possibile ingrandire questi dischi a freddo (con la VM spenta).
A partire però da vSphere 6.5 è diventato possibile finalmente eseguire questa operazione anche a caldo (vedere anche questo post).
Bisogna però ricordare che il sistema operativo deve supportare i dischi più grossi di 2TB. Ad esempio per Windows è indispensabile che il disco sia stato inizializzato con il formato GUID partition Table (GPT) anziché il vecchio MBR. Cambiare il formato delle partizioni purtroppo non è possibile con dati presenti, a meno di ricorrere a tool di terze parti. Vedere anche (in inglese): Windows support for hard disks that are larger than 2 TB.