This post is also available in: Inglese
Reading Time:
4
minutes
Uno dei modi più utilizzati per gestire il backup della VMware vCenter Server Appliance (VCSA) era quello di usare una qualunque soluzione di backup a livello di VM.
Soluzione semplice, ma non sempre efficace, visto che in caso di corruzione del filesystem o del database embedded, i risultati di un restore a livello di VM potrebbero essere disastrosi, lasciando una VCSA non funzionante.
A partire da vSphere 6.5, la VCSA 6.5 ha aggiunto la possibilità di gestire un backup nativo, tramite l'interfaccia di gestione vCenter Server Appliance Management Interface (VAMI). Ma era comunque un'operazione manuale (ed erano nati tanti script per automatizzarla e renderla periodica).
Finalmente con la nuova versione vSphere 6.7 il backup nativo può essere pianificato direttamente dalla VAMI, rendendo questa soluzione la procedura di backup consigliata (anche se dal mio punto di vista è consigliabile mantenere anche un backup a livello immagine, come livello si protezione aggiuntivo e soprattutto per un rapido restore).
Nella versone 6.7, la VAMI si presenta con un look totalmente rinnovato e perfettamente in linea con quello del nuovo vSphere Client (in HTML5) introdotto a partire dalla versione 6.5.
Le operazioni di backup della VCSA sono all'interno del menu Backup, dal quale è possibile eseguire un backup manuale con il pulsante BACKUP NOW oppure pianificare un backup periodico tramite il link CONFIGURE: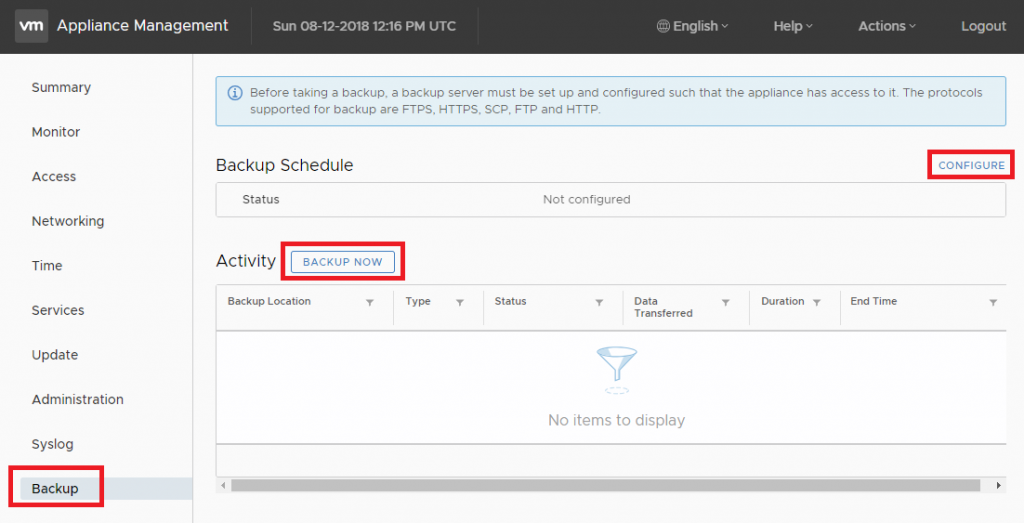 I target di backup supportati rimangono gli stessi della versione 6.5: FTP, FTPS, HTTP, HTTPS e SCP server.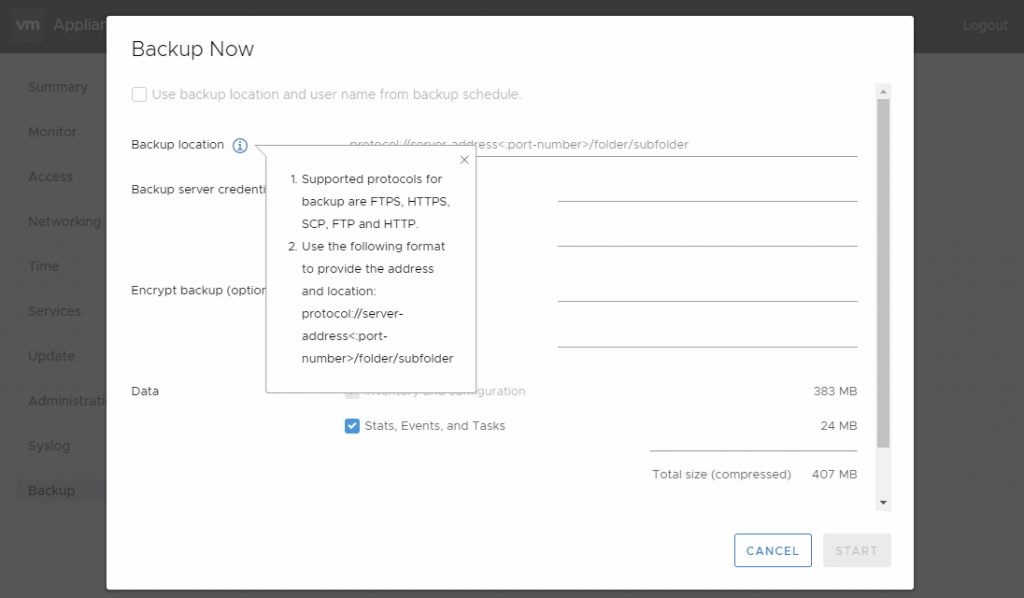 Normalmente il target sarù un FTP server (meglio se con FTP + SSL), visto che è implementato e configurabile in molti NAS.
Abilitare una nuova pianificazione è molto facile e richiede la configurazione di diverse opzioni:
la destinazione dei backup sotto forma di URL (ad esempio ftps://IP/Cartella)
Le credenziali di autenticazione
La frequenza dei backup
La retention desiderata (quanti backup storici mantenere)
Il tipo di dati da salvare (solo inventory and configuration oppure anche stats, events and tasks)
Se proteggere il backup tramite cifratura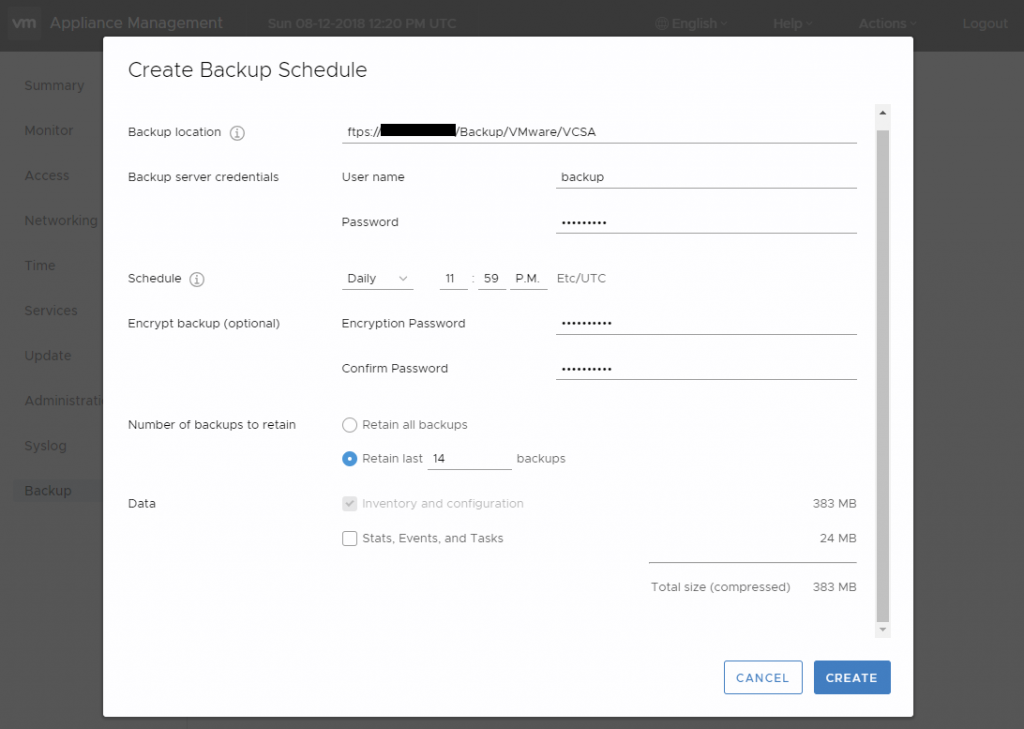 A questo punto la pianificazione è attivata e pronta. Notare che è possibile definire solo una pianificazione.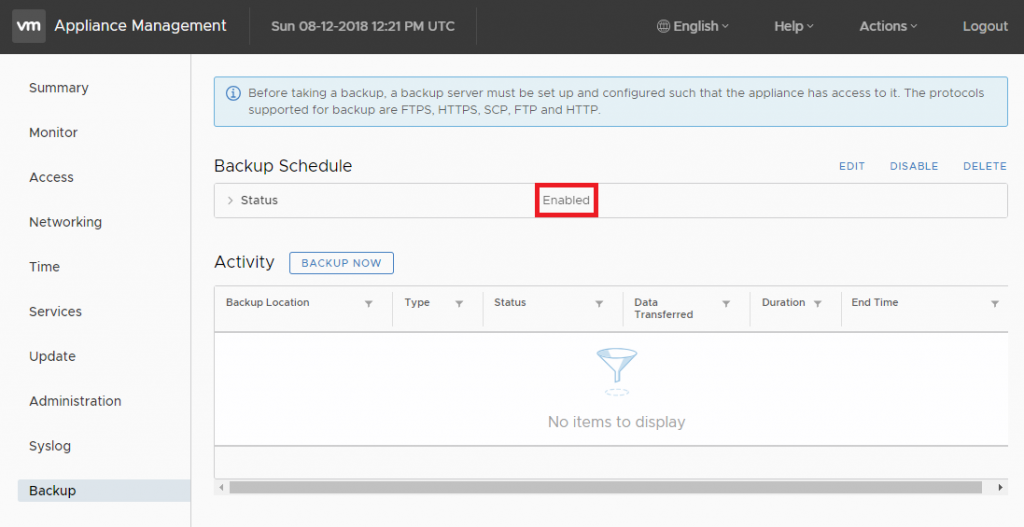 Come vengono poi salvati i dati? Vi è una struttura articolata di sottocartelle, a partire dalla cartella vCenter, che contiene una cartella sn_ID (dove ID è l'identificativo del vCenter), che a sua volta contiene una cartella per ogni backup identificata dalla versione della VCSA e dal timestamp del backup: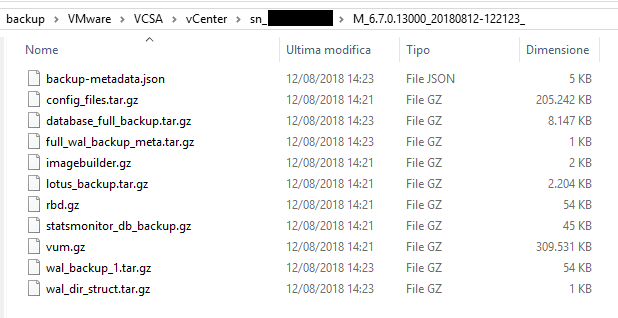 Questa struttura annidata è utile per mantenere lo stesso target per diversi VCSA, anche se poi è da verificare se la gestione delle retention è corretta.
Molto utile che la cartella dei backup contenga la versione della VCSA e il relativo build number, molto utile in caso di upgrade o update.
Quindi finalmente ci siamo? Quasi… rimangono ancora alcuni punti da sistemare e migliorare:
Manca la gestione delle notifiche
La procedura di backup manuale dovrebbe poter ereditare tutte le opzioni da quello pianificato, ma eredita solo la URL e la login
Sarebbe utile avere almeno due pianificazioni (una lungo termine, una a breve termine)
Sarebbe bello scegliere cosa salvare con una maggior granularità
Sarebbe troppo bello gestire in modo integrato il backup già esistente (in altri menu del vCenter) dei distribuited virtual switch, degli host profile, degli script di customizzazione