Questo post è disponibile anche in: Inglese
Reading Time:
2
minutes
Due anni fa, VMware ha avviato dei nuovi (sotto)programmi vExpert su differenti tecnologie specifiche. Uno di questi è il vExpert NSX e ho avuto la fortuna di far parte della prima lista di vExpert NSX 2016.
Dopo la riconferma nello scorso anno (VMware vExpert NSX 2017) scopro di essere stato riconfermato anche per quest'anno.
Infatti VMware ha appena rilasciato la lista aggiornata con i vExperts NSX 2018.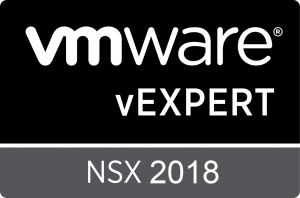 Non solo, Corey Romero (@vCommunityGuy), l'attuale responsabile del programma ha anche annunciato che sarà affiancato da:
Amy Lewis (@CommsNinja) has been a part of the community for a long time with history at Cisco, Solid Fire and Netapp. Amy is now Director of Influence Marketing at VMware.
Katie Holms (@katie_holms) has a long history at VMware, she started over 4 years ago and is now co-leading with Amy and holds the title of Product Marketing at VMware.
Non è chiaro se solo per il programma vExpert NSX o per tutto il programma vExpert (come è più probabile).
Per partecipare al programma bisogna prima essere un vExpert oltre che ovviamente a contribuire nel specifico settore VMware NSX. Vi sarà un'application per ogni anno in ogni sotto-programma.
Citando le note del programma stesso:
Each of these vExperts have demonstrated significant contributions to the community and a willingness to share their expertise with others. Contributing is not always blogging or Twitter as there are many public speakers, book authors, script writers, VMUG leaders, VMTN community moderators and internal champions among this group.
Tra gli italiani investiti di questa carica vi sono:
Andrea Mauro (riconfermato)
Giuliano Bertello (riconfermato)
Lino Telera (new entry)
Ivan Tresoldi (new entry)
Quelli che per ora non sono stati riconfermati sono:
Fabrizio de Luca
Simone di Mambro