Questo post è disponibile anche in: Inglese
Reading Time:
5
minutes
L'edizione europea del Nutanix .NEXT svoltasi a Copenhagen dal 8 al 10 ottobre, si è appena conclusa nel migliore dei modi, con tanti partecipanti (e una ricca delegazione italiana) e importanti annunci..
Questa è stata la quarta edizione dell'edizione europea del .NEXT considerando che la prima (a Vienna) era del 2016 (vedere questo post).
Fa piacere vedere confermato l'impegno di Nutanix a gestire un evento europeo (istituito l'anno dopo il primo .NEXT) e questo è decisamente in controtendenza, dove diversi big hanno rinunciato all'edizione europea del loro evento… o mai l'hanno pensata.
Quest'anno rappresenta un importante compleanno per Nutanix: 10 anni di storia!
Nutanix è nata come start-up nel settembre 2009 con lo scopo di realizzare una nuova piattaforma di data center virtualizzato SAN-less, di fatto inventando (o almeno portando al successo) il modello iperconvergente.
Il 14 maggio 2012, Nutanix ha ufficialmente avviato la sua divisione EMEA.
Sembra ieri (vedere il mio primo post su Nutanix).
Come successo nell'evento US, anche nell'edizione europea è stato stato dato risultato a questo importante traguardo. A partire dalla prima Opening Keynote del 9 ottobre (09:00 – 11:00):
E più che celebrare Nutanix, nell'evento si celebrano le persone, dai dipendenti, ai clienti, ai partner.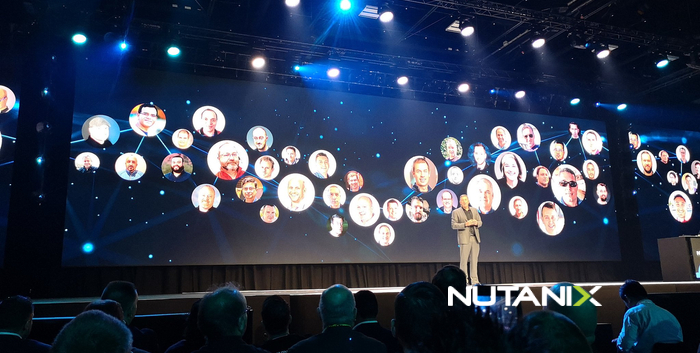 E a rappresentare la NTC community c'ero pure io sul palco… è stato un grande onore.
Le community sono uno dei punti di forza di questi eventi e dei grossi vendor e la NTC ha sicuramente un grande leader (Angelo Luciani).
Thx @AngeloLuciani for your hard work and commitment to the @NutanixNation #NutanixNTC Always a pleasure to meet all the EMEA NTC's 💪 pic.twitter.com/TIVMRg7JDD

— Thomas D. (@Oeppelman) October 9, 2019
Segno dell'incredibile crescita di Nutanix lo si ha, a livello locale, guardando l'Italia… solo pochi anni fa c'era solo Alberto Filisetti e ora Nutanix Italia è un'azienda con tanti dipendenti e con un parco clienti di tutto rispetto. Tanto di cappello.
Al punto da guadagnarsi persino una sessione in italiano all'interno del .NEXT europeo:
First time Italian session @#nextconference
Prima volta sessione in Italiano al .Next… https://t.co/FshLfEh5to

— Crex (@CrexOliviero) October 10, 2019
E quali sono stati i più improtanti annunci al .NEXT 2019 Europe?
Ovviamente gli annunci più importanti sono già stati fatti al .NEXT US… ma alla fine non è tanto per la nuova release dei prodotti.
Anche se fa piacere vedere citata l'Italia, ad esempio, nell'annuncio della futura nuova region per Xi Leap.
Quello che impressiona è la vision di Nutanix e di come sia sempre stata coerente fin dall'inizio. Ricordo ancora l'idea originale, che paradossalmente non aveva nulla a che fare con l'HCI.
Il traguardo nella mente del sul fondatore era quello di costruire una piattaforma simile al modello Amazon/AWS, con la stessa semplicità di Amazon (arrivando ad operazioni da un single click e un modello puramente consumer) e l'agilità di AWS.
Nell'ottica di realizzare un cloud (privato all'inizio, poi diventato ibrido) ricco di servizi: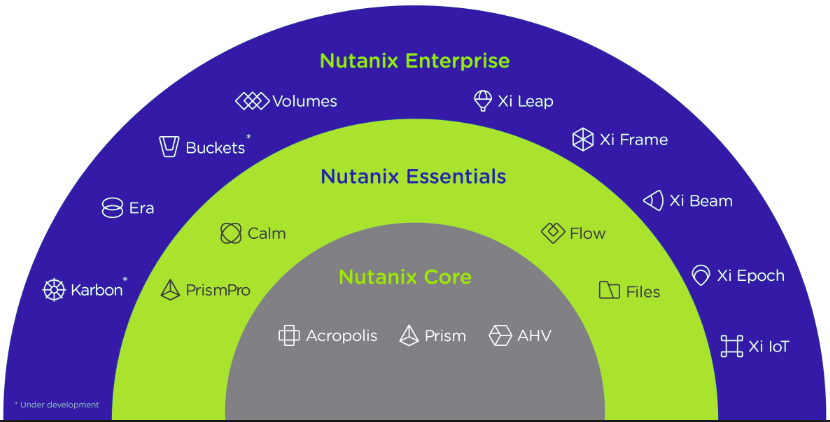 Ed è incredibile come ci siano riusciti in appena 10 anni.
Alcune scelte magari sono state controcorrente o criticale, ma poi comunque premiate o quanto meno riconosciute.
L'hypervisor AHV ad esempio è diventato il terzo hypervisor in ambienti di virtualizzazione on-prem e vendor che fino a due anni fa lo ignoravano completamente, in questi questi anni sono entrati nel suo ecosistema.
E come l'ecosistema sia cresciuto lo si vede facilmente in questi eventi, guardando l'area expo con l'elevato numero di partner e sponsor.
Cosa ci sarà .NEXT? Il 2020 si prospetta come molto ricco.
In Italia, vi sarà il .NEXT on Tour con le seguenti tappe:
19 Marzo a Roma
24 Marzo a Milano
26 Marzo a Bologna
E a livello internazionale già si sanno le date del .NEXT conferences for 2020? Chicago (June 30 – July 2 2020) e Paris (October 13-15, 2020).
People said this was the best .NEXT ever. Wait for Chicago and Paris to appreciate what resilience, inspiration, and delight really mean to us! #nutanix #frictionless pic.twitter.com/A2z7ndTU38

— Dheeraj Pandey (@dheeraj) October 13, 2019
Per un recap più completo dell'evento, vedere anche (in inglese):