Questo post è disponibile anche in: Inglese
Reading Time:
4
minutes
Il server Dell PowerEdge™ R720 è uno dei nuovi modelli 12G. Lavorando per un partner Dell ho avuto modo di vederlo e provarlo per alcuni giorni e queste sono le mie considerazioni.
Ovviamente monta i nuovi processori (Intel® Xeon ® processor E5-2600 product family), che hanno un posizionamento da parte di Intel (visto che l'ultimo zero indica proprio la serie Intel) alquanto curioso… almeno nella scelta dei numeri (vedere quanto già scritto in Più grande è sempre meglio? Per Intel non è detto) … Il paradosso è che il vecchio modello R810 con due Xeon E7 alla fine costa di più di un nuovo R720 (sulla carta più potente).
Per quanto riguarda la memoria direi i 768GB massimi, grazie ai 24 slot per DIMM, possono bastare per molti progetti di virtualizzazione.
Anche la connettività è interessante, visto che persino le schede di rete integrate sono in realtà modulari e configurabili a piacere: 4x1Gbps o 2x10Gbps e Broadcom o Intel). E il numero di slot a disposizione può bastare (benché alcuni slot sono ad altezza ridotta):
7 PCIe slots:
One x16 full-length, full-height
Three x8 full-length, full-height
Three x8 half-length, half-height
Il layout è estremamente semplice, pulito e funzionale… oltre che ben documentato dalle varie etichette… incluso il nuovo QR code (che tra l'altro suggerisce pure l'esistenza di una app specifica, che però non ho ancora provato).
Il pannello frontare è lo stesso della versione precedente, a parte la vFlash media che ora è stata portata davanti e facilmente raggiungibile (prima era sulla iDRAC). Cambiano anche il numero di dischi a disposizione:
2.5″ Chassis with up to 16 Hard Drives
2.5″ Chassis with up to 8 + 8 Hard Drives and 2 Controllers
3.5″ Chassis with up to 8 Hard Drives
Vi è anche un nuovo controller RAID (PERC H710P Integrated RAID Controller, 1GB NV Cache), che però non sembra troppo diverso dal vecchio H700.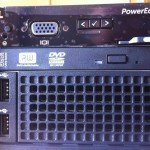 L'interno, come già detto, è molto pulito ed ordinato:
Anche le interfacce SAS sono facilmente raggiungibili ed è presente anche un'inferfaccia interna.
Finalmente la SD per la virtualizzazione può essere ridondata anche sui modelli della serie 7 (e pare anche sulla serie 6)… buon passo in avanti visto che prima era limitata solo a pochi modelli (R81x e R91x)… rimane comunque anche una porta USB interna (ma stavolta solo una):
L'aspetto che più mi ha impressionato è l'incredibile silenziosità del sistema e come gestisca la velocità delle ventole… Sembra sia diventato più silenzioso di molti desktop. Il fatto che poi possa lavorare a temperature più alte rende il server pure conveniente per ridurre i costi legati alla climatizzazione della sala CED.
Esiste infine una variante particolare chiamata PowerEdge™ R720xd (che di fatto ricalca il layout di modello simile del R510). Questo modello raggiunge una capacità massima di storage di 38TB raw con diverse configurazioni (tutte hot-plug):
Up to 24 x 2.5" (front) + 2 x 2.5" (back)
Up to 12 x 3.5" (front) + 2 x 2.5" (back)
Diventa quindi interessante anche come virtual storage o backup appliance…