Questo post è disponibile anche in: Inglese
Reading Time:
3
minutes
Nella nuova vCloud suite 5.1 vi sono numerosi miglioramenti e nuove funzionalità nella parte di networking e secuirity.
Per vSphere 5.1 sono, di fatto, novità riguardanti i nuovi distribuited virtual switch (VDS) e si possono sintetizzare nei seguenti punti:
Network Health Check support: aiuta ad individuare errori di configurazione tra switch fisici e virtuali.
Configuration Backup Restore: finalmente è possibile esportare ed importare la configurazione dei VDS direttamente dal vSphere Web Client.
Rollback and recovery: permette di gestire meglio la situazione di host disconnessi dal vCenter Server.
Port Mirroring enhancements: nuove funzionalità di troubleshooting con il supporto di RSPAN e ERSPAN.
Netdump: permette agli host ESXi senza storage locale (senza stato e/o con Autodeploy) di salvare il core dump tramite rete.
Improved Scaling numbers.
Other enhancements focused on simplifying the operation of the VDS.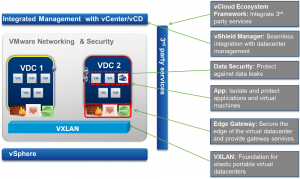 Ma è in vCloud Director 5.1 che vi possono apprezzare il maggior numero di novità e l'applicazione dei concetti di Software Defined Networking (SDN). Gli attori principali sono:
VXLAN: elemento base per creare "elastic portable virtual datacenters": VXLAN technology allows compute resources to be pooled across non-contiguous clusters or pods and then segment this pool into logical networks attached to applications.
Per maggiori informazioni (in inglese) vedere i post di Scott Lowe e Duncan Epping.
App: usato per isolare e proteggere i workload in base ad un trust level.
Data Security: usato per proteggere dati "sensibili" e garantire la compliance.
Edge: protezione e funzinalità perimetrali, quali load balancing, VPN, NAT, …
vShield Manager: integrato con vCenter e vCloud Director per una gestione centralizzata di questi aspetti.,
vCloud Network Automation Framework: permette l'introduzione di elementi di terze parti.
Ovviamente le funzioni legate alle VXLAN e alla nuova suite di vShield sono le più evidenti ed interessanti, ma volevo invece discutere di quanto riguarda l'espandibilità di questo framework da parte di altri vendor. Per vSphere già è la norma, per quanto riguarda lo storage e in parte anche il networking (si pensi al Cisco Nexus 1000V). Per vCloud e vSphield invece sono state introdotte alcune novità ed è possibile integrare soluzioni di terze parti a vari livelli:
All'interno di una virtual machine.
Nella parte di network access edge di una virtual machine.
Nella parte di network edge dell'intero virtual datacenter.
Nella parte di Management plane.
Sono state introdotte delle nuove interfacce (Netsec API) che andranno a rimpiazzare quelle vecchie di vShield (VMSafe API):
Load Balancing, IPS, WAN Optimization e altre soluzioni di networking di terze parti dovranno adottare le Netsec API.
Il tipo di integrazione che si otterrà sarà simile a quanto già previsto in Microsoft System Center 2012, che però è limitato (per la parte di networking) solo ai load balancer.
Da notare, che invece, la parte di eEndpoint, come gli antivirus, è implementabile con endpoint security API incluse direttamente nella parte di vSphere.