Questo post è disponibile anche in: Inglese
Reading Time:
3
minutes
VMware ha da poco annunciato la nuova Horizon Suite: la piattaforma per la workforce mobility. Più in generale l'implementazione della vision di VMware per quanto riguarda l'End User Compunting (EUC) e le problematiche connesse come il BYOD e la sicurezza. I punti chiave sono:
Transform: semplificare i desktop e gestire apps e dati tramite servizi centralizzati
Broker: gestire e protteggere in modo centralizzato e distribuire i servizi secondo le policy
Deliver: rendere disponibili i servizi in modo flessibile, indipendentemente dai dispositivi di accesso, dalla posizione e dalla connettività
La suite è pensata per gestire applicazioni, dati, desktop e distribuirli attraverso diversi dispositivi in modo controllato e regolamentato: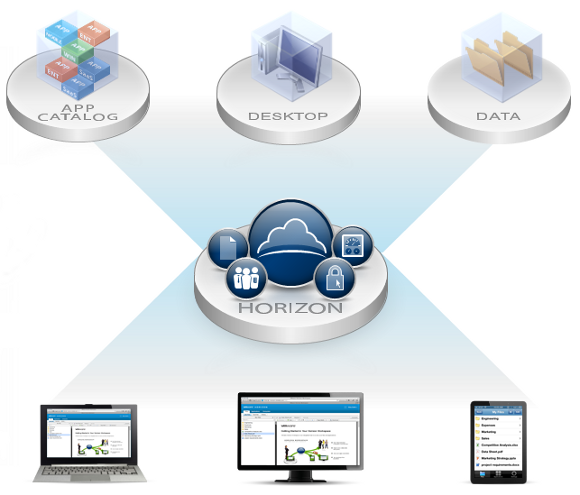 La suite includerà prodotti differenti (alcuni già esistenti, altri ampliamente annunciati):
VMware Horizon Workspace
VMware Horizon View 5.2 (precedentemente chiamato VMware View)
VMware Horizon Mirage 4.0
VMware Horizon Data (precedentemente noto come project Octopus)
Vi è una certa simmetria con quanto accade lato server con vCloud Suite: anche in questo caso viene create una soluzione completa per coprire diversi aspetti e necessità.
VMware Horizon View
La nuova versione di View includerà numerose novità, soprattutto riguardo la user experience:
Hardware Accelerated 3D Graphics (anche con accesso

condiviso

ad una GPU hardware

fisica

)
Support for Microsoft Lync 2013 with Rich Media Services
Support for Windows 8 based desktops & clients (lato client in realtà era già supportato, ma lato virtual desktop non lo era ancora)
Streamlined access to View Desktops from Horizon Workspace
Easily connect to desktops from any device with HTML Access (project AppBlast)
Enhanced Experience for Touch Based Mobile Devices
VMware Horizon Mirage
Frutto dell'acquisizione di Wanova rappresenta il natuale complemento di View per la parte che riguarda gli ambienti fisici.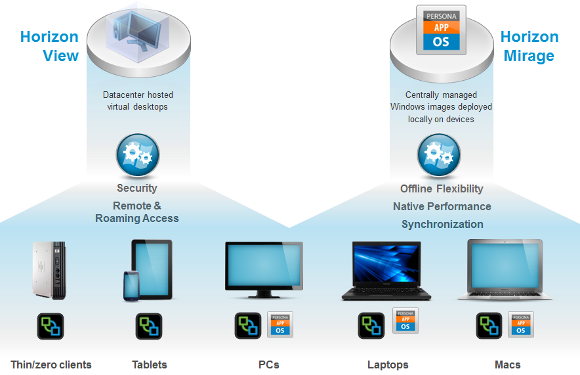 Sicuramente è una soluzione molto interessante (benché ve ne siano anche tante altre di vendor diversi) per gestire la migrazione dei sistemi operativi (interessante la possibilità di un in-place e il supporto di Windows 8) come pure di un hardware refresh. Notare che viene usata una unified image sia per il fisico che per il virtuale!