Questo post è disponibile anche in: Inglese
Reading Time:
3
minutes
Durante il recente evento VMware Partner Exchange a Las Vegas, Dell e VMware hanno annunciato una partnership strategica per fornire una soluzione end-to-end di VDI per il mid-market.
L'aspetto interessante è che parte di questo annuncio è avvenuto durante una sessione PEX (EUC1322: Enabling Cloud Desktops DaaS – Partner Opportunities and Technology) dove sono state fornite interessanti dettagli sulla soluzion di DaaS implementata da Dell, ma anche (nella parte iniziale della sessione) molti chiarimenti sulle problematiche legate ad un servizio di questo tipo (partendo ad esempio dai limiti della licenza Windows).
Durante la sessione EUC, è intervenuto Terry Vaughn (Director of Dell Cloud Computing) che ha descritto nel dettaglio l'approccio di Dell e la loro proposta.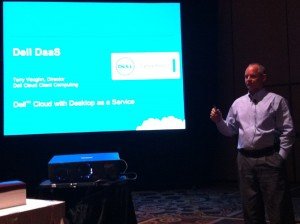 L'intero servizio è costruito sulla soluzione già esistente di Dell Cloud e utilizza Desktone per fornire i Virtual Desktop, che possono essere acceduti da qualunque dispositovo (inclusi ovviamente anche tutti i prodotti Dell Wyse):
Come intuibile (e del resto come di tradizione), questo servizio può essere integrato con il Dell Partner Service Delivery Model: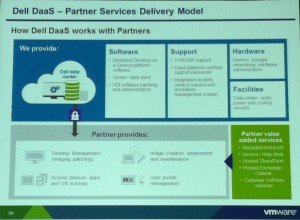 Anche se gli aspetti computazioni sono importanti, in realtà sono stati più interessanti gli aspetti legati alla sicurezza, al tipo di servizio e soprattutto a come e dove gestire i dati degli utenti:
Per maggiori informazioni (in inglese) vedere anche: