Questo post è disponibile anche in: Inglese
Reading Time:
2
minutes
VMTurbo ha da poco annunciato la nuova versione del loro prodotto Operarion Manager, giunto alla v4.0 con nuove interessanti funzionalità introdotte anche grazie all'approccio modulare.
Operations Manager è un prodotto per controllare tutti i livelli di un'infrastruttura virtuale (o di tipo cloud), focalizzato sull'individuare l'utilizzo delle risorse e sul come ottimizzarle di conseguenza. Ad esempio esiste un interessante whitepaper su come ridurre il costo di un'infrastruttura basata su VMWare vCloud Director.
Come già scritto, questo strumento fornisce funzioni di monitoraggio, controllo ed ottimizzazione del proprio ambiente, ad diversi livelli, grazi all'approccio modulare.
Esistevano già le due diverse edizioni del prodotto:
Enerprise edition: con un completo supporto multi-hypervisors (RHEV, Xenserver, vSphere e Hyper-V)
Cloud edition: pensato più per il privata cloud e con il supporto per OpenStack e vCloud
Ora, entrambe le edizioni possono essere completate da vari tipi di estensioni: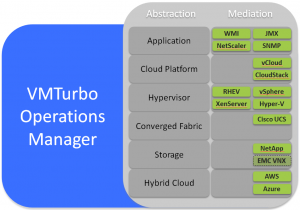 Application Extension
Storage Extension

New module connects storage decision-making with workload resource allocation
Solves for performance degradation caused by storage congestion

Converged Fabric Extension
Hybrid Cloud Extension

Enables on-demand bursting from private to public IaaS

Support for Amazon Web Services (AWS) and Microsoft Azure
Enables "cloud bursting" for enterprises seeking to lower costs and improve SLAs
Tra le altre novità della nuova versione segnaliamo anche:
Enhanced policies
Customized views and reporting
Workload Health View
Con l'aggiunta della parte relativa allo storage, VMTurbo è anche entrata a far parte della NetApp Technology Allinace program, considirando che il primo storage ad essere supportato sarà proprio quello della famiglia NetApp (per gli storage con Data ONTAP APIs 7.33 e successivo). Considerando inoltre il supporto a Cisco UCS nella parte di  Converged Fabric, è chiaro che gestibile anche uno strack di tipo FlexPod. In futuro saranno aggiunti altri storage, a partire probabilmente dalla famiglia di prodotti EMC (VNX in primis).
Per saperne di più sulle novità di questa versione, oltre al relativo comunicato stampa, non perdete, il 18 giugno alle 18:00 (ora italiana), il webinar: Introducing VMTurbo Operations Manager 4.0.