This post is also available in: Inglese
Reading Time:
3
minutes
Ho avuto l'opportunità (e il tempo) di sostenenere l'esame VCAP5-DTD durante il suo periodo in beta (a cavallo tra il 2012 e 2013 e quindi in un periodo favorevole per lo studio, meno per trovare centri aperti). Dopo una lunga attesa (tipica degli esami in beta VMware, ma questa volta decisamente eccessiva), al 16 di maggio ho ricevuto la conferma via email che mi notificava l'esito positovo:
Thank you for taking the VCAP-DTD Beta Exam. We are pleased to inform you that you passed! Congratulations!
Ancora non ho ricevuto il report in il relativo punteggio (anche perché pare venga inviato via posta ordinaria), ma in fondo poco male (più per curiosità)… l'importante è aver passato l'esame visto che non era per nulla facile.
Qualche giorno più tardi è stato anche aggiornato il mio transcript, con l'aggiunta della nuova certificazione:

Curiosità è che l'ID non è nuovo, ma viene riutilizzato lo stesso del VCP(-DCV)… scelta curiosa, ma in linea con quanto succede anche con gli ultimi esami nel percorso Cloud.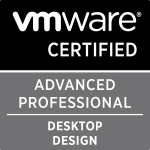 Rispetto all'esame VCAP-DCD ho trovato questo leggermente più semplice o forse più lineare delle domande. Ma rimane un esame tosto dove la gestione del tempo e la comprensione delle domande è fondamentale. Considerando che si hanno vari tipi di domande, da quelle a risposta multipla (anche più di una), a quelle di tipo drag and drop, alcune basati su scenari, alcuni "visio" da disegnare, è chiaro che la distribuzione del tempo è fondamentale. Anche perché manca il tasto back (pare tolto da tutti gli esami di tipo "Design"). Non ho idea se vi sia la funzione di review nella versione finale, ma è anche vero che vi sarebbe poco tempo per gestire una review delle domande. Rispetto al DCD ho trovato molte domande relative al dimensionamento che richiedevano vari conti… e senza alcuna calcolatrice. Quindi preparatevi anche a questo!
Notare che le domande basate su scenari e i vari "visio" hanno dei testi abbastanza lunghi e descrittivi… Considerando che il tempo è poco, almeno sui visio provate a partire dalle richieste e poi cercate gli elementi della descrizione che possono risultare rilevanti. Sulle domande invece è meglio prestare attenzione alle frasi ed ai loro significati per essere sicuri di interpretare correttamente le richieste.
I corsi ufficiali di VMware potrebbero aiutare (a dire il vero l'unico design workshop che ho seguito relativo a View risaliva ancora alla versione 3 e non ho esperienza diretta sui nuovi), ma ritengo che un'esperienza pratica di progettazione e un buono studio possano essere sufficienti. Non limitatevi però a studiare solo i documenti ufficiali (benché il View Architecture Planning sia un'ottimo punto di partenza) ma cercate più documentazione possibile, inclusi i vari whitepaper.
Per altre esperienze sull'esame, vedere questi blog (in inglese):