Kroll Ontrack è un'azienda che probabilmente non richiede presentazioni visto che sono tra i leader nel recupero dati, in particolare con l'uso di camera bianca. In realtà però, molti dei casi di perdita dati non corrispondono ad reale danneggiamento dei supporti fisici e quindi spesso è possibile ricorrere a soluzioni software più semplici (ed anche più economiche).
La stessa azienda produce diverse soluzioni software interessanti, da Ontrack EasyRecovery a soluzioni più specifiche mirate ad recupero di dati in Microsoft Exchange o SharePoint, tramite Ontrack PowerControls.
Ed è probabilmente questo il prodotto più interessante (ovviamente se si utilizzano soluzioni come Exchange o SharePoint) visto che anche con molti software di backup il restore granulare di questo tipo di dati potrebbe essere tutt'altro che facile.
In particolare Ontrack® PowerControls™ con la nuova versione 7.0 aggiunge la compatibilità con Microsoft® Exchange 2013 e SharePoint® 2013 (per l'elenco di tutte le novità rimando al relativo what's new).
L'installazione è veramente molto semplice: richiede un PC Windows (da XP in su) con Outlook 2007 (o superiore). Basta scaricare ed eseguire il file di installazione. E' disponibile anche una versione trial scaricabile da questo link.
Notare che il file estrarrà anche due file autorun nella directory dell'eseguibile, quindi è consigliabile salvarlo in una directory dedicata. A quel punto partirà la schermata iniziale: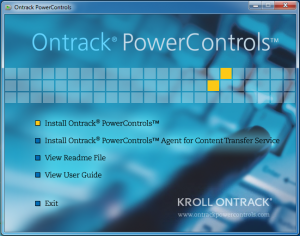 Selezionando la prima voce (install Ontrack PowerControls) partirà l'installazione vera e propria (ovviamente richiede diritti amministrativi). Tra i requisiti vi sono anche i runtime del Visual C++ 2012 che saranno comunque installati automaticamente: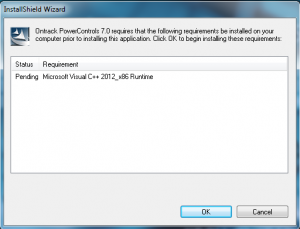 L'installazione vera e propria è semplicissima: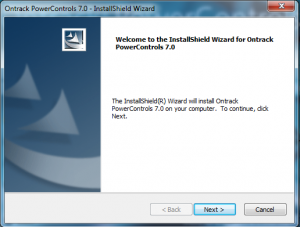 Si parte dall'accettare la licenza d'uso (nota che sarà poi necessario un file di licenza per eseguire il prodotto) e fornire le informazioni sull'utente: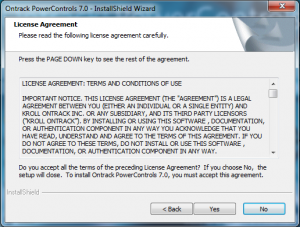 A questo punto è possibile scegliere la directory di installazione (notare che il prodotto è a 32 bit, ma funziona correttamente anche su sistemi a 64 bit). Il default su sistemi a 64 bit è C:Program Files (x86)Kroll OntrackOntrack PowerControls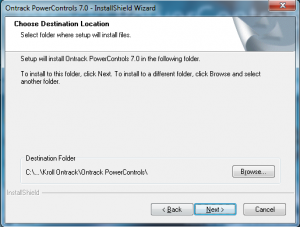 A questo punto è possibile scegliere quali prodotti installare: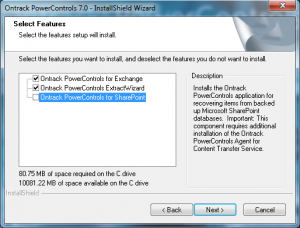 E finalmente è possibile lanciare OnTrack PowerControls 7:

Notare che l'eseguibile (come pure quello di ExtractWizard) richiede i privilegi amministrativi. Come del resto confermato anche dal manuale:
Note: Ontrack PowerControls in Windows Vista, Windows Server 2008, Windows Server 2008 R2, and Windows 7 can only be run by users with administrative privileges and in administrative mode.
Come già scritto è necessario avere un Outlook installato sul PC: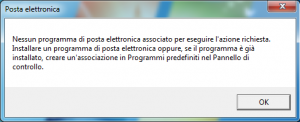 In realtà non basta, Outlook deve anche essere collegato ad un server Exchange: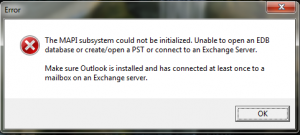 La configurazione della sorgente e destinazione è molto semplice e gestita da un wizard: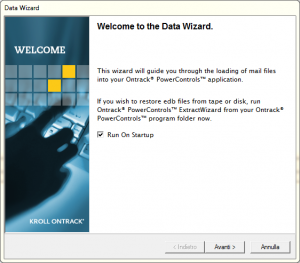 A quel punto è possibile specificare sorgente e destinazione:
Sorgenti e destinazioni possono essere file PST, file di database Exchange EDB (notare che come sorgente è possibile specificare anche i file di log per cercare di recuperare tutte le informazioni possibili) o file CAS (Content Analysis Store).
Un aspetto interessante è la possibilità, tramite Ontrack® PowerControls™ ExtractWizard, di recuperare i database EDB (o i file PST), partendo da un backup realizzato con prodotti di terze parti (senza la necessità di disporre del programma di backup!).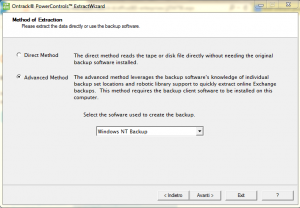 I formati dei programmi di backup supportati sono i seguenti:
Windows NT Backup
Symantec Backup Exec
EMC NetWorker
CA ArcSer
ARCserve Backup
Symantec NetBackup
IBM Tivoli Storage Manager
HP Data Protector
CommVault Simpana
UltraBac
Ancor più interessante l'utilizzo (suggerito e descritto in questo articolo, oppure in quest'altro in inglese) come strumento per la migrazione da una piattaforma ad un'altra (anche non avendo più attiva la vecchia piattaforma). Come pure è possibile recuperare le mail da un file PST (utile ad esempio nel caso di vecchi archivi offline).
Altri interessanti utilizzi sono le funzioni di ricerca, utili soprattutto se si parte da file di backup o da file storici in formato PST. Da notare che è possibile eseguire ricerche sia nella sorgente che nella destinazione. I possibili impieghi vanno dal supporto all'identificazione delle informazioni da cercare alla gestione di verifiche legali.
Le possibili destinazioni possono essere server Exchange (supporta anche l'autodiscovery per semplificare la configurazione) oppure su file PST.
Exchange online di Office 365 sembra non funzionare, ovviamente non come sorgente, ma apparentemente neppure come destinazione. Ho eseguito un paio di prove (con autodiscovery e senza) ma è probabile che le restrizioni nei permessi nella versione online siano tali da impedire l'operazione. Rimane valida l'opzione di esportare su PST e poi importato in Office 365, ma un'opzione in un unico passo sarebbe stata sicuramente utile.
Curiosità: il formato dei Database ESE usato da Exchange è in realtà usato anche da altri prodotti Microsoft:
contacts.edb – Stores contacts information in Microsoft live products.
WLCalendarStore.edb – Stores calendar information in Microsoft Windows Live Mail.
Mail.MSMessageStore – Stores messages information in Microsoft Windows Live Mail.
WebCacheV24.dat and WebCacheV01.dat – Stores cache, history, and cookies information in Internet Explorer 10.
Windows.edb – Stores index information (for Windows search) by Windows operating system.
DataStore.edb – Stores Windows updates information (Located under C:windowsSoftwareDistributionDataStore )
Questi file comunque non vengono riconosciuti come validi da OnTrack PowerControls (in realtà non ho avuto tempo di provare i file di Live Mail che forse invece potrebbero essere riconosciuti).
Per maggiori informazioni:
This post has already been read 820 times.