Questo post è disponibile anche in: Inglese
Reading Time:
4
minutes
Durante il recente VMworld Europe, ho avuto l'opportunità di parlare con Gregg Holzrichter, Vice President of Marketing di Atlantis Computing a riguardo dei loro prodotti per la virtualizzazione.
Atlantis Computing, che ha la sede principale in California (Mountain View) ed un ufficio anche in EMEA (London), è stata vincitrice come "Best of VMworld 2012" e "Best of Citrix Synergy 2012" per i relativi prodotti di ottimizzazione ed accelerazione degli storage in ambienti VDI.
Dal 4 settembre 2013, Ready Informatica ha stretto un accordo per distribuzione dei loro prodotti.
La tecnologia Atlantis Computing In-Memory Storage si basa su una VM dedicata in esecuzione su ogni host, pensata usare la RAM dell'host per ottimizzare le prestazioni dello storage e renderlo sia più scalabili, ma sopratttutto più predicibile e deterministico come prestazioni. La soluzione non è certamente l'unica di questo tipo, ma si caratterizza per uno specifico campo applicativo.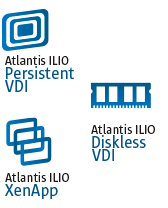 Attualmente vi sono 3 differenti prodotti basati sulla tecnologia Atlantis Computing In-Memory Storage:
Atlantis ILIO Persistent VDI
Atlantis ILIO Diskless VDI
Atlantis ILIO XenApp
Come si nota per il VDI vi sono due versioni: Persistent e Diskless in base al tipo di approccio usato per la gestione dei pool dei virtual desktop e di come viene gestito lo stato dell'utente. Molte delle considerazioni già fatte in questo post (riguardo ad un altro prodotto per il VDI) sono comunque valide anche in questo caso (tenuto conto però che lo storage è comunque condiviso).
Da notare che i prodotti per il VDI sono pensati sia per Citrix XenDesktop che per VMware Horizon View.
Atlantis ILIO utilizza una combinazione di tecnologie volte ad ottimizzare la memoria usata ed a migliore le prestazioni sullo storage:
Attualmente Atlantis ILIO è usato anche da diversi storage vendor (che sono dei technology partners di Atlantis Computing), come Dell, EMC, Fusion-IO, HP, IBM, NetApp e Violin Memory. E' curioso notare che possa essere impiegato sia per storage con problemi di prestazioni, ma sia anche con storage (come i Violin Memory), che per loro natura non hanno particolari problemi di prestazioni, se non nella parte di front-end che potrebbe diventare il vero collo di bottiglia.
Il vantaggio è che questi prodotti non si sostituiscono agli storage esistente, ma soprattutto sono implementati in 100% in software (dato che richiedono solo l'uso della RAM dell'host) e diventano quindi interessanti anche nei casi dove altre tecnologie di host cache non possono essere impiegate, come ad esempio nei server ad alta densità dove magari non vi è posto per dischi SSD e/o schede flash PCI.
Naturalmente la progettazione dell'host diviene più critica dato che bisogna trovare il tradeoff giusto tra la RAM da usare per l'accelerazione dello storage e quella da lasciare al resto delle VM (e in uno scenario di VDI ne serve comunque molta anche per questa parte). In realtà Atlantis Computing può fornire in fase di pre-analisi uno strumento per capire come dimensionare il tutto.
Al momento i prodotti sono più orientati per il mondo VDI, ma la tecnologia è potenzialmente interessante anche per alcuni scenari di server virtualization o di cloud provider e quindi dovremo aspettarci forse anche un nuovo prodotto per questi ambienti.
Vedere anche gli altri report del VMworld europeo 2013.