Questo post è disponibile anche in: Inglese
Reading Time:
4
minutes
Nel post precedente abbiamo parlato di possibili problemi legati alla crescita del database di VMware Horizon View Event e delle possibili soluzioni per eliminare i vecchi dati in modo da liberare spazio. Problemi simili possono accadere anche con il database di VMware vCenter Server, visto che è un altro database che continua a crescere a causa delle statistiche e anche per gli eventi e dei diversi task. Su sistemi piccoli e/o semplici a volte è più semplice reinstallare una nuova versione del vCenter Server (magari durante una fare di aggiornamento di versione) e ricreare il cluster, i permessi, gli allarmi e le altre impostazioni specifiche di vCenter. Ma non sempre questa soluzione è praticabile.
Anche per il database del vCenter Server non esistono procedure built-in per implementare piani di manutenzione, ma vi sono numerose VMware KB con diversi suggerimenti pratici:

Per vSphere 2.x: KB 1000125 (Purging old data from the database used by VirtualCenter 2.x)
Fino a vSphere 5.0: KB 1025914 (Purging old data from the database used by VMware vCenter Server 4.x and 5.x)
Fino a vSphere 5.5: KB 1007453 (Reducing the size of the vCenter Server database when the rollup scripts take a long time to run)
Di fatto si tratta di applicare degli script per il troncamento dei dati vecchi nel database storico:
Come si può notare non esiste uno script specifico per il database embedded del virtual appliance di vCenter Server. Comunque l'operazione è gestibile a mano tramite command line, o grazie ad uno dei tanti front-end disponibili (anche per Windows) per PostgresQL.
Naturalmente prima è vivamente consigliato un backup completo dell'intero database di vCenter Server:
Ovviamente i problemi maggiori nascono quando si utilizza una versione SQL Express per il database di vCenter Server, dato i diversi limiti di questa edizione: SQL Express fino alla versione 2008 è limitata a 1 CPU, 1 GB di  RAM e 4 GB per il file del database, nella versione SQL Express 2008 R2 è stato aumentato il limite del file a 10 GB (vedere la comparison chart) e nella versione SQL Express 2012 è stata aggiunta la possibilità di avere fino a 4 core di elaborazione (vedere la comparison chart). Chiaramente è il limite sulla dimensione del file che poi spiega anche il limite imposto da VMware per avere una soluzione supportata con SQL Express:
SQL Express 2005/2008 (vCenter Server 5.x is bundled with SQL Express 2008 R2) supports a maximum of 5 hosts and 50 virtual machines. If your environment exceeds these thresholds, you must upgrade your database to SQL Standard edition.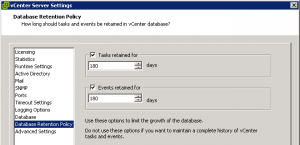 Per evitare problemi futuri nella crescita incontrollata del database del vCenter Server, è possibile lavorare su alcuni parametri all'interno dei vCenter Server setting.
Tasks/Events retention
In questa schermata è possibile specificare la retention (in termini di giorni massimi di memorizzazione) per quanto riguarda i task e gli eventi. Di default tutti questi dati sono memorizzati all'interno del database, senza alcuna cancellazione automatica dei dati vecchi.
In base alle proprie esigenze e ai requisiti di compliance è sensato impostare un qualche valore di retention (non necessariamente lo stesso in entrambi i campi).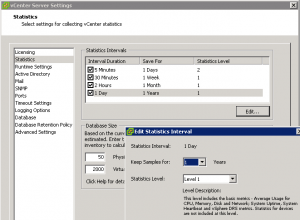 Statistiche
Le statistiche e i dati di tutti i contatori sono la principale causa della crescita del database, ma soprattutto sul suo tasso di modifica e cambiamento (determinando quindi anche una crescita nei transaction logs).
In questa schermata avete anche un'utile calcolatrice per valutare la dimensione del database, in base al numero di host, al numero di VM, al livello di contatori che avete impostato (notare che di default è 1, ma almeno nel breve termine potrebbe aver senso alzare il livello almeno a 2 per avere un maggior numero di contatori) e al tipo di retention per ogni periodo.