This post is also available in: Inglese
Reading Time:
2
minutes
Sono molto onorato di essere stato invitato, in qualità di delegato, alla terza edizione dell'evento Virtualization Field Day (#VFD3), previsto per il 5-7 Marzo 2014 in California (Silicon Valley).
I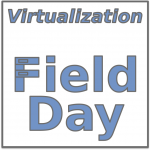 Virtualization Field Day sono una specializzazione dei Technical Field Day, eventi organizzati da Stephen Foskett e dal suo team, con l'obiettivo di far incontrare vendor di prodotti e soluzioni IT con figure indipendenti (tipicamente blogger riconosciuti) per scambiarsi informazioni, pareri e discutere sulle relative tecnologie.
I Virtualization Field Day (VFD) ovviamente sono più focalizzati su server e desktop virtualization e tutto quello che ne è legato, in particolare le tecnologie di gestione, ma non solo.
Tra i vendor presenti all'evento, questi sono i primi ad essere stati annunciati:
Aspetto interessante è che le sessioni del Tech Field Day sono disponibili anche live in streaming (anche se in questo caso l'orario non è molto favorevole all'Italia) o, successivamente, come sessioni registrate; il tutto disponibile anche ai non delegati! Rappresentano quindi un'opportunità interessante per approfondire particolari vendor e/o tecnologie (vedere anche questo post, in inglese, why you need to be watching Tech Field Day).
Ovviamente pure io, dopo l'evento, produrrò dei report su quello che visto e che più mi ha interessato.
Vedere anche questi post (in inglese) di altri delegati al #VFD3:
Disclaimer: Sono stato invitato a questo meeting da GestaltIT e che coprirà i costi per il viaggio e l'alloggio. Ma non sarò ricompensato in alcun modo per il mio tempo e non sono in obbligo di scrivere articoli riguardo all'evento stesso e/o gli sponsor. In ogni caso, i contenuti di questi articoli non sono concordati, rivisti o approvati dalle aziende menzionate o da altri al di fuori del sottoscritto.