Questo post è disponibile anche in: Inglese
Reading Time:
2
minutes
PowerShell Core 6.0 è la nuova versione di Microsoft PowerShell, il potente linguaggio di scripting ampiamente adottato nei sistemi Microsoft (e non solo). All'inizio questo linguaggio era specifico per i soli sistemi operativi Microsoft Windows, ma di recente è stato aperto ad altri sistemi operativi (Windows, macOS e Linux) ed è diventato open-source.
PowerShell Core è basato sul runtime .NET Core 2.0, anch'esso portabile cross-platform.
Windows PowerShell è invece l'edizione di PowerShell basata sul .NET Framework (o "FullCLR") e per questo motivo non è portabile su altri sistemi operativi. Le versioni di Windows PowerShell sono 1.0, 2.0, 3.0, 4.0, 5.0, and 5.1 e l'interprete dei comandi è lanciato con il comando powershell.exe.
PowerShell Core è l'edizione di PowerShell basata su .NET Core (o "CoreCLR") che invece è completamente cross-platform, su Windows, macOS e Linux. PowerShell Core è eseguita con il comando pwsh.exe su Windows e pwsh su macOS o Linux.
Ovviamente uno dei goal di PowerShell Core è mantenere la massima compatibilità con la versione Windows PowerShell.
PowerShell Core supporta ufficialmente i seguenti sistemi operativi:
Windows 7, 8.1, and 10
Windows Server 2008 R2, 2012 R2, 2016
Ubuntu 14.04, 16.04, and 17.04
Debian 8.7+, and 9
CentOS 7
Red Hat Enterprise Linux 7
OpenSUSE 42.2
Fedora 25, 26
macOS 10.12+
Altre distribuzioni Linux funzionano, ma sono supportate a livello community.
Vi è pure un supporto sperimentale per le seguenti piattaforme:
Windows on ARM32/ARM64
Raspbian (Stretch)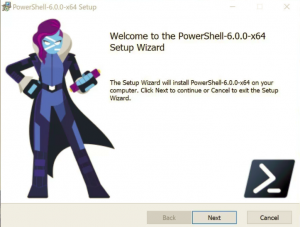 Per scaricare PowerShell Core:
Per maggiori informazioni: