Reading Time:
3
minutes
Dopo gli eventi VMUG.IT della primavera 2018, si delineano i prossimi eventi, previsti per l'autunno 2018.
Uno di questi sarà il meeting che si terrà a Roma il 27 settembre 2018, presso il Centro Congressi Frentani (vicino alla Stazione Termini).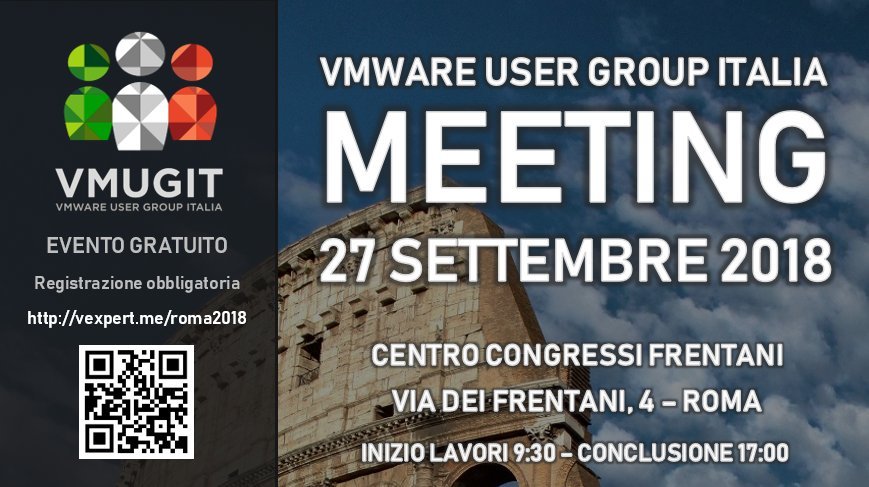 Come d'abitudine il programma della giornata si svilupperà attorno ad un mix di interventi offerti da VMware, sponsor selezionati e membri della Community, caratterizzati da un elevato contenuto tecnico e vicini alle esigenze degli utenti finali.
L'agenda è in corso di definizione ma possiamo già anticipare alcuni temi tra cui Sistemi Iperconvergenti (vSAN), Container e Kubernetes (PKS), Monitoring e Troubleshooting Proattivo (Runecast), Data Protection e Availability (Nakivo e Veritas).
Quest'anno abbiamo inoltre il piacere di ospitare il Dr. Jens-Henrik Soldner, Leader del VMUG Germania, docente ed esperto di Virtualizzazione, Cloud e Sicurezza, nonchè autore di articoli e libri tecnici.
Questa l'agenda preliminare:
9:30 – 10:00 – Registrazione
10:00 – 10:10 – Benvenuto del VMUG.IT
10:10 – 10:50 – Sessione VMware – Servizi di Rete e Sicurezza nel Mondo dei Container con VMware NSX-T – Gabriele di Traglia e Luca Morelli
10:50 – 11:10 – Coffee Break
11:10 – 11:40 – Sessione Community – Oops, mi si è ristretto NSX : ricette per installare NSX su cluster di piccole dimensioni – Marco Scandaletti
11:40 – 12:20 – Sessione Runecast – Proactive offline issue detection and remediation for vSphere, vSAN, NSX-V, DISA-STIG, PCI DSS and more with the new Runecast Analyzer 2.0 – Bryan Hutchinson e Daniele Curzi
12:20 – 13:00 – Sessione VMware – Come estendere la virtualizzazione allo storage: vSAN e casi d'uso – Paolo Abbazia
13:00 – 14:00 – Pranzo
14:00 – 14:40 – Sessione Nakivo
14:40 – 15:20 – Sessione vExpert – Cloud Enable your Enterprise in one easy step with Morpheus – Jens Soeldner
15:20 – 16:00 – Sessione Veritas/Esprinet – Francesco Aeri
16:00 – 16:20 – Estrazione premi e chiusura lavori
Inoltre, tra coloro che avranno partecipato alla giornata verrà estratto un Pass gratuito per il VMworld Europa che si terrà a Barcellona dal 5 all'8 novembre 2018 (viaggio e alloggio non sono coperti dal pass)!
Ringraziamo per la collaborazione gli sponsor dell'evento: VMware Italia, Runecast, Nakivo e Esprinet / Veritas

Non mancate: per iscriversi all'evento usare questo link.