Questo post è disponibile anche in: Inglese
Reading Time:
4
minutes
La notizia delle ultime ore è veramente grossa: IBM è in procinto di acquistare Red Hat per 34 miliardi di dollari ($190 per share in cash). La chiusura dell'operazione è prevista per la seconda metà del 2019.
Partner da oltre 17 anni, IBM e Red Hat hanno gettato le basi delle community aperte che supportano soluzioni IT innovative e fornito infrastrutture IT che consentono alle aziende di migrare da architetture limitate a datacenter moderni.
Questa operazione è una delle più grandi acquisizione in ambito software di sempre ed acquisisce ancora più valore considerando che Red Hat è uno dei principali espondenti non solo del mondo Linux, ma del mondo Open Source in generale.
L'aspetto importante però è che Red Hat rimarrà "distinta" da IBM, mantenendo nome e marchio e anche una certa indipendenza… immagino un po' come era successo quando EMC aveva acquisito VMware.
E questo è assolutamente positivo, visto che permetterà di mantenere credibilità sia nel mondo Linux (dove comunque RHEL è una delle maggiori distribuzioni in ambito professionale), ma in tutto il mondo Open Source (Red Hat, con i suoi prodotti, è tra i leader di molte tecnologie).
Sempre in tema di prodotti, sarà interessare vedere in futuro come evolverà la partnership tra IBM e SUSE nel mondo mainframe, e come i prodotti Red Hat potrebbe soppiantare quelli SUSE alla lunga, rendendo ancora più complicata la vita a quest'altra azienda.
Già RHEL era certificato per essere eseguito su tutte le piattaforme di server IBM, inclusi i sistemi Power. Ma insieme, Red Hat e IBM potranno offrire soluzioni complete per Big Data, sistemi di analisi, applicazioni mobili, sicurezza e molto altro.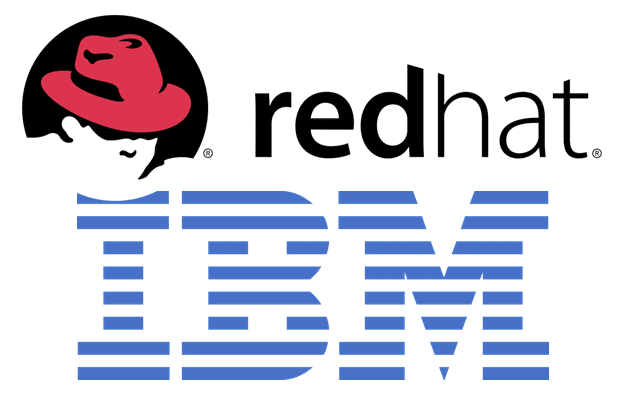 Ma Red Hat è non solo un'azienda nel mondo software, è anche un'azienda nel mondo del cloud. Come lo è pure IBM.
Ed è qui che c'è il vero interesse di IBM.
Da un lato mantenere vive (e far crescere ulteriormente) le partnership esistenti con realtà nel mondo del public come Amazon Web Services, Microsoft Azure, Google Cloud, Alibaba and more… e ovviamente migliorare l'offerta di IBM Cloud.
"The acquisition of Red Hat is a game-changer. It changes everything about the cloud market," said Ginni Rometty, IBM Chairman, President and Chief Executive Officer. "IBM will become the world's #1 hybrid cloud provider, offering companies the only open cloud solution that will unlock the full value of the cloud for their businesses.
L'obiettivo di IBM è quello di diventare il provider di cloud ibrido numero uno al mondo!
Ma inevitabilmente sarà anche quello di aumentare l'adozione e la percezione del mondo Open Source nel mondo business.
"Open Source is the default choice for modern IT solutions, and I'm incredibly proud of the role Red Hat has played in making that a reality in the enterprise," said Jim Whitehurst, President and CEO, Red Hat. "Joining forces with IBM will provide us with a greater level of scale, resources and capabilities to accelerate the impact of Open Source as the basis for digital transformation and bring Red Hat to an even wider audience – all while preserving our unique culture and unwavering commitment to open source innovation."
Sarà molto interessante vedere come questa acquisizione si rifletterà sul resto del mondo Open Source.
Considerando che la notizia è di queste ore, sarà molto interessante partecipare al Red Hat Open Source Day 2018 di Milano (evento che si svolgerà domani) per avere maggiori informazioni direttamente da Red Hat.