Questo post è disponibile anche in: Inglese
ExaGrid è una soluzione di backup su disco (B2D) "economica" e scalabile che lavora in modo trasparente con la maggior parte delle applicazioni di backup esistenti (il requistio è che queste devono essere in grado di salvare i backup su una share di rete). Da fatto non implementa un motore di backup ma si "limita" ad ospitare i backup stessi (in una soluzione di backup va quindi a rimpiazziare o affiancare le classiche librerie di nastri).
L'innovativo approccio di ExaGrid minimizza la quantità di dati da salvare offrendo la compressione dei backup più recenti, oltre alla deduplica dei dati byte-level di tutti i precedenti backup. La soluzione di backup su disco di ExaGrid sfrutta la deduplica dei dati che salva solo le modifiche byte-level tra un backup e l'altro invece di salvare copie complete. Questo approccio riduce lo spazio disco richiesto da 10 a 50 volte o più, offrendo risparmi di spesa e prestazioni al 30% del costo di uno storage standard, quasi lo stesso prezzo di un sistema a nastro.
Per maggiori informazioni vedere anche questi post:
Rispetto ai concorrenti, Info-Tech ha stilato un confronto tra 6 diverse soluzioni nel mercato del backup to disk, paragonando Data Domain, Dell (ma prima del nuovo prodotto DR4000), FalconStor, HP, Quantum e ExaGrid. ExaGrid si è confermata una soluzione "Champion" nella categoria "Leading Vendor".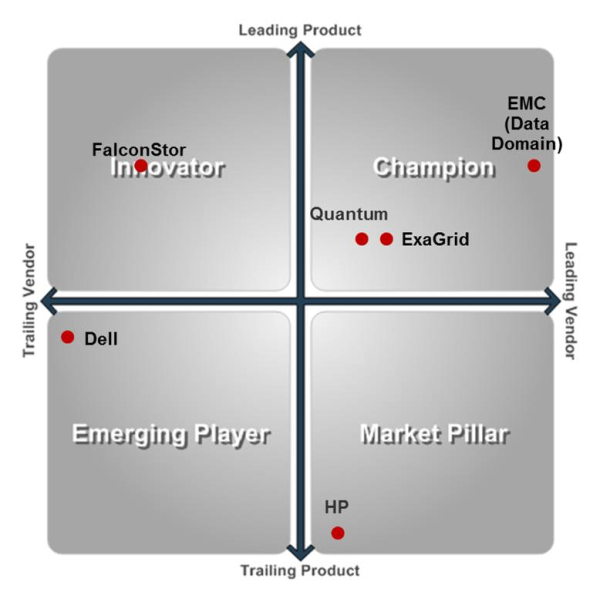 According to the report, "ExaGrid is a champion in disk backup due to the combination of its architecture and business strategy. The youngest company in the landscape, ExaGrid has differentiated itself with a unique product offering that brings a scalable storage node clustering (or grid) approach to the backup tier." Info-Tech also noted that, "ExaGrid has differentiated itself through easy non-disruptive scalability and cost-effective options."
This post has already been read 1490 times.