Questo post è disponibile anche in: Inglese
Reading Time:
3
minutes
Nel mio incontro con Quantum, durante il recente evento Powering the cloud, ho avuto modo di parlare con Stéphane Estevez (Sr. Product Marketing Manager EMEA/APAC).
Quantum è un nome storico nel campo della data protection. Presenti dal 1980, Quantum vende i suoi prodotti attraverso la sua rete mondiale di più di 20 distributori e 5,000 reseller. Quantum vende anche attraverso la linea OEM ribrendizzata poi da grossi vendor come Dell, EMC, Fujitsu, HP, IBM and NetApp..
Ma a discapito di quanto si possa pensare, non realizzano solo soluzioni hardware (sicuramente le più note sono quelle legate ai prodotti per il backup to tape), ma anche diverse soluzioni software, sempre nell'ambito della data protection.
Le due principali soluzioni che abbiamo discusso sono:
Quantum vmPRO: Quantum's backup software for virtual environments
Q-Cloud: Quantum's new BaaS and DRaaS
Quantum vmPRO è un virtual applicance per proteggere VM (agent-less), che mostra tutta l'infrastruttura come un file system e crea un bridge tra VM e soluzioni tradizionali. Basato su API di VMware, usa il CBT, ma lo ottimizza all'applicazione di backup. Tra le altre cose, vmPRO è anche un programma di backup, che salva in  formato vmdk native (quindi molto comodo per il restore o per ma mobilità/portabilità). Il prodotto è anche certificato con tanti vendor di software di backup in modo da integrarsi con soluzioni esistenti.
Ha anche un appliance per la deduplica (DXi) che è in grado di gestire una deduplica in-line con medie di ottimizzazioni del 95%.


La versione 3.0 di vmPRO è disponibiel in due diverse versioni:
vmPRO Standard Edition (gratuita e con il limite di proteggere fino ad 1TB)
vmPRO Enterprise Edition (licenziata a consumo, con un prezzo indicativo di $699 per TB)
Q-Cloud invece è un nuovo servizio Quantum-branded di tipo backup-as-a-service (BaaS) e DR-as-aservice (DRaaS), disponibile sia per il nord america, che per l'EMEA.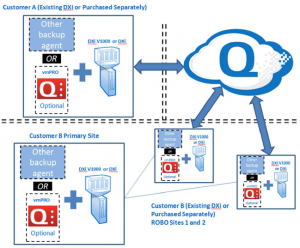 Può scalare da 1TB fino a 1PB di dati protetti con un costo abbastanza contenuto di circa 1 Cent/GB/Month (ipotizzando un fattore di deduplica di 15:1).
Si può integrare con le soluzioni di backup già esistenti, ma anche abbinarsi a Quantum vmPRO e gli appliance di deduplica DXi-Series Deduplication Storage Platform (come ad esempio il V1000, che è un appliance virtuale).
Q-Cloud viene visto come un backup target e può essere usato in differenti scenari, da un single site ad un multi-site con edge-to-core data protection. Notare che è anche una soluzione di DR solution, visto che la VM può essere riaccesa.
Alla fine abbiamo parlato anche dell'emergente standard LTFS che permette di vedere un tape come un NAS e di come Quantum stia sviluppando questa soluzione. Con il loro gateway Scalar LTFS è possibile "virtualizzare" tutti i prodotti di tape di Quantum (e non solo), incrementandone l'usabilità e la fruibilità.
Vedere anche: Altri report dell'evento Powering the Cloud 2012.