Questo post è disponibile anche in: Inglese
Reading Time:
3
minutes
Gli eventi che prendono il nome di Cisco Live sono eventi storici che risalvono al 1989 (quando ancora di chiamava Networkers). L'azienda ha puntato molto su questi eventi, facendoli crescere di anno dopo anno sia nella qualità che nella completezza e varietà delle informazioni, facendoli diventare non solo l'evento annuale più importante di Cisco, ma uno dei migliori eventi nel mondo dell'IT.
Il programma del Cisco Live è molto ampio e si rivolge sia ai leader dell'IT che hanno l'obiettivo di unire il business all'innovazione tecnologica, sia agli ingegneri delle reti. Nel periodo 2014-15 gli eventi Cisco Live previsti sono: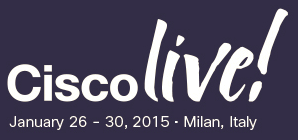 Come scritto i Cisco Live sono l'evento annuale di punta di Cisco e sono basati attorno a quattro pilastri:
Technical Education
Technology Evaluation
Networking
Thought Leadership
L'edizione EMEA si svolgerà ancora a Milano (come nell'anno scorso) nel periodo dal 27 al 30 gennaio 2015 (con un giorno di pre-conferenza tenica fissato il 26 gennaio) presso il MiCo (Piazzale Carlo Magno 1, 20149 Milano).
La location è la stessa della User Conference 2014 del VMUG italiano, quindi vi rimando direttamente alla relativa pagina delle informazioni per le modalità sul come raggiungere il luogo dell'evento.
Il Cisco Live è organizzato in diverse tracce parallele adattabili a diverse figure professionali:
Network Engineers
System Engineers
Technical Individual Contributors
Service Provider Engineers and Business Managers
Developers
IT Managers
IT Directors
IT Architects
Middle to Senior Level IT Leaders
Sul sito sono anche riportate diverse motivazioni per partecipara a questo evento:
C'è poi la motivazione specifica legata alla realtà italiana: ci si lamenta spesso che siamo il fanalino di coda (e del resto l'IT divide si sente molto in Italia), ma poi magari non si sfruttano occasioni importanti come questi eventi internazionali, soprattutto quando sono (stranamente) organizzati in Italia. Una partecipazione forte (soprattutto da parte degli italiani) può far capire i vendor l'importanza dell'Italia nell'IT.