Questo post è disponibile anche in: Inglese
Reading Time:
3
minutes
VMware vSphere Storage Appliance (VSA) era una soluzione software-based di storage distribuito in grado di convertire storage locale in share NFS fruibili da un cluster VMware vSphere (con 2 o 3 nodi massimo) e che avevo già trattato in questo post. Ma il prodotto oramai non esiste più: VMware ha annunciato la fine della disponibilità di questo prodotto a partire dal 1° aprile 2014 (non era un pesce di aprile, lo hanno proprio tolto dai listini).
Ovviamente l'annuncio del prodotto Virtual SAN (o VSAN) ha cambiato le carte in tavola e spinto VMware verso la scelta di abbandonare VSA: ma VSAN può rappresentare un'alternativa a VSA? O, quanto meno, è l'unica alternativa possibile?
VSA era comunque parte di alcuni bundle e quindi a "costo zero". VSAN è comunque un prodotto a parte. Inoltre VSA era per configurazioni da 2 a 3 nodi, mentre VSAN può essere utilizzato solo da 3 nodi in su.
Una soluzione, soprattutto per il caso dei due nodi, viene da StorMagic che recentemente ha collaborato con VMware per definire una soluzione a 2-node in alta disponibilità.
"IT administrators in remote and branch office environments have several pressing challenges today, including: ensuring availability and uptime, maximizing server and storage utilization, reducing cost and complexity, simplifying and centralizing management and minimizing deployment costs," said Gaetan Castelein, senior director, Storage and Availability at VMware. "By combining VMware vSphere Remote Office Branch Office with StorMagic SvSAN, we anticipate a robust and highly available solution that addresses all these requirements using just two servers, thereby minimizing hardware costs in ROBO environments."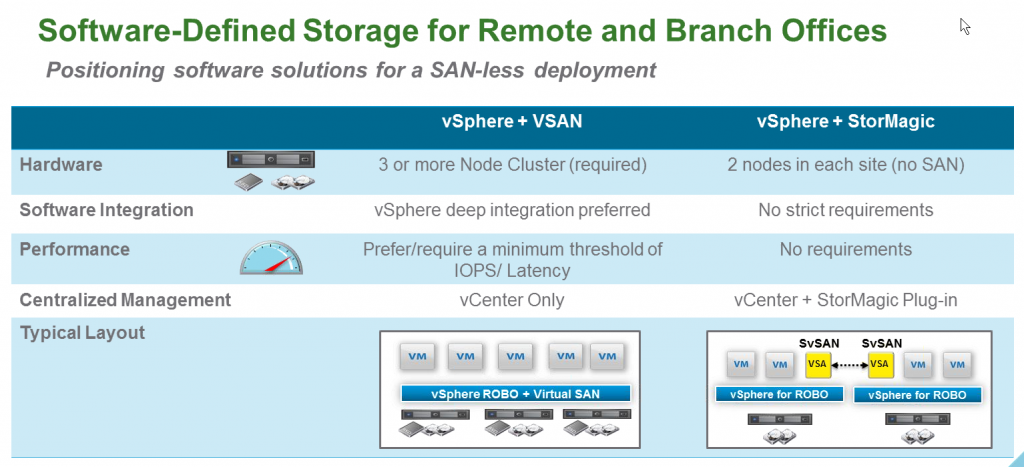 Ma perché il caso dei due cluster a nodi è così importante? O quando può essere importante?
Pensiamo all'Italia e alla dimensione delle PMI: attualmente molte realtà sono realizzate solo con due nodi (potrebbero migrare verso un cloud pubblico, ma per ragioni che richiedono più spazio di approfondimento non lo fanno). Ma oltre al caso italiano, esiste il caso (altrettanto presente in Italia, ma non solo) delle aziende distribuite geograficamente con diverse filiali, spesso medio piccole (questa casistica in inglese è identificata con la sigla ROBO – Remote Offices or Branch Offices).
In questo casi una soluzione a due nodi iper-convergenti è sicuramente comoda, economica, ottimizzata negli spazi e persino nei costi.
La stessa VMware ha migliorato il suo kit di licenze ROBO aggiungendo una edizione advanced molto ricca di funzionalità (quasi come l'Enterprise Plus!) e con una buona flessibilità visto che si si paga a VM (con pacchetti da 25 VM). Abbinata a StorMagic che ha una licenza per capacità si arriva facilmente a pagare solo per quanto realmente server.
Per maggiori informazioni (in inglese):