Questo post è disponibile anche in: Inglese
Reading Time:
5
minutes
Come già scritto nel post precedente, è possibile prepararsi per l'esame VCP-NV senza avere un proprio lab e sfruttando solo le risorse disponibili on-line, inclusi gli Hands on Lab di NSX. Il corso ICM sicuramente aiuta alla preparazione.
Lo stesso non si può dire per l'esame di certificazione Network Certified Implementation Expert (VCIX-NV) che richiede molta pratica e confidenza con l'ambiente, difficilmente ottenibili solo con il corso o con gli HoL. Questo esame è disponibile da ottobre 2014 e, per certi versi, è simile ai VCAP della serie Admin.
Come per ogni esame VMware, la prima fonte di informazione è il Blueprint ufficiale (attualmente alla versione 1.7, del 9 dicembre 2014) che già fornisce numerosi dettagli sul tipo di esame, di ambiente e sulle tematiche affrontate (notare che ad oggi non c'è alcun similatore di questo esame).
L'ambiente virtuale è composto da più cluster (un management come da best practice e diversi compute cluster) il tutto su VMware vSphere 5.5 e NSX for vSphere 6.0.2.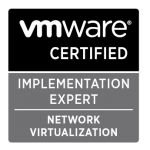 L'esame VCIX-NV consiste in 18 lab live, ciascuno con diversi task (il numero totale non è dato a sapere).
Essendo un esame basato su lab live valgono le solite considerazioni riguardo alla possibile latenza (vedere questo posto), lentezza dell'ambiente (in Italia l'ideale sarebbe sostenere l'esame di mattina, visto che i lab sono tutti negli Stati Uniti), su possibili problemi di connessione… ma soprattutto sul tempo… al di là della propria gestione del tempo è fondamentale rispettare l'orario di inizio (meglio presentarsi almeno 15 minuti prima)!
Come scritto, gli HoL possono aiutare, in particolare HOL-SDC-1425 – VMware NSX Advanced molto articolare ed interessante (tenendo però presente che le novità della 6.1 come il DHCP relay o il ECMP non sono previste nell'esame). Un proprio lab però è fondamentale per provare e riprovare più volte.
VCIX-NV exam experience
Diverse persone oramai hanno affrontato l'esame e si trovano numerose esperienze, ciascuno con i propri punti di vista:
VCIX-NV Blueprint with notes
Oltre al blueprint ufficiale, ve ne sono alcuni con note e commenti:
L'ultimo è sicuramente il più completo e riporto per comodità il link a ciascun obiettivo del blueprint:
Section 1 – Install and Upgrade VMware NSX
Section 2 – Create and Manage VMware NSX Virtual Networks
Section 3 – Deploy and Manage NSX Network Services
Section 4 – Perform Operational Maintenance
Section 5 – Perform Advanced Troubleshooting
Section 6 – Secure an NSX Environment
Section 7 – Utilize API and CLI Commands to Manage an NSX Deployment
NSX Troubleshooting
Questa è sicuramente la parte più complessa visto che il prodotto è ancora poco conosciuto, ma soprattutto questa parte è completamente ASSENTE nel corso Install & Configuration. L'unica è fare molta pratica, testare casi e situazioni di errore e comunque leggere anche qualche risorsa su Internet (devo dire che molte sono dei meri duplicati di altri siti). Un buon punto dove partire può essere dato dai seguenti siti:
NSX API
Altro punto lacunoso del corso Install & Configuration (che però come per PowerCLI del VCAP-DCA non penso influisca poi così tanto).
Anche qua si possono trovare alcune risorse su Internet:
Risorse aggiuntive
Altri spunti che potrebbero essere utili: