Questo post è disponibile anche in: Inglese
Reading Time:
4
minutes
Con la nuova suite VMware vSphere 6.0 vi sono diversi migliorie in tutti i campi principali. Anche dal punto di vista della disponibilità vi sono interessanti novità che meritano un approfondimento.
Benché all'apparenza vSphere HA sembri lo stesso (rispetto alle versione 5.x), fatto salvo il supporto a cluster fino a 64 nodi, in realtà vi sono diversi miglioranti e anche alcune nuove funzioni:
Novità in ambito guest cluster (con tecnologie Microsoft)
Nuova funzione vSphere VM Component Protection (VMCP)
Miglior gestione del Network partition manament
Nuovo VMware FT-SMP

Per maggiori informazioni vedere anche (in inglese):
Guest cluster
Con questo termine si intende la realizzazione in ambiente virtuale di un cluster, tipicamente di alta disponibilità, come potrebbe essere il tradizionale Microsoft Cluster Service (MSCS, anche se più correttamente si chiama Fail-over cluster, a partire da Windows Server 2008). Già in vSphere 5.5 vi erano molte migliorie per quanto riguarda i MSCS, descritte ampiamente nell'articolo KB 2052238 (MSCS support enhancements in vSphere 5.5).
Le tipologie di guest cluster supportate rimangono le solite 3:
Clustering MSCS Virtual Machines on a Single Host (CIB)
Clustering MSCS Virtual Machines Across Physical Hosts (CAB)
Clustering Physical Machines with MSCS Virtual Machines (N+1)
Le novità di vSphere 6.0 sono il supporto di Windows 2012 R2 e soprattutto di SQL 2012, sia in configurazione Failover Clustering che in AlwaysOn Availability Groups.
Notare che i clustering across physical hosts (CAB) o anche il cluster tra VM e macchine fisiche sono sempre necessari RMD in physical compatibility mode RDM. I sistemi operativi supportati sono: Windows Server 2008, 2008 R2, 2012 e 2012 R2.
VMCP
Questa è una novità di vSphere HA 6.0 che merita un approfondimento: vSphere VM Component Protection (VMCP) è una soluzione per proteggere le VM da problemi sullo storage (dovuto ad esempio a problemi di connettività o di configurazione errata).
Molti erroneamente ritengono che vSphere HA potesse proteggere da qualunque problema lato host… la verità è i problemi di storage non erano gestibili con HA (molto diverso da quanto avviene ad esempio in Hyper-V con il CSV). In realtà anche i problemi di rete non tutti gestibili da HA (tipicamente HA esegue, di default, il monitoraggio solo sulla rete di management), ma il problema più grave rimaneva l'incapacità di gestire probemi lato storage.
Per tale ragione l'intero storage e soprattutto le sue fabric andavano progettate per non fallire… ad esempio, in uno storage FC, usare una sola HBA (o una sola scheda, benché multiporta) era un grave errore di design… un fallimento del link (o della scheda) avrebbe compromesso il funzionamento delle VM sull'host e HA non sarebbe mai intervenuto!
Le possibili problematiche che si possono verificare sullo storage rientrano in due casistiche principali:
All Paths Down (APD): uno strato temporaneo di perdita di connettività, a esempio per il fallimento dei path attivi (e la mancata reazione della parte di multi-path).
Permanent Device Loss (PDL): situazione di perdita dello storage permanente… dovuto ad esempio ad un errore di configurazione (zoning sbagliato o LUN masking sbagliato).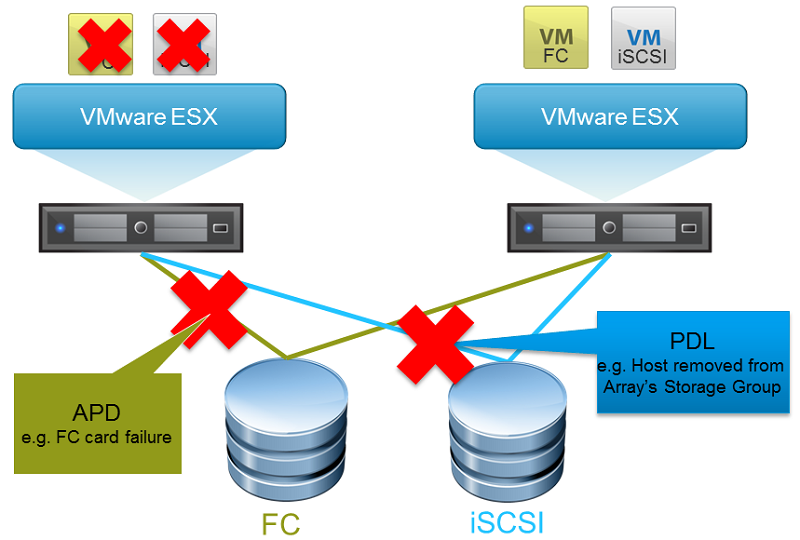 Sempre a partire da vSphere 5.5 vi erano stati alcune importanti migliorie sul come gestire le situazioni di APD and PDL, ma rimanevano comunque problematiche non gestibili da vSphere HA.
Ora con vSphere si potrebbe utilizzare il nuovo VMware FT, ma solo per alcune VM… Oppure la nuova funzione VMCP di vSphere HA che permette di proteggere tutte le VM e tutti i datastore. Il tipo di risposta è configurabile individualmente dei due casi precedentemente descritti:
APD: Terminate VM after user-configured timeout only if there is enough capacity; restart on a healthy host. Reset a VM if APD clears after APD timeout
PDL: Terminate VM immediately; restart on a healthy host
Per maggiori informazioni, la guida "Availability Guide" descrive nel dettaglio questa nuova funzionalità.
Network partition
Uno dei problemi tipici delle soluzioni di Ha è lo scenario chiamato split-brain, dove si ha un vero e proprio partizionamento delle risorse, tipicamente dovuto ad un partizionamento della rete.
Premesso che questa situazione deve essere risolta in tempi brevi, VMware vSphere si comporta in modo diverso a seconda che il vCenter Server sia presente o meno nella partizione. L'uso congiusto della funzione vSphere HA chiamata datastore heartbeat permette di distinguere i casi di partizionamento, isolamento o host falliti.
Per maggiori informazioni, vedere la "Availability Guide".
VMware FT
Il nuovo VMware FT non solo supporta macchine virtuali multi processore, ma ha veramente tante novità (ed in fondo è un prodotto praticamente diverso dal precedente). Per maggiori informazioni vedere il post relativo.