Questo post è disponibile anche in: Inglese
Reading Time:
3
minutes
Come di consueto (anche se enormemente in ritardo rispetto agli altri anni), si è concluso il "concorso" dei Top VMware & virtualization blogs e sono disponibili sul sito vSphere-land i risultati finali.
I risultati e le liste dei migliori blog in ambito virtualizzazione sono disponibili sul sito vSphere-land. I primi posti di ogni categoria forse non rappresentano una sorpresa (nella maggior parte dei casi erano quelli che, giustamente, mi aspettavo), con una buona predominanza di persone VMware e Nutanix… ma anche di VCDX… ma soprattutto con l'evidenza che chi lavora molto (incluse le partecipazioni ai VMUG) ottiene grossi risultati.
Benché questa lista non sia ufficiale (in fondo è gestita da un blogger), la votazione annuale è diventata oramai un rito come pure avere una posizione di rilivelo in questa lista (esiste anche un post interessante sulla genesi di questo evento: History of the Top vBlog).

Anche se può essere falsato o polarizzato, rimane comunque un evento importante e riconosciuto: non rappresenta necessariamente una classifica di chi è meglio di chi… ma sicuramente un'ottima lista di persone da seguire.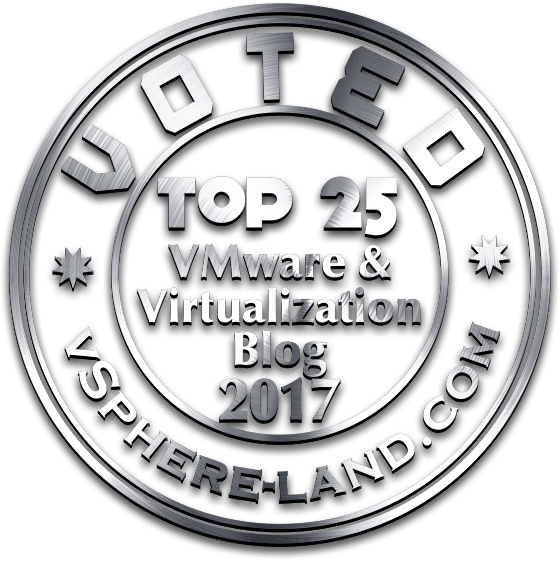 Anche quest'anno ho ricevuto un po' di voti e il sito vInfrastructure si è piazzato 19° nella classifica generale (partendo dalla posizione 23 dello scorso anno, 31 di due anni fa, 21 di tre anni fa, 29 di quattro anni fa, 40 di cinque anni fa e 54 di sei anni fa quando ho iscritto il sito, per la prima volta, alla competizione).
Un'interessante progressione, ma anche un risultato abbastanza inatteso, visto che è da due anni che ho ridotto sensibilmente il numero dei miei blog post.
Complimenti a tutti i partecipanti alla top list (e anche i primi di ogni lista specifica) e grazie a tutti mi hanno dato un voto. Lo apprezzo molto e spero di fare meglio per il futuro.
Questa è la lista dal numero #1 al numero #19 con tutta una serie di statistiche interessati: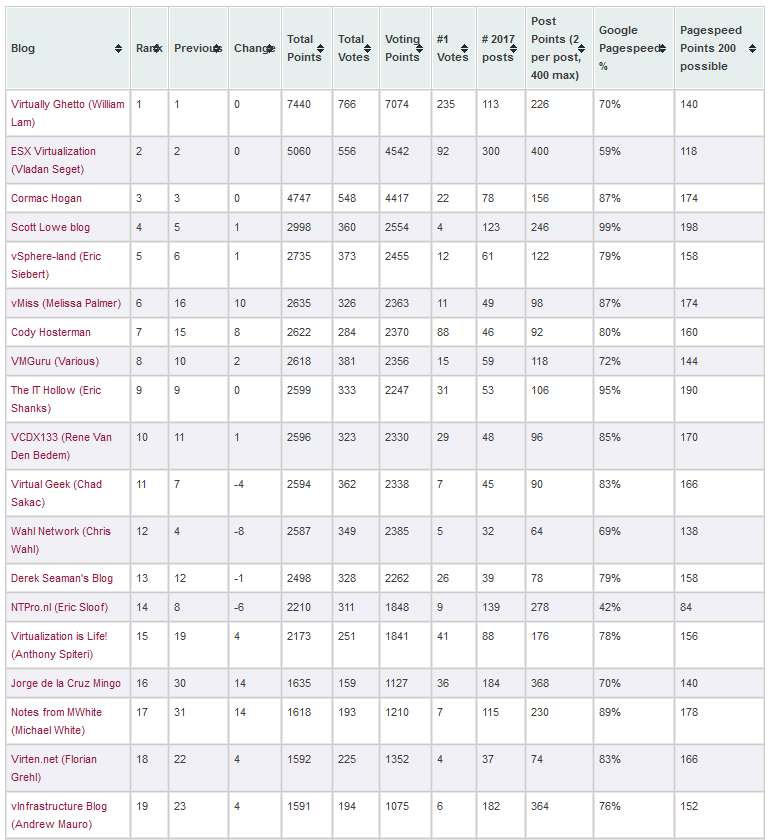 L'anno scorso il mio blog era stato votato anche come migliore blog non in lingua inglese, quest'anno mi sono dovuto accontentare della seconda posizione, visto che primo è Jorge de la Cruz (che comunque merita nettamente questa posizione per i post che ha realizzato l'anno scorso):
| | |
| --- | --- |
| Favorite Non-English Blog | Votes |
| Jorge de la Cruz | 115 |
| vInfrastructure Blog (Andrew Mauro) | 108 |
Tra gli altri italiani troviamo:
Per i risultati degli anni precedenti, vedere anche: