Questo post è disponibile anche in: Inglese
Nel post precedente, ho descritto qual è la sfida del segmento SMB e quali potrebbero essere i diversi approcci in differenti scenari. Vediamo ora come VMware affronta questa sfida e quali soluzioni propone.
Benché già se ne parlava nei precedenti VMworld, una novità della recente edizione (forse passata inosservata ai molti) è stata l'attenzione per il segmento SMB con diverse sessioni specifiche. La verità è che non è solo limitato al VMworld, in generale l'attenzione a questo segmento è in crescita (un po' per la sfida che rappresenta, un po' per il potenziale mercato che, seppur di piccoli fatturati, è comunque fatto da grossi numeri). Il periodo di crisi poi non fa altro che accentuare alcuni vincoli (tipo quelli di budget) di questo segmento, portando quindi la necessità di soluzioni non solo tecnicamente allettanti, ma anche economicamente sostenibili.
VMware ha creato una pagina web dedicata alle soluzioni SMB (e persino un blog apposito e un sito dedicato agli scenari con filiali), dove si può notare come i bundle di tipo Essential ed Essential+ siano la base delle soluzioni proposte. Vi è pure un documento molto interessante (VMware vSphere SMB Solutions Brief) con molte considerazioni e suggerimenti, nel quale spicca questo schema: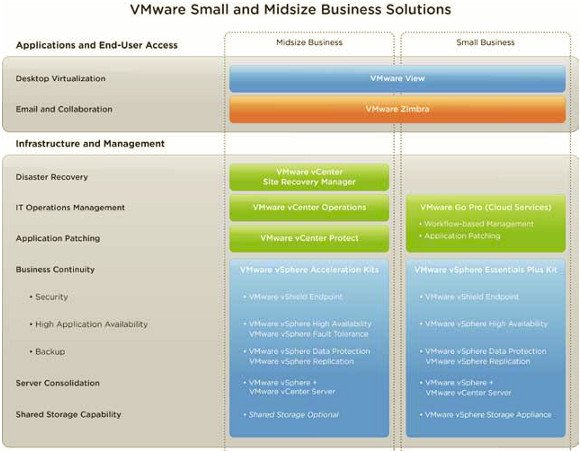 Suite e bundle
Come discusso, alla base delle soluzioni di virtualizzazione di VMware per il segmento SMB vi sono i bundle Essential, in particolare la versione Plus (o la specifica versione pensata per gli ambienti ROBO di aziende con sedi distaccate).
Ma in realtà l'Essential+ non è l'unica possibile soluzione; per ambienti di medie dimensioni il nuovo Acceleration Kit Standard è diventato più conveniente (considerando è tornato dagli 8 ai 6 socket, pur mantenendo la versione vCenter Server Standard). Inoltre è stato creato uno specifico bundle Acceleration Kit Standard with Operations Management. Entrambi sono interessanti anche in ambienti con filiali e sedi multiple (dove magari nelle sedi distaccate viene usata la versione Essential+ per ROBO).
Da notare anche che, con la versione 5.1, diverse funzionalità sono state aggiunte al bundle Essential Plus:
vShield Endpoint
Hot Add
1 instance VSA for Essentials Plus
Come pure sono state aggiunte ulteriori funzionalità (rispetto a quelle appena descritte) anche nell'edizione Standard:
vShield Zones
Fault Tolerance
Storage vMotion
VSA 5.1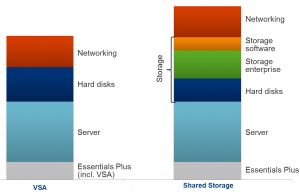 Come descritto nel post precedente, il virtual storage appliance di VMware può fornire gli stessi vantaggi di uno storage condiviso (ad esempio le funzioni di VMware HA, vMotion, …)  ad un costo potenzialmente più contenuto.
Rispetto anche a storage enterprise di fascia bassa (come i Dell MD3xxx o HP P2000, in configurazione ridondata) è possibile rimuovere buona parte dei costi associati allo storage. Chiaramente rimangono i costi dei dischi (che potrebbero essere anche di più, ma in generale i dischi dei server possono costare meno dei dischi degli storage) e vanno aggiunti i costi dei controller RAID (che dovranno essere di buona qualità, con discreta cache e batteria tampone). E' anche vero che uno storage spesso poi nasconde altri costi, come ad esempio quello di alcune funzionalità software.
La soluzione basata su VSA diventa quindi molto interessante per ambienti piccoli e/o per le filiali (in questo caso la vSphere Replication potrebbe essere usata per il DR delle VM remote), considerando pure che dalla versione 5.1, un'istanza di VSA è inclusa in ogni bundle (eccetto quello Essential).
Per maggiori informazioni vedere anche: New Features of the vSphere Storage Appliance version 5.1.
VMware Go Pro
Go Pro
è uno strumento che consente ai tecnici IT generici di distribuire e gestire ambienti virtualizzati in pochi minuti da un qualsiasi browser web in modalità cloud pubblico di tipo SaaS, basato su abbonamento che si adatta alle esigenze delle PMI attente al budget. Diverse procedure guidate passo-passo aiutano i principianti a gestire diversi aspetti della virtualizzazione.
In futuro è previsto anche un servizio di Backup basato su VM (disponibile nel Q1 2013).
Da notare che è incluso, in promozione fino al 15 dicembre, con tutti i bundle Essential.
VMware vCenter Protect
Questo prodotto è un prodotto di gestione e patching in versione on-premise. VMware vCenter Protect Essentials implementa in maniera intuitiva e conveniente la gestione di macchine fisiche e virtuali.
Per maggiori informazioni vedere questo comunicato stampa, ma anche le riflessioni in un post (VMworld Reflection for Small-Midsize Businesses) nel blog dedicato all'SMB.
Zimbra
Questo prodotto è un esempio di potenziale soluzione SaaS (sua pubblica che privata) per la posta elettronica. La disponibilità di una potente interfaccia web e client per diversi dispositivi rendono poi il prodotto interessante in ambito BYOD.
Pricing
Con la nuova vSphere 5.1 suite vi sono diversi aspetti interessanti nel nuovo listino prezzi (in parte abbiamo già discusso di alcuni bundle che hanno subito una riduzione dei prezzo).
Da notare che, tolta la vSphere 5 vRAM Entitlement non ci sono problemi di scalabilità verticale (che ha sicuramente il vantaggio di contenere il costo delle licenze). E questo potrebbe essere uno scenario interessante per ambienti medi (e persino medio-grandi) dove con pochi server molto potenti (si pensi ad un Dell PowerEdge R720) si possono ottenere grossi fattori di consolidamento.
Per maggiori informazioni vedere la pagina (in inglese): Compare VMware vSphere Pricing.
Virtualization vs. Cloud?
Come si è visto, VMware dispone di diverse soluzioni per implementare una soluzione di virtualizzazione in diversi scenari SMB.
Ovviamente possiamo aggiungere anche la versione gratuita del suo Hypervisor e la versione Essential di base, che seppur limitata può rappresentare una soluzione entry-level in situazioni con budget molti limitati (in questi casi una soluzione interessante potrebbe essere usare due server mono-socket con storage locale e un programma di backup e replica a livello di VM per offrire protezione e un RTO accettabile).
Ma per quanto riguarda le soluzioni cloud-oriented? A parte Go Pro, al momento VMware non ha particolari soluzioni pensate per il segmento SMB (ad esempio non esiste un vCloud Director "Essential" e forse al momento non servirebbe). Ma è comunque possibile implementare una soluzione spartana di cloud ibrido con il vCloud Connector.
Comunque, in alcuni specifici scenari (come il CoIT), è possibile usare l'approccio cloud "public-like": usando le licenze del VSSP program a quel punto costi software diventano da Capex ad Opex, oltre che a portare anche diverse feature enterprise.