Questo post è disponibile anche in: Inglese
Reading Time:
2
minutes
Durante il recente VMworld Europe, ho avuto l'opportunità di parlare con Serge Shats, CTO FlashSoft a division of SanDisk a riguardo del loro prodotto di cache per di storage e al relativo utilizzo in ambito virtualizzazione. Avevo già avuto di scrivere un post su FlashSoft 3.2 e quindi è stata l'occasione di scoprire le novità di questi ultimi mesi e i progetti di evuoluzione per il futuro.
SanDisk è molto nota nel campo "consumer", con le sue solutioni di flash card, ma in realtà non limitata solo a questo settore e segmento. In primis realizza anche soluzioni di Solid State Devices (SSD) per il mondo desktop, laptop, and ultrabook.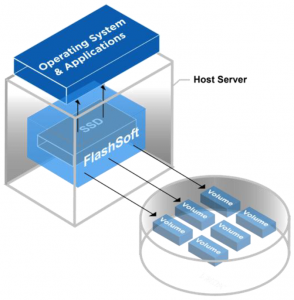 E sono anche lanciati nello sviluppo di soluzioni software, in particolare nella tecnologia per implementere soluzioni software di host caching che usino SSD locali (SanDisk, ma anche di altre marche) per migliorare le prestazioni di ambienti VMware vSphere (al momento 5.0 e 5.1), Windows Server (al momento 2008 R2) e Linux (al momento Red Hat Enterprise Linux 5.5, 5.6, 5.7, 5.8, 6.0, 6.1, 6.2, 6.3 e CentOS 5.5, 5.6, 5.7, 5.8, 6.0, 6.1, 6.2, 6.3).
Se le versioni per sistemi operativi sono allineate alla versione 3.2 (sia per Linux che per Windows), la versione per VMware è in realtà rimasta alla versione 3.1. Di conseguenza tutti i dettagli del post precedente sono ancora validi.
Ma in realtà abbiamo già parlato delle prossime versioni ed, in particolare, di come implementino le funzioni di cache anche in scrittura per ambienti di tipo cluster.
Visto che VMware già integra la sua soluzione di Flash Read Cache (anche se solo nell'edizione Enterprise+ di ESXi 5.5) e che altri vendor già sono in grado di fornire soluzioni di write cache, è probabile che tra qualche mese o settimana vedremo degli annunci interessanti.
Vedere anche gli altri report del VMworld europeo 2013.