Questo post è disponibile anche in: Inglese
Le principali motivazioni per diventare vExpert non devono certo essere legate ai possibili vantaggi del programma. Ed una volta nominati (per me è il quinto anno di fila) bisogna pensare più a quello che si può dare rispetto a quello che ci si deve aspettare.
Ma sarei un grande ipocrita a negare che vi siano anche vantaggi pratici nell'essere un vExpert!
Ufficialmente, VMware (in accordo alle relative FAQ) riconosce come beneficio maggiore l'essere parte del programma stesso. Ma deve essere più un onere che un onore essere vExpert o quanto meno si deve ragionare più in un'ottica di dare (in termini di contributi alla comunità) piuttosto che pretendere.
E i primi contributi bisognerebbe cercare di darli non solo con i blog (benché ammetto che questo che aspetto vale molto nell'assegnazione del vExpert), ma con partecipazione attiva alla VMTN (della quale abbiamo anche un'area in italiano) e ancor di più nelle attività del VMUG locale (in Italia le CFP degli eventi spesso rimangono vuote o con poche proposte).
Ma tornando ai benefici, tra quelli ufficiali elencati nella FAQ sono inclusi i seguenti:
Certificato cartaceo
vExpert logo
Accesso ad un'area della community riservata ai vExpert (peccato che sia poco usata e sicuramente con pochi contributi)
Accesso al materiale relativo alle sessioni del VMworld
Accesso ad eventi online o non (ad esempio vExpert party) esclusivi
Inclusione nella lista pubblica vExpert directory
Non ufficialmente sono anche (seguite i post nella sezione riservata), a volte, accessi alle beta dei software VMware e/o codici di licenza. Notare che pass per il VMworld (o ad altri eventi) non sono ufficialmente considerati… quindi non bisogna né pretenderli né darli per scontato (in generale basta seguire la community dei vExpert per vedere se vi sono annunci a riguardo).
Nota aggiunta il 23 maggio: esiste una lista per richiedere i VMworld blogger pass (quindi non limitata ai soli vExpert), per maggiori informazioni vedere questo link.
Vi sono poi numerosi altri benefici (questo era l'elenco del 2013) offerti da terzi (tra aziende e privati).
Vi sono poi diversi gruppi e liste:
Pluralsight

Storicamente TrainSignal ha sempre premiato i vExpert (ma non solo) con l'accesso al ricco materiale disponibile sul loro sito. Lo scorso anno sono stati acquistati da Pluralsight ma per fortuna la tradizione è rimasta. Anzi il materiale disponibile è persino aumentato!
Inoltre sono stati i primi ad annunciare la conferma di questa promizione per i vExpert (e MVP) del 2014:
Basta compilare la form di richiesta. Notare che offrono anche qualcosa di simile (con durata più limitata) anche alle diverse community.
Login VSI
Quest'anno sono stati i secondi a confermare quanto già proposto lo scorso anno. Il programma VIP di Login VSI fornisce una serie di benefici a tutti i Citrix Technology Professionals (CTP), VMware vExperts, Microsoft Most Valuable Professionals (MVP) for App-V, Remote Desktop Services and Hyper-V:
A free (for non-commercial use) Login VSI Pro license (12 months, 100 user sessions)
Login VSI goodies (like the "I love a good performance" T-shirt) when we meet in person
Direct access to our support, product marketing and development team
Basta compilare la form di richiesta.
HP
Se siete interessati ad una licenza NFR di HP StoreVirtual VSA (utile tra l'altro anche per provare le funzionalità di storage integration di Veeam Backup & Replication), contattate (e ringraziate) Calvin Zito. Questo è il suo post su Google+ con la conferma (anche per quest'anno) di questa iniziativa.
Devolutions
Devolutions offre delle licenze gratuite per i vExperts del loro prodotto Remote Desktop Manager, che permette di centralizzare, organizzare e condividere in modo sicuro le diverse connessioni remote, credenziali, password e documenti. Per maggiori informazioni vedere la presentazione su SlideShare.
Se siete interessati, mandare una email a mtrottier@devolutions.net con il riferimento al vostro profilo VMTN.
Proximal Data
Proximal Data mette a disposizione una free trial di AutoCache, una soluzione software pensata per accelerare gli storage e rimuovere i vari colli di bottiglia nell'I/O di un VMware ESXi server.
Royal TS
Royal TS regala una NFR license di Royal TS o TSX a tutti i Microsoft MVP, Citrix CTP o VMware vExpert che lo richiedano con l'opportuna form. Royal TS o TSX è uno strumento potente utile ai server admin, system engineer, sviluppatori o chiunque necessiti di gestire l'accesso remoto a sistemi usando diversi protocolli.
Veeam
Come di consueto, Veeam mette a disposizione una licenza NFR di 180 giorni per 2 sockets del suo prodotto Veeam® Backup Management Suite™ 7 per VMware (o Hyper-V per chi ha certificazioni/riconoscimenti Microsoft).
Notere che non è limitato solo ai VMware vExperts, ma è applicabile anche ai VMware Certified Professionals (VCP), Microsoft Certified Professionals (MCP), Microsoft Certified Technology Specialists (MCTS) e Most Valuable Professionals (MVP).
Symantec
Per chi è VMware vExpert, VMware Certified Professional o VMware Certified Instructor, Symantec mette a disposizione due licenze gratuite di Backup Exec V-Ray Edition con inclusi 12 months di essential support. Notare che possono essere usate in productione o non.
DataCore
Per i VMware vExpert, VMware Certified Professional o VMware Certified Instructor, DataCore Software mette a disposizione 1 anno di licenza NFR gratuita per il proprio SANsymphony-V Storage Hypervisor Software.
SolarWinds
Solarwinds mette a disposizione dei VMware vExperts una licenza gratuita per 6 mesi di tipo NFR/Demonstration di Virtualization Manager.
Nakivo
A tutti i membri di VMUG, VMware vExpert, VCP, o VCI viene offerta una licenza gratuita per two-socket Not For Resale (NFR) di NAKIVO Backup & Replication.
Unitrends
Unitrends mette a disposizione di tutti i VCP, VCI, vExperts, MVP, MCP una licenza per 2 socket e 2 physical server del proprio programma di backup solution. Include anche il supporto via telefono o e-mail and per 1 anno (rinnovabile con il rinnovo della certificazione/riconoscimento).
VSS Labs
VSS Labs ha rilasciato un prodotto chiamato vCert Manager che può aiutare nella gestione dei certificati SSL in un ambiente VMware. VSS Labs fornisce una versione free NFR per utilizzo in lab personali, con un bonus particolare per tutti i VMware vExperts (fino a 2 vCenter e 10 host). Per maggiori informazioni vedere questo post.
Tintri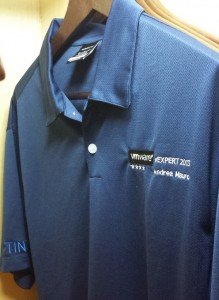 Come  accaduto nello scorso anno, Tintri regala a tutti i vExpert una polo molto bella. E' il terzo anno di fila che mantengono questa tradizione (sempre con polo di ottima fattura) e quella di quest'anno pare uguale a quella dell'anno scorso (che aveva la novità nel numero di stelle in funzione del numero di anni del programma vExpert).
Per richiederle, usate questa form: vExpert Shirt Offer 2014.
Tegile Systems
Tegile ha deciso di ringraziare e premiare i VMware vExpert 2014 che partecipaeranno al VMworld 2014 a San Francisco, con un vEXPERT gift package, composto da:
A fleece pullover customized with your name, Twitter handle and vEXPERT logo
A portable USB charger
An exclusive invitation to the Tegile Party @ Roe on Monday, August 25th
Non è chiaro se qualcosa sarà disponibile anche a chi non potrà partecipare al VMworld US, ma solo a quello europeo (in questo caso selezionate di non esssere presenti al VMworld US e in teoria dovrebbero spedire il pacco direttamente a casa). In ogni caso, per maggiori informazioni vedere questa pagina.
Simplivity
Lo scorso anno avevano pensato ad un regalo veramente unico nel suo genere (un sistema embedded completo). Quest'anno hanno pensato a qualcosa di più tradizionale, ma comunque sempre particolare:
We're giving away #coffee presses to the @vExpert community at #VMworld http://t.co/RRBrBQy5e6 #GetHyper #vexpert pic.twitter.com/LStLbKRtCX

— SimpliVity (@SimpliVityCorp) 3 Agosto 2014
VMware vCHS
VMware è in procinto di attivare un altro beneficio per alcuni dei suoi vExpert: l'accesso al servizio base di vCloud Hybrid Service. Per maggiori informazioni (in inglese):
Altro
Come spiegato in questo post, è possibile usufruire (come accaduto negli anni precedenti) di un servizio di URL Shortener con il prefisso vexpert.me (ringraziate @dawoo per questo servizio).
Sempre nello stesso post esiste anche una parte 2 relativa agli adesivi vExpert che aveva realizzato l'anno scorso. E' possibile richiederli usando questa form.
Per altre opportunityà vedere questi post (in inglese):