Questo post è disponibile anche in: Inglese
Reading Time:
4
minutes
Naturalmente, in questa edizione americana del VMworld 2014 c'è stato ampio spazio per NSX (il prodotto di Network Virtualization di VMware), con numerose sessioni, casi d'uso e novità. Certo, le novità non sono poi così eclatanti come successo nell'anno scorso (quando è stato lanciato NSX) ma l'interesse su questa tecnologia (e approccio al networking) è sicuramente ancora molto alto.
Si parte dal percorso di certificazione VMware relativo alla Network Virtualization: come scritto in un post precedente, vi sono già i primi VCDX-NV (in numero tra l'altro molto cospicuo, se lo confrontiamo con il numero di VCDX-Cloud o VCDX-DT o gli stessi VCDX-DCV fino ai primi due anni del programma VCDX). Ora anche le relative pagine di certificazione sono state aggiornate e sono, ad esempio, disponibili i blueprint per VCDX-NV e VCP-NV (per la quale è già possibile richiedere l'autorizzazione per l'esame). A breve dovrebbe essere completata anche la pagina relativa alla nuova certificazione VCIX-NV (che sostituisce il livello VCAP per il percorso NV).
Per quanto riguarda le novità del prodotto, sono state annunciate le nuove versioni: NSX for vSphere 6.1 e NSX Multi-Hypervisor 4.2.
NSX Multi-Hypervisor 4.2 in realtà è più una minor release del prodotto per altri hypervisor o framework e sarà disponibile nel Q3 2014. Tra l'altro sistemerà il bug Heartbleed relativo alla versione 4.1.x del prodotto (l'aggiornamento da qualsiasi 4.1 sarà possibile).
Ma ovviamente le novità maggiori sono riguardano la versione per vSphere di NSX che sarà la 6.1 (curioso come, al momento, c'è questo strano disallineamento tra le versioni di NSX e di vSphere).
Le novità e funzionalità più significative di NSX 6.1 sono:
DHCP Relay: è una funzione oramai comune in molti switch L2 e permette l'utilizzo di DHCP server esterni (fisici, ma volendo anche virtuali).
Two Stage ECMP Support: permette l'utilizzo ottimale della banda disponibile su tutti gli uplink.
L2 VPN: permette di estendere le VLANS da un datacenter ad un altro implementando scenari ibridi o di datacenter "stetched". Utile anche in scenari di migrazione.
Load Balancing Enhancements.
A new partnership with F5 to provide its balancer alongside NSX standard.
Firewall Enhancements.
Per quanto riguarda la VPN L2 vi sono due diverse implementazioni possibili:
L2 VPN: Enterprise Migration (NSX on both ends)
L2 VPN: Tenant Onboarding for Hybrid Cloud (NSX free Edge as VPN Appliance)
Per quanto riguarda le funzioni di Load Balancing, NSX supporta diversi protocolli e rappresenta una valida alternativa a bilanciatori di carico hardware (o software) dedicati. Tra l'altro supporta anche funzioni di SSL Offload con hardware assistance (tramite le istruzioni AES-NI presenti sui processori moderni sia Intel, su tutti i Xeon recenti, che AMD, dalla serie Bulldozer).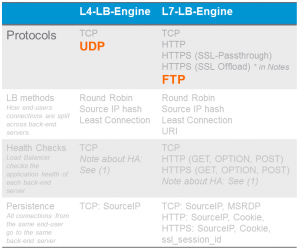 Naturalmente l'integrazione con prodotti di terze parti (ad esempio F5), permette facilmente di estendere le funzioni di bilanciamento di carico ad altri protocolli o con altre logiche.
Per maggiori informazioni (in inglese) sulle novità di NSX 6.1 vedere anche: