Questo post è disponibile anche in: Inglese
Reading Time:
9
minutes
Per chi, come me, non è riuscito a partecipare al VMworld 2014 a San Francisco, poché vi sono ancora parecchi giorni prima dell'edizione europea, è disponibile un ottimo riepilogo (in inglese) delle novità salienti annunciate da VMware sia per quanto riguarda nuovi prodotti e/o nuove release.
Se non altro aiuta a capire un po' come è andato questo evento, cosa aspettarci dal prossimo e soprattutto cosa aspettarci dal mercato.
Nota: come spesso accade la maggior parte delle novità ha un taglio più per le grandi Enterprise piuttosto che le PMI (soprattutto quelle italiane). A differenza degli anni scorsi, però c'è una (leggera) maggior attenzione anche a questo mercato.
Software Defined Data Center
Parlare di VMware corrisponde (negli ultimi anni) a parlare anche di Software Defined Data Center (SDDC), che rimane la strategia portante di questa azienda. Di conseguenza gli annunci a riguardo abbondano! In parte ne avevo già parlato in un post precedente, soprattutto per quanto riguarda i diversi approcci nell'implementazione di un SDDC.
VMware EVO:RAIL prodotto o per meglio dire soluzione completamente nuova che integra soluzioni di tipo appliance (hardware + software) con un nuovo interessante software di gestione. Non è chiaro su quale versione di vSphere sarà basato (se già la nuova o la 5.5), mentre invece è chiaro che l'edizione sarà l'Enterprise Plus (quindi non proprio per tutti).
Per maggiori informazioni vedere il relativo post.
VMware vCloud Suite 5.8 è stato annunciato (curioso il numero, visto che non è un 6.x):

Improved business continuity and disaster recovery – Self service, policy based provisioning of DR tiers, increased scalability of protection and recovery capabilities, improvement on SRM integration with vCloud Automation Center. It's now possible to offer SRM as a Service in vCAC's self service portal (see also VMware vCenter Site Recovery Manager 5.8 First Look).
Enhanced next-generation applications, such as Big Data Extensions for Hadoop 2.
Ovviamente sempre più interoperabilità con NSX (ma anche con altri prodotti VMware).

VMware vSphere 6 è stato annunciato e la beta è diventata pubblica (non so ancora per quando è previsto di preciso, ma è molto positivo che si stia aspettando a rilasciarlo, un po' come era successo con Virtual SAN):

vVOL è il nuovo mantra per gli storage a blocchi: banalizzando ogni VMDK diventa in realtà un volume/LUN dello storage con una grande granularità e flessibilità (si pensi ai problemi di locking, alle potenzialità nella gestione del QoS, …). Bisognerà poi vederlo in pratica e cosa succederà con tanti "piccoli" volumi associati ai vari host (penso ad esempio ai tempi di rescan o all'ordine delle LUN, …)
Fault Tolerance in vSphere 6 finalmente (dopo numerosi anni che era costantemente annunciato) supporterà più CPU: fino a 4 CPU (forse è troppo tardi, visto che altre soluzioni hanno supporto multicore da tempo… ma meglio di niente e comunque una soluzione in più per la Business Continuity, ricordandosi però che di suo FT non protegge le applicazioni e il sistema operativo nella VM).
VMware vSphere 6 avrà un vMotion in grado di attraversare grandi distanza, ma soprattutto cross vCenter! Già vedo chi sta pensando a scenari di cloud ibrido o scenari di DR (fermo restando che vMotion non è una soluzione di DR).
Usando NSX, tra l'altro, le proprietà della rete virtuale possono essere migrate con un long distance vMotion.

VMware Integrated OpenStack (VIO), dimostra l'impegno di VMware con OpenStack e questo è un nuovo virtual appliance per semplificare l'integrazione tra OpenStack e vSphere.

VMware + OpenStack = Better Together. OpenStack offers already integration with vCenter/ESX, NSX, vSphere Datastores and VSAN, using OpenStack Nova, Neutron, Cinder and Glance.
New is VMware Integrated OpenStack (VIO) is the combination of OpenStack and vCloud Suite. A special OpenStack Virtual Appliance will be available for download. The OpenStack appliance will connect and prepare you vSphere environment to be used by OpenStack.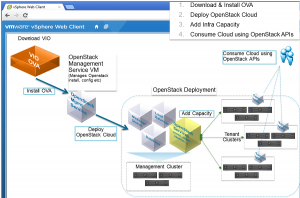 Hybrid Cloud
In italiano il nome del prodotto di cloud pubblico (e ibrido) di VMware (vCloud Hybrid Service) non è suonava proprio bene (vCHS letto in inglese fa pensare a tutt'altro). Ed ecco che ora si chiama VMware vCloud Air (in realtà già si sapeva). Ma c'è di più, a partire da una comoda "calcolatrice" per stimare i costi: New vCloud Air Pricing Calculator.
Ma ancora più interessante il sempre maggior numero di servizi, non solo più IaaS service, ma anche DR as a Service, desktop as a service, platform as a services, persino object based storage, automation e database as a service… insomma sempre più vicino (almeno nell'elenco delle funzionalità) ad AWS o Azure:
DevOps as a service
Database as a service with support for MS SQL Server and MySQL as a first step. Other database platforms will follow.
Object based storage VMware vCloud Air Object Storage (based on EMC ViPR technology) – Designed to offer extremely scalable, cost effective, and durable storage for unstructured data, VMware vCloud Air Object Storage will enable customers to easily scale to petabytes and only pay for what they use. VMware vCloud Air Object Storage will include lifecycle management, versioning and large object features that will simplify and reduce management overhead and for highly available hybrid application deployments.
Mobility services offered by vCloud Air are:

Enterprise Mobility Management – Offering an industry-leading platform for mobile device, application, email, browser and content management, AirWatch® by VMware solutions will be available this year on vCloud Air. AirWatch provides a simplified, efficient way to manage an organization's mobile footprint across employee-owned, corporate-owned and shared devices from a centralized console.
Mobile Backend as a Service (mBaaS) – Organizations will be able to scale their ability to build mobile applications and integrate them with corporate backend systems and third-party cloud services through mBaaS solutions on vCloud Air, offered by leading enterprise BaaS provider Kinvey, enterprise mobile platform, built.io, and Node.js community leader StrongLoop.
Mobile Application Development Platform (MADP) – Developers will be able to create mobile applications on vCloud Air using mobile web application development tools from Sencha's high-performance, HTML5 mobile application platform Sencha Touch Bundle and cross-platform application development capabilities, including Appcelerator Titanium or the extensible, integrated Appcelerator Platform.
Pivotal CF Mobile Services – Enterprise Platform as a Service leader Pivotal® is extending Pivotal CF on vCloud Air with mobile backend capabilities such as Push Notifications, API Gateway and Data Sync, all at enterprise standards of compliance and security.
Rapid Application Delivery – Customers can create, deploy, manage and change both mobile and web applications on vCloud Air with the high productivity application platform from OutSystems.
Automation e Management
In quest'area c'è sempre tanto fermento e i prodotti abbondano (spesso più per acquisizioni che non per strategia diretta), ma vi sono comunque interessanti novità (e volendo potremmo includere pure EVO:RAIL in quest'area visto che dispone di una parte di management tutta nuova).
La parte forse più interessante, oltre alle ovvie suite, è la definizione della strategia cloud privata e pubblica di VMware. Come si più notare è comparso un nuovo tassello chiamato vRealize che di fatto è uno strumento di gestione per cloud direttamente nel cloud.


vCloud Automation Center 6.1 è stato annunciato e ovviamente la farà da padrona come strumento di gestione/automazione per gestire (on premises) cloud privati e pubblici.
VMware vRealize Suite, è invece questo nuovo prodotto di cloud management, che a prima vista richiama prodotti simili, come ad esempio Platform9 (e magari le stesse persone avevano iniziato entrambi i progetti).
L'idea in sé non è neppure nuova, visto che anni fa esisteva una versione SaaS di VMware Go, ma in questo caso le potenzialità sembrano decisamente maggiori. Potrebbe diventare una killer application per le PMI (se venduta bene).
Network Virtualization
Come già scritto, VMware has annunciato NSX 6.1 per vSphere e NSX Multi Hypervisor 4.2.
VMware NSX 6.1 for vSphere:

NSX integrates with vSphere 5.5 and newer;
Allows integration with external DHCP servers in the physical world;
Several different DHCP server can be configured;
Two stage ECMP support;
L2 VPN (including VLAN trunking) from two different NSX edges between two different (stretched) datacenter. This feature is comparable with the Cisco OTV feature;
Load balancing improvements: UDP & FTP load balancing is supported;
Seamless integration with F5 firewalls;
Enhancements to the NSX distributed firewall include: reject action, enhancements to troubleshoot and monitoring;

VMware NSX Multi Hypervisor 4.2:

Includes HA/hitless upgrade;
DHCP relay feauture (same as in NSX 6.1 for vSphere);
OVS performance enhancements;
GA in Q3 2014.

Enhanced integration with VMware vCloud Automation Center 6.1. Pre-created shared Distributed Logical Routers, dynamic creation of security groups per application with default isolation policy, create security groups per tenant, assign security tags per vApp.
End User Computing
VMware Horizon 6 è stato annunciato ancora in primavera ed è già disponibile da un po'. Ma comunque l'EUC ha trovato posto durante gli annunci del secondo giorno del VMworld 2014: