Questo post è disponibile anche in: Inglese
Reading Time:
3
minutes
Utilizzando Veeam Endpoint vi potreste scontrare non vari problemi relativi alle componenti di Microsoft VSS che sul sistema operativo client non sono così stabili e deterministiche come sul sistema operativo server. A volte si ferma il servizio, a volte non funziona come ci si aspetta. E questo ovviamente impatta Endpoint che usa questi servizi per "congelare" lo stato sul disco per poi eseguirne una copia.
Già alcuni mesi fa avero riportato un possibile problema quando si utilizzava l'esclusione dei file in Veeam Endpoint (vedere anche Errore in Veeam Endpoint: unable to exclude files from shapshot).
Una settimana fa ne è comparso uno nuovo e i vari job di backup hanno iniziato a segnalare ogni giorno questo messaggio:

05/01/2016 00:32:17 :: Unable to exclude files from snapshot: Shadow Copy Optimization Writer timed out (see Windows event log for more info).


Purtroppo l'event viewer di Windows non riportava alcuna informazione utile e nessun errore significativo. L'unico messaggio presente in quel particolare orarion era una generica segnalazione: "È in corso l'arresto del servizio VSS a causa di timeout di inattività".
Bisogna dire che i job di backup comunque andavano, ma invece di essere verdi erano segnalati in giallo. Il dubbio ovviamente è che qualche file non fosse stato protetto.
Il problema è iniziato qualche settimana dopo aver cambiato il backup mode da volume level (usando alcune esclusioni) a file level (ho preferito lavorare con le inclusioni, piuttosto che con le esclusioni).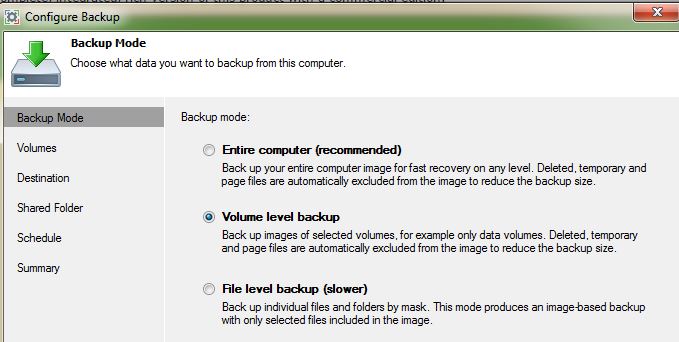 Il problema comunque non era sorto subito e quindi potrebbe essere legato anche ad aggiornamenti o altri eventi.
Bisogna anche ricordare che il backup mode raccomandato (come del resto si legge nella schermata precedente) è quello dell'intero sistema). Il problema è che questa strategia va bene per i portatili e tablet Windows che non hanno dischi grandi. Non va bene per il mio PC fisso che invece ha dischi grossi che richiederebbero troppo tempo per il backup completo (e manco mi servirebbe visto che i file dei lab, ad esempio, non mi serve vengano protetti).
Per sistemare il problema l'unica soluzione che ho trovato è registrare nuovamente le varie componenti core del VSS utilizzando i comandi seguenti:

cd /d %windir%\system32
net stop vss
net stop swprv
regsvr32 /s ole32.dll
regsvr32 /s oleaut32.dll
regsvr32 /s vss_ps.dll
vssvc /register
regsvr32 /s /i swprv.dll
regsvr32 /s /i eventcls.dll
regsvr32 /s es.dll
regsvr32 /s stdprov.dll
regsvr32 /s vssui.dll
regsvr32 /s msxml.dll
regsvr32 /s msxml3.dll
regsvr32 /s msxml4.dll
vssvc /register
net start swprv
net start vss

Per maggiori informazioni su come ripristinare il VSS vedere anche (in inglese): How to troubleshoot Microsoft Volume Shadow copy Service errors.