Questo post è disponibile anche in: Inglese
Reading Time:
3
minutes
Veeam Endpoint Backup FREE provides a simple solution for backing up Windows-based desktops and laptops. With Veeam Endpoint Backup FREE, you can easily back up your PC to an external hard drive, NAS (network-attached storage) share or a Veeam Backup & Replication repository.
Da oggi è disponibile una nuova versione di Veeam Endpoint Backup FREE 1.5; notaer che non si tratta di una major release ma di un aggiornamento intermedio, in attesa della v2 che arriverà probabilmente entro fine anno.
Tra le novità di questa versione:
Protezione da CryptoLocker per lo storage USB: protegge i dischi USB da potenziali minacce CryptoLocker con l'espulsione automatica del disco dopo la corretta esecuzione di un job. Soluzione semplice che può bastare ad evitare che il virus veda i dischi e inizi a cifrare anche i backup.
Notifiche tramite e-mail: configura le notifiche tramite e-mail inserendo il tuo indirizzo di posta elettronica, mantenendoti aggiornato sulla cronologia dei backup del laptop senza bisogno di aprire il Pannello di controllo
Nuove opzioni di pianificazione: rispondi a qualsiasi scenario personalizzato di backup dell'endpoint impostando ad esempio l'esecuzione dei job di backup in un giorno specifico della settimana. La nuova logica è anche in grado di individuare se un backup pianificato non è stato effettuato e in tal caso avvia un backup aggiuntivo all'accensione del computer.
Backup full indipendente: permette di salvare backup full indipendenti in qualsiasi posizione, in qualsiasi momento tramite la UI.
Ottimizzazione del motore di backup: fornice performance migliori a livello di file, una migliore logica di esclusione e la capacità di ignorare blocchi danneggiati per garantire che i job di backup di PC e laptop non vengano influenzati da problemi hardware e software.
Benché Veeam Endpoint Backup FREE supporta l'aggiornamento automatico in-place, almeno per ora non vi viene visualizzato l'aggiornamento della 1.5: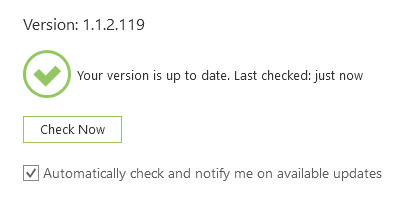 La soluzione è scaricare il file di installazione e procedere con un'installazione manuale. Nel mio caso però il file eseguibile contenuto nello ZIP non è stato firmato correttamente e SmartScreen lo blocca:

Per poter lanciare l'installazione è necessario prima sbloccare la protezione nelle proprietà del file.