Questo post è disponibile anche in: Inglese
Reading Time:
3
minutes
VMware Workstation 14 sarà anche un grande prodotto ed è molto comodo per chi lavora in ambiente VMware (e non). Inoltre la versione 14 ha portato diverse funzionalità di ESXi 6.5 e 6.7 (come ad esempio il supporto per dispositivi NVMe). Ma purtroppo ha anche reso alcune (troppe) CPU obsolete e incompatibili con questa versione.
Il che non è proprio positivo visto che spesso viene usato come ambiente di test o sviluppo anche su portatili di qualche anno fa.
Nel caso abbiate un processore non supportato, riuscirete lo stesso a creare le VM, riconfigurarle, spostarle, … ma non potrete mai accenderle.
Nel caso proviate ad accedere una VM su un processore non supportato, VMware Workstation 14 vi visualizzerà un messaggio di questo tipo: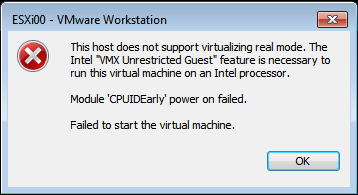 This host does not support virtualizing real mode. The Intel "VMX Unrestricted Guest" feature is necessary to run this virtual machine on an Intel processor.

Module 'CPUIDEarly' power on failed.

Failed to start the virtual machine.
Benché sembri magari legato alla presenza di Hyper-V o ad una nuova funzionalità di Windows 10 legata alla sicurezza (della quale ne avevo parlato in questo post), il problema è più serio… Non è vero che il processore non "Intel VT-x" o "Intel EPT" hardware-assisted virtualization (o le equivalenti funzioni di AMD), semplicemente non le fornisce nella versione richiesta dal nuovo Workstation.
Purtroppo moltre vecchie CPU sono deprecate e non più supportate da Workstation 14 e la lista completa è disponibile nelle VMware Workstation 14 Pro Release Notes. Ma in sostanza sono supportate le CPU solo dal 2011 eccetto:
Intel Atom processors based on the 2011 "Bonnell"  micro-architecture (e.g. Atom Z670/Z650; Atom N570)
Systems using Intel Atom processors based on the 2012 "Saltwell" micro-architecture (e.g. Atom S1200, Atom D2700/D2500, Atom N2800/N2600.
Systems using AMD processors based on the "Llano" and "Bobcat" micro-architectures (e.g. code-named "Hondo", "Ontario", "Zacate", "Llano")
Sono altresì supportate queste CPU:
Systems using Intel processors based on the 2010 "Westmere" micro-architecture (e.g. Xeon 5600, Xeon 3600, Core i7-970, Core i7-980, Core i7-990)
Che fare quindi se il vostro processore è nella lista nera?
LA risposta più banale, ma anche l'unica soluzione efficace è togliere Workstation 14 e rimettere Workstation 12 o 12.5.
Ci sarebbe anche un'interessante opzione proposta nella VMTN community (see this thread)
Ossia aggiungere la riga

monitor.allowLegacyCPU = "true"

Nella configurazione di Workstation che risiede in un file config.ini nella directory C:\ProgramData\VMware\VMware Workstation (per sistemi Windows).
Purtroppo questa soluzione è praticamente inutilizzabile: l'impatto sulle prestazioni è devastante e le VM sono lentissime.
Quindi l'unica veramente fattibile è ritornare ad una versione precedente di Workstation.